Overview
Priston Tale Overview
Priston Tale  is perhaps one of the oldest free MMORPGs out there. The game was released in South Korea in 2001 and has since won a numerous amount of awards. The game was certainly the best thing since sliced bread back in the early days of online MMORPGs, but today it's difficult for games like Priston Tale to compete with newer fantasy MMORPGs. The game has an incredibly large game world to explore and fair amount of unique content, but the game is heavily grind oriented and offers only a handfull of quests. The game has 8 playable classes, four of them are on the Tempskron faction and the other four are on the Morion faction. A newer version of the game, titled Priston Tale 2 – The Second Enigma has vastly improved graphics and additional content and may be worth checking out if older graphics aren't your cup of tea.The game's classes are:
Tempskron Classes
Mechanician [Male]-Mechanicians are physically weak, but have a large amount of hit points. They are capable of using claw weapons and shields.
Fighter [Male]- Fighters are the primary tanking class in Priston Tale. They are capable of absorbing the most damage and are very capable of dealing damage in melee range.
Pikeman [Male]- Pikeman are similar to fighters, in that they are melee offensive characters. Their primary weapon of choice, as the name implies, is the pole-arm.
Archer [Female]- Archers are capable of dealing a fair amount of damage from a distance using their bow, but are vulnerable to melee attacks. They work best in groups with a tanking class.
Morion Classes

Knight [Male]- Knights are the "Paladin" class in Priston Tale. They specialize in holy attacks and have stromg melee capabilities.
Atalanta [Female]- Atalanta's are capable of both ranged and melee attacks. They use javalins and spears in combat.
Priestess [Female]- Priests are the only healing class in Priston Tale. They have an incredibly low amount of hit points are a primarily support class.
Magician [Male]- Magicians are the strongest spellcasters in the game. They can deal massive damage with their offensive magic and can summon large elementals to aid them in battle, but they have incredibly low hit points.
Priston Tale Screenshots
Priston Tale Featured Video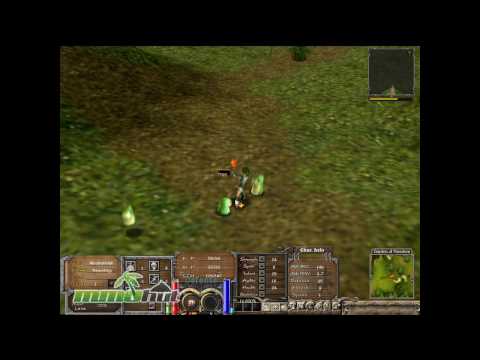 Full Review
Priston Tale Review
By, Omer Altay
Priston Tale is perhaps one of the most well known MMORPGs out there. The game was originally released in Korea in 2001 and came to the American shores as a pay-to-play game in 2004. The game has won numerous awards and praises for its beautiful graphics and varied gameplay, but unfortunately the game didn't age very well. The game's popularity began to die down and the playerbase was shrinking. The MMORPG industry has grown tremendously and competition became fierce. Newer MMORPGs like World of Warcraft ate into Priston Tale's once large player base and with the growing popularity of Free to Play MMORPGs, Priston Tale just couldn't compete as a pay to play title, so they went free to play in May,2007.
No more history lessons!
Well sadly, the history of Priston Tale is perhaps the game's most interesting aspect, as the game was once the best MMORPG out there, but it just wasn't able to keep up with the times. Free MMORPGs like Runes of Magic and Perfect World are just better games, as they're newer. Older games like Ragnarok Online and MapleStory are still around and kicking because they did what Priston Tale couldn't, adapt. Priston Tale is a 3D Fantasy MMORPG that is heavily grind based with only a handful of available quests. Players start their adventure in the world of Priston tale after selecting one of the game's two 'tribes', the Tempskron or the Morion. Each 'tribe' has four different classes to choose from, so chose your tribe carefully, as it does directly impact what you can and cannot do in the game. The Tempsron tribe consists of powerful melee oriented characters with limited magic capabilities while the Morion tribe has access to characters with powerful magic attacks but poor physical ones.
The Facts.
The fact is that Priston Tale lacks a lot of the content that newer MMORPGs have today. The game's character customization is terrible, as players cannot even select their own gender. The game's interface is also difficult to use and feels clumsy. The least the folks behind Priston Tale could have done to make the game more competitive with other MMORPGs is update the game's interface, but alas, it hasn't happened. To make matters worse, the game's single most annoying aspect is the horrendously designed camera. Players can set the camera on either 'automatic' or 'manual' but surprisingly, neither option is perfect, as the manual setting requires the player to have to constantly update the camera zoom, as giant trees and terrain can easily cover the entire screen. A good part of my experience with Priston Tale was spent wrestling with the camera to get it to work as it should, but I found myself having to constantly adjust it for optimal viewing.
The good
I've been highlighting a lot of the negative aspects of Priston Tale, so it's only fair that the game's positive aspects are also brought to light. The game has eight playable classes, which is surprisingly more than a lot of the newer MMORPGs today and each of the game's eight classes have three job advancements, which should keep interested players further hooked onto the game. One interesting component of Priston Tale is the game's crystal system. When monsters die they have a small chance of dropping a crystal of themselves which can be used to summon that same monster to fight for the summoner. It's an interesting twist to the generic pet system that some MMORPGs employ and it works pretty well as using the crystals can significantly speed up the game's exp rate. Unfortunately, as players gain more and more levels the amount of experience needed to level seems to increase exponentially, so gaining levels towards the end of the game becomes ridiculously difficult.
Survive or Die!
Perhaps the most interesting feature in Priston Tale is the Bellatra 'survive or die' mission which is between four different teams. The goal of the 'Survive or Die' event is exactly as the name implies; teams have to survive waves on monsters spawning inside of their room by working together. Whichever team 'survives' the longest usually ends up winning the event and gains control of the town of Bellatra.  The winner is actually determined by whichever team kills the most monsters, but that team is usually the one that survives the longest.  Another interesting aspect of Priston Tale is the game's 'bless castle' system which is the game's PvP event where one clan defends their castle while another tries to capture it. Unfortunately, aside from the 'bless castle' system, PvP in Priston Tale is limited.

Final Verdict – Good
Although Priston Tale hasn't aged very well it was one of the best games of its time and still has a fairly loyal playerbase today. If you're looking for a new game to play, you may want to skip Priston Tale. I gave the game a good score because of its past glory. The game won't appeal to newer gamers.
Screenshots
Priston Tale Screenshots
Videos
Priston Tale Videos
Priston Tale Gameplay Video
Priston Tale Official Trailer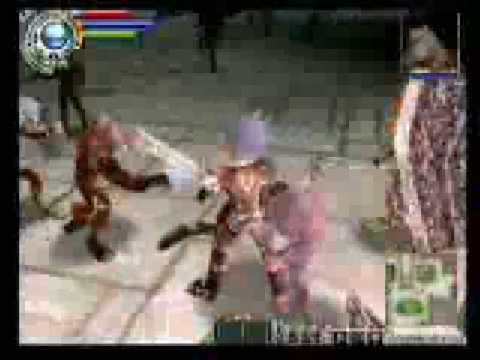 Priston Tale Dungeon Video
Priston Tale Character Creation Video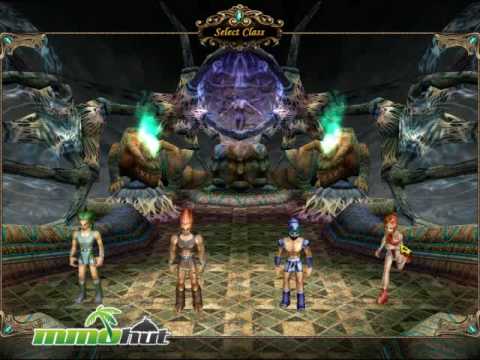 Priston Tale Gameplay Trailer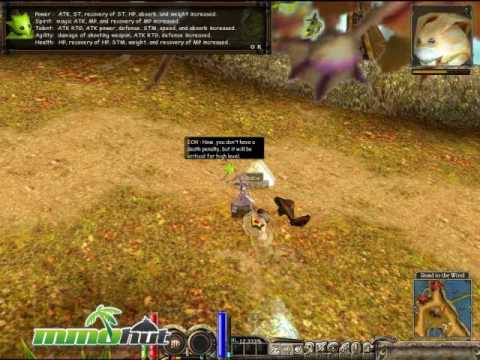 Links
Priston Tale Links
System Requirements
Priston Tale System Requirements
Minimum Requirements:
OS: Windows 98/ME/2000/XP
CPU: 600 MHz Pentium 3 or equivalent
RAM: 256 MB
HDD: 1 GB Free Space
Graphics Card: Any 32 MB VGA Card
Recommended Specifications:
OS: Windows 98/ME/2000/XP
CPU:1.5 GHz Pentium 4 or equivalent
RAM: 512 MB
HDD: 1 GB Free Space
Graphics Card: Any 64 MB VGA Card