Overview
PopTag! Overview
Do you like bomberman? Than you'll love PopTag!, originally known as 'Crazy Arcade' in Korea. A standalone bomberman-like game with quests, co-op modes, and a virtual park to explore may sound strange, but that's just what PopTag offers. Players host games in a simple lobby and choose from three game modes. Use bombs to destroy bricks to open a path towards opponents and reveal power ups. PopTag! is similar to Balloono on the browser based portal OMGPOP.
PvP Game Modes - Normal, Hedgehog, Catch the Leader, Combo Mode, Time Bomb.
Monster Mode - All players are on the same team and work together to defeat monsters before time runs out. Each round consists of three stages with the final holding a boss.
Battle Mode - Also known as Zombie Mode. Players face off against an AI-controlled team of zombies. Host can set difficulty.
PopTag! Screenshots
PopTag! Feature Video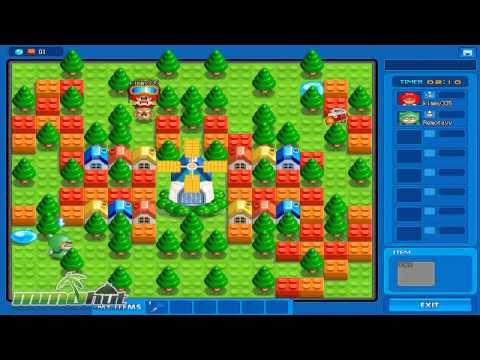 Full Review
PopTag! Review
By Shawn Cohn
So many movies, TV series, and games have successfully copied or recreated something from the past (and have made a living off of it), so, why not do it again? That's pretty much what Nexon was thinking when they released 'PopTag!'. PopTag! Is based heavily off of the strategic maze game known as 'Bomberman', which was originally released in 1983.  Different variations of the game are still being published today, which makes it no surprise to me that Nexon thought they could find success in a re-creation. The game is simple (being lobby based), and the game modes are, for the most part, quick, easy and don't take a whole lot of skill to master.
Simplicity at it's best
People today always go after the flashy games with the gorgeous graphics and the fantasy-style game play, often missing out on the simpler things on life, such as PopTag! After creating a nickname and entering the game, you have the option to complete a small tutorial, but if you don't want to, you can just delve straight into the game (which isn't all that difficult). First, you choose your channel, which gives you a grand total of two channels: the 'newbie' channel or the 'experienced' channel.  After trying out both, you might soon discover the only games to be played can be found on the latter of the two. But, once you get into the game itself, the gameplay is simple and decently fun. You start out with your character, along with any other players in the game, surrounded by blocks, or some manner of obstacles. Using your space button to drop balloons, you try to blast the obstacles out of the way to find your way to the enemies. But be careful, if you're near the balloon when it erupts you'll find the end of the game just seconds away. This simple gameplay, mixed with tough competition along with power-ups dropped by obstacles, make for an easy to get into, fun game.
Good things come in small packages
For all intents and purposes, PopTag! Is some of the most fun you can ever have on a computer for only 87 MB. The graphics are the traditional 2D, nothing-to-write-home-about graphics, but with that said, this game can provide even the most MMO-Savvy gamer hours and hours of simple fun. There isn't a whole lot to this game, but for such a low amount of disk space, and the almost non-existent system specs, Nexon did a decent job of creating a fun, small game for casual gamers to just jump right into without needing to invest much time or energy into. A single game can take anywhere from fifteen seconds to five minutes depending on the difficulty of the game, or of the skill of the players.
Everybody has their place
Being such a small game and all, you wouldn't really figure it to have any sort of character system, but PopTag! does actually offer eight playable characters. You choose your character right as the game begins, and you can change it before and after each game thereafter. When I first began playing, I was actually choosing a character at random, assuming they were just there to add a small amount of depth to the game, but I quickly learned that each character actually had their own strengths. It takes a little bit of time to test out each character, and find out what works best for you, but once you've found your 'niche', you should find the game a little more smooth. Even most full-fledged MMO's don't have eight playable character types, so the fact that this was implemented is a big plus.
Hedgehogs and Monsters and Zombies, Oh My
One thing that nobody can deny regarding this game is that there is no shortage of game modes. There are at least seven different modes of play which mix and match different game types; PVP games in which players either join a team and play against other human players, or even 'Zombie' mode, where in players join a team of four, and play a fast-paced game against computer controlled players, the difficulty being interchangeable. There is even a 'monster' mode, in which players face the computer for several rounds, until they reach the end which, of course, contains a boss. There are several types of different gameplay modes, and if you're going to check this game out, I recommend you try them all.
The good with the bad
As with everything in life, everything has its drawbacks. It just so happens that PopTag! has several. For one, the population of this game is reminiscent of New York City in the movie 'independence Day', which makes it despairingly difficult to find a game to actually play in, at times. Multiple times I signed into the game to hop into a quick one, and there wasn't a game in the 'newbie' channel to be found. This forced me to jump into the 'l33tsk1llz' server, which inevitably lead to me being owned several times before I could learn the way of the game. Even when I was able to find my way into a game, the gameplay itself was incredibly repetitive, although there are many different maps and themes, you're often dropped into the same map, and given the same exact objective, over and over. For someone like myself that gets bored quickly with monotony, I had a hard time with this.
Final Verdict: Poor
All in all, PopTag! Is nothing more than a re-made version of 'Bomberman', with a slightly updated system. Nexon did a good job of attempting to add depth to the game with an 'okay' character selection, and several different game types, but with the not-so-hot graphics, and the very low population, along with the tiring and repetitive game play, fans of the original 'Bomberman' game might enjoy this game, but if you're like me and you've never played 'Bomberman', you might want to pass on this one.
Screenshots
PopTag! Screenshots
System Requirements
PopTag! System Requirements
Minimum Requirements:
OS: Windows 98
CPU: Pentium 400 Mhz
RAM: 128 MB
HDD: 300 mb
Graphics Card: 32 mb
Recommended Specification:
OS: Windows XP/ Vista / 7
CPU: Pentium 4 2GHz or higher
RAM: 256 mb or more
HDD: 350 mb or more
Graphics Card: 64 mb