Phoenix Dynasty Online (PDO)
UPDATE: This game has been shutdown and is no longer available
Overview
Phoenix Dynasty Online Overview
Phoenix Dynasty Online is a faction based PvP heavy free to play 2D MMORPG published by EnjoyMMO. Graphically speaking, the game isn't too impressive, but it does offer a wide variety of interesting features which keep things interesting, provided you can look past the poor visuals and repetitive gameplay mechanics. The game's classes are:
Assassin- The name may sound misleading, but an Assassin in Phoenix Dynasty Online is the generic 'archer' character with strong offensive abilities from a distance that is vulnerable in melee range.
Paladin - Paladins in Phoenix Dynasty Online are the standard warrior archetype. They possess a great deal of hit points and strong offensive capabilities within melee range. They're proficient with all sorts of melee weapons and can use heavy armor.
Wizard - The Wizard is the offensive spell caster in Phoenix Dynasty Online. They can use wands to cast devastating spells from a distance, but are extremely vulnerable to enemy attacks, as they have the lowest hit points in the game.
Priest – Priests in Phoenix Dynasty Online are the primary healers and support characters of the game. They do have some offensive magic, but are mainly a support class.
Phoenix Dynasty Online Screenshots
Phoenix Dynasty Online Feature Video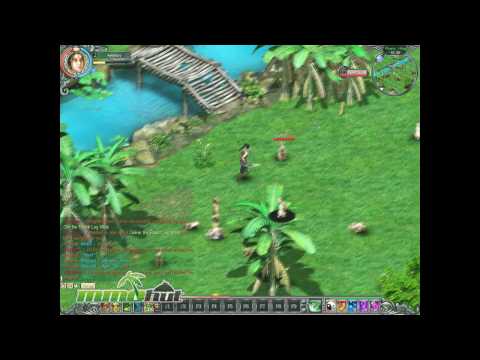 Full Review
Phoenix Dynasty Online Review
By, Omer Altay
'Phoenix Dynasty Online, or PDO for short, is a 2D Fantasy MMORPG by EnjoyMMO. When I first started playing the game I quickly noticed that the game looked a lot like EnjoyMMOs other title, Magic World Online in that the graphics were almost identical. Both games had similar interfaces, but other than that both games are distinctly different. Phoenix Dynasty Online has the usual array of MMORPG features like guilds, instances and PvP, but lacks the most important thing in an MMORPG, a player base. Other than that, the game is an all around generic MMORPG.
Starting Out
Start your adventure in Phoenix Dynasty Online by selecting one of the game's four playable classes; the Paladin, Priest, Wizard or Assassin. All of the class names are pretty self explanatory except for perhaps Assassin, as the name implies a 'rogue' or 'thief' archetype, but in this game, an Assassin is actually an 'archer'. I'm not sure why games try to reinvent already established character classes, because it only confuses the player. I'm not trying to bash on Phoenix Dynasty Online, as it isn't the only one that has tried. Unfortunately, the game only has these four classes. It wouldn't be a big deal if there were job advancements in Phoenix Dynasty Online, but unfortunately, there aren't. Luckily though, the game has an interesting 'Five Element System' which is available after level 10. This adds a good deal of variety to the game as players can pick from one of five 'elements' which basically act as another class, as each element has its own set of unique skills. Players can also choose a second element at level 50. After you actually create your character and log in to the game world, you'll be thrown into the game without an introduction or a tutorial. The game's combat and movement is fairly polished and there are a fair amount of skills to learn for all character classes. The game's actual mechanics work well and there are a fair amount of features to keep players entertained, but the game has a major drawback, there aren't many players.
Hey! Can anyone hear me?
The single biggest drawback to Phoenix Dynasty Online is the game's lack of players. Unfortunately, even the best MMORPG with the most comprehensive features is nothing without a player base, as it's the most important aspect of an MMO game. There are ultimately very few players in any of the games dungeons or maps, but It was even more disappointing to find only a handful of people in the game's capital city. With the game's lack of community, Phoenix Dynasty Online is more of a single player game than a massively multiplayer one. It's always sad to see an empty MMORPG.
Liege-Vassal System
One of Phoenix Dynasty Online's most interesting features is the game's Liege-Vassal system. The Liege-Vassal System rewards higher level players for helping newbies. Any player above level 40 can participate in the system by recruiting any number of newbies below level 25 to become his or her 'vassal' and the player that recruited the newbies will become known as the 'liege'.  The purpose of the system is for the higher level player to help out the newbies and in return, the higher level player will be rewarded bonus experience and a special medal of honor once ten of his 'vassals' reach level 40. The system ultimately creates an incentive for higher level players to help out newbies, which is something I'd like to see in other games, as I'm sure this system would work very well if the game had a larger population, but I didn't get a chance to observe it since I couldn't find more than a handful of players in the game.
Crafting System
Another interesting aspect of Phoenix Dynasty Online is the game's crafting system. Although it's nowhere near as sophisticated as the crafting in Luminary: Rise of the Goonzu , it's still incredibly unique. An item can be crafted with more than one set of items and the item's stats are determined by the quality of the resources used. This is certainly an excellent way to enhance the game's economy and promote trading in the game, but unfortunately, without a large enough player base the crafting system loses its luster. Looking back at Phoenix Dynastly Online, the game has a LOT of features and things to do, but the game's minimal player base really limits the game's enjoyment.
At least it's compatible
One thing I noticed about Phoenix Dynasty Online is that the game is incredibly compatible with lower end computers, so if you're looking for a game to play on a lower end machine, Phoenix Dynasty Online may be for you. Unfortunately, these lower end titles tend to have poor graphics, which is a major turn off for most gamers, especially since there are new free MMORPGs like Atlantica Online and Runes of Magic that offer phenomenal graphics on top of polished gameplay.
Final Thoughts
I can't recommend Phoenix Dynasty Online over the other successful MMORPGs out there. Games like Cabal Online and Ragnarok Online are just more comprehensive games and they actually have a player base, so if you're looking for a game to play, try something else instead. I can appreciate Phoenix Dynasty Online's large feature list, but ultimately, without a large player base, Phoenix Dynasty Online isn't worth the download.
Final Verdict: Fair
Although Phoenix Dynasty Online lacks a player base, the game has a large amount of features and has a massive world to explore. The game ultimately isn't worth the download, as there are plenty of better free to play MMORPGs out there with bigger communities.
Screenshots
Phoenix Dynasty Online Screenshots
Links
Phoenix Dynasty Online Links
System Requirements
Phoenix Dynasty Online System Requirements
Minimum Requirements:
OS: Windows XP / Vista / ME
CPU: 400 MhZ Pentium 1 or Equivalent
RAM: 128 MB
HDD: 1.2 GB Free Space
Graphics Card: Any 3D Accelerator Card with 16MB video memory
Recommended Specification:
OS: Windows XP / Vista / ME
CPU: 800 MhZ Pentium 3 or Better
RAM:  256 MB RAM
HDD: 2.5 GB Free Space
Graphics Card: Nvidia Geforce 2 with 32MB video ram or equivalent