Overview
Mission Against Terror Overview
Mission Against Terror (M.A.T. for short), is an Asian developed, free-to-play MMOFPS. While the game was already several years old before making its North American debut, it still offers classic tactical shooter gameplay mixed with some new game modes. Mission Against Terror is a competitive game in China and supports traditional game modes including bombing mode, wherein one team must plant a bomb while the other must stop them. As an MMO, MAT allows players to customize the appearance of their avatar and relax at a virtual bar in between firefights. Like Combat Arms, Cross Fire, and other shooters, Mission Against Terror has its own variation of mutation mode where players must fend off mummies that can infect humans. There's also an interesting robot mode (coming soon) where a team of players must defend against a swarm of AI controlled robots.
Marriage system that allows for players to get married in the game.
Hundreds of unique items: Weapons such as ninja stars, cakes, and chickens that provide for an over the top-action experience
14 Game Modes - Tank Wars, PK mode, Hybrid mode, Bounty mode, Snowball mode, Terminator mode, AI mode, Occupy mode, Dragon Emperor mode, Team Deathmatch,  Death match, Mummy mode, Ghost mode, Bomb mode.
Mission Against Terror Screenshots
Mission Against Terror Featured Video
Full Review
Mission Against Terror Review
This Review is based on early stages of the game and in time will be updated!
By, Omer Altay
Mission Against Terror, called MAT for short, is a 3D tactical MMOFPS published by Suba Games. The game launched in North America through Suba Games in September 2010, but was available world-wide through the Malaysian game publisher Cibmall beginning in December of 2009. Graphically speaking, MAT is somewhere between Cross Fire and Combat Arms, which is a bit disappointing for a game released in late 2009. Anyone familiar with Counter-Strike or any other modern FPS doesn't really need any introduction to Mission Against Terror, as it's very similar to other tactical MMOFPS games. Unfortunately, while games like WolfTeam and Alliance of Valiant Arms helped push the genre forward, Mission Against Terror brings nothing new to the table.
A Poor Start
Immediately after downloading, installing, and launching Mission Against Terror, I was disappointed to learn that the game has very limited graphic options. Even on max resolution, the visuals were decent at best. Gameplay-wise, aiming and firing feel really awkward. Even after playing Mission Against Terror for hours and hours, I could never get used to the shooting mechanics in the game. I mean, I got better as I played, as I always had more kills than deaths, but the firing mechanics just felt off.
Core Gameplay
In its core, Mission Against Terror plays much like other MMOFPS games. One unique feature the game does have is the ability to recover health by dancing. Yes, dancing. By clicking the "V" key, players will put their weapons away and begin doing a little dance that will slowly regenerate lost hit points. Since your guns are away, your character is extremely vulnerable while dancing. It's best to dance someplace safe like a corner or near your spawn area. The whole dancing things feels a bit out of place, but so do the costumes available in the item store as players can purchase pirate costumes. Even though the game has a decent selection of weapons, many of them don't feel very balanced. The shotgun for example, is practically useless while others feel very weak compared to the AK-47.
The more kills a player gets in a single round, the more experience and silver they will earn. When enough experience is gained, players will rank up. Unfortunately, ranks don't do anything, Silver on the other hand, is used to purchase additional weapons, armor and items in the game's item store. The item store is a bit of a let down though.
Poor Selection of Weapons
After playing WolfTeam, which had some 30+ primary weapons, and Combat Arms, which had nearly as many, I was disappointed to learn that Mission Against Terror has fewer than 15 primary weapons. This certainly isn't a deal breaker, but I'd like to see more variety in the game. Players also can't customize their weapons the same way they can in games like Alliance of Valiant Arms, WolfTeam, or Combat Arms. Aside from weapons, players can also purchase different pieces of clothing for their avatars. Since there are only a handful of items, appearance customization is lacking. This problem isn't unique to Mission Against Terror, though. Most MMO shooters have lackluster appearance customization options.
This looks familiar….
The first map I played in Mission Against Terror was Nile Valley – a map that was EXACTLY the same as De_Dust 2 from Valve's Counter-Strike. I'm not suggesting that the two maps were similar, I'm saying that they are identical. The second map I played was called "Cross Range" which was identical in design to the Ice_World maps in Counter-Strike. I'm sure some of the other level designs were taken from other games too. The fact that the game stole maps from other games, tells me that the developers are too lazy to actually create their own maps. On top of the unoriginal map designs, one of the background tunes in the game is a remixed version of the Pirates of the Caribbean main theme. On the positive side, I'm sort of glad the developers copied the De_Dust2 map, as it's incredibly balanced and fun.
Game Modes & Variety
Mission Against Terror only has a handful of game modes and maps. The most popular mode is probably team deathmatch or bomb mode. In team death-match, two sides face off, and whichever team reaches a certain number of kills first wins. Bomb mode, on the other hand, is a plant the bomb, defuse the bomb style game. Mission Against Terror also has a solo, free-for-all mode as well as a mummy mode. Mission Against Terror has a handful of other game modes as well including a terminator and ghost mode – both of which help vary things up a bit.
In Mummy Mode, a certain number of players randomly transform in the Mummies fifteen seconds after the match begins. Mummies are melee characters that have a lot of health; they win by turning the rest of the players into mummies by killing them. Humans win by killing all of the mummies or surviving for a certain amount of time. Unfortunately, little thought has been given to this mode, as some levels have camping spots that humans can abuse to win most of the time, while in other levels Mummies are impossible to beat.
Final Verdict – Fair
Mission Against Terror is a run of the mill 3D MMOFPS that can be fun for a while, but does little to push the genre forward. The game could definitely use more weapons, maps, game modes and some more balance.
Screenshots
Mission Against Terror Screenshots
Videos
Mission Against Terror Videos
Mission Against Terror ReMo Gameplay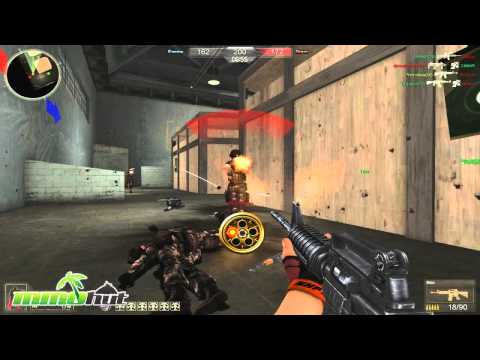 Mission Against Terror Gameplay Footage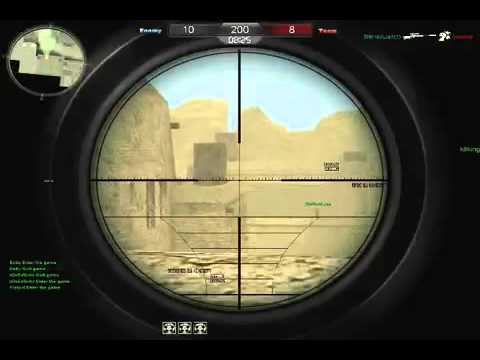 Links
Mission Against Terror Links
System Requirements
Mission Against Terror Requirements
Minimum Requirements:
OS: Windows 2000
CPU: Intel Pentium 3 1 Ghz
RAM:  512 MB
HDD: 1 GB Free
Graphics Card: NVidia GeForce Ti4200
Recommended Specification:
OS: Windows XP / Vista / 7
CPU: Intel Pentium 4 3 Ghz or better
RAM: 1 GB or more
HDD: 2 GB Free
Graphics Card: Geforce 6600 GT /