MechQuest is a 2D Sci-Fi browser MMORPG with turn based combat. Players take on the role of mecha pilots in training who are on their way to attend the prestigious G.E.A.R.S. University. Combat takes place on separate screens to which players are instantly teleported when they enter a battle. Fight against AI controlled mechs and aliens or battle other players to earn experience, credits and prestiege!
Publisher: Artix Entertainment
Playerbase: High
Graphics: Low
Type: MMORPG
EXP Rate: Slow
PvP: Optional Battles
Filesize: N/A
Pros: +Runs on flash, no additional plugins or downloads required. +Classic RPG style turn-based combat. +Plenty of gear available for purchase.
Cons: -Mostly a single player game, PvP battles are optional. +Many items & mechs cost real money. -Limited character customization.
Overview
MechQuest Overview
MechQuest is set 5,0oo years before the events of Artix's first online hit AdventureQuest. The two games are similar in many ways, battles take place in a classic turn-based fashion between the player and AI controlled opponents. Players start with a simple mech with a single weapon but can purchase new mech types and weapons with credits earned in battle. Some mechs preform better with melee weapons while others are suited for long ranged combat. The number of weapon types is extensive covering everything from machine guns, rockets, lasers, to melee power swords. By winning battles, players earn credits (in-game currency) and experience but many of the most most powerful mech and weapons must be purchased with 'novas.' Novas can only be obtained with real cash or by completing offers On Artix's official site. By gaining experience and leveling up, players are given attribute points which can be used to raise six stats:
Luck - Effects the chance of critical hits.
Reflex - Increases dodge rate and change of going first in battle.
Power - Increases damage inflicted on opponents.
Accuracy - Increasing the chance of your attacks hitting an opponent.
Efficiency - lowers the amount of energy a mecha uses to attack.
Perception - lowers the amount of damage taken from a hit.
MechQuest Screenshots
MechQuest Featured Video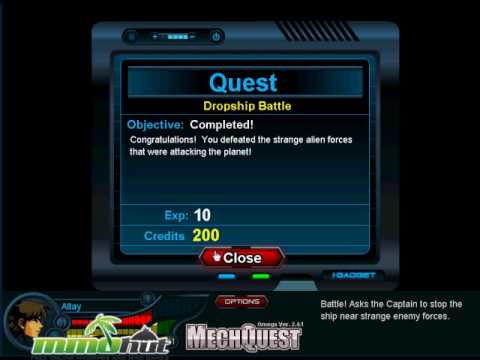 Full Review
MechQuest Full Review
Coming soon…
Screenshots
MechQuest Screenshots
Links
MechQuest Links