Maplestory is a fun, 2D side-scrolling fantasy MMORPG with cartoony graphics.  The game is certainly one of the most popular free-to-play MMORPGs, as it has a massive community and a lot of features.  The game has a large world to explore, varied classes, unique platforming party quests, and so much more.  Maplestory practically started the entire free-to-play genre, as it was really the first successful free MMORPG.
Publisher: Nexon
Playerbase: Very High
Graphics: Medium Quality
Type: MMORPG
EXP Rate: High
PvP: None
Filesize: > 3000 MB
Pros: +Gigantic community (Over 70 Million Accounts!). +Plenty of job advancements. +Unique platforming quests. +Great tutorial. +Regular content updates. +Huge game world with tons of quests. + Lots of classes to choose
Cons: -Easy to screw up stats/skill point allocation. -Repetitive gameplay.

Overview
Maplestory Overview
With over 70 million accounts created, Maplestory is probably the most played free-to-play MMORPG of all time.  Maplestory is a 2D side-scrolling, fantasy MMORPG with a massive amount of features and things to do.  Although the game is now a little bit over three years old, it still remains fresh, as the game has undergone countless content updates and patches.  If you can look past MapleStory's childish, cartoony graphics, there is simply lot this game has to offer.  Each player starts out as a classless novice, but can advance to their first jobs at level ten (level eight for magicians).  The game launched with the following job advancements:
Warrior- Warriors are the strongest melee class in the game, with an incredible amount of hit points.  They are perhaps the weakest characters in the game for the first 30-40 levels, but become incredibly powerful later on.
Magician- Magicians are the strongest characters in the early parts of the game.  They are capable of dealing massive damage with their offensive spells, but they have the least hit points out of all the classes.
Bowman- The Bowman in Maplestory are the generic 'archer' character, with the ability to deal a large amount of damage from a distance, but are vulnerable in close quarters combat.
Thief- A Thief in Maplestory is the standard 'rogue' archetype, with the ability to use either daggers or throwing weapons.  Thieves can deal massive amounts of damage at higher levels, but tend to have low hit points.
Pirate- Pirates were recently introduced to MapleStory within the last few content updates.  They are very fast attackers, like rogues, with the ability to use both guns and fist weapons.
*Since the Cygnus Knight, Aran, and Evan updates, 7 New Playable classes have been added to the game.
*Since the Dual Blade and Big Bang Updates there a total of 18+ playable classes. The new Big Bang classes are Battle Mage, Wild Hunter and The Mechanic.
Maplestory Screenshots
Maplestory Feature Video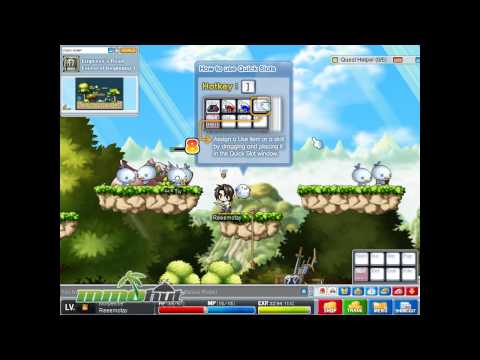 Full Review
Maplestory Review
By Omer Altay
If you haven't heard of or played Maplestory yet, you've been living under a rock.  The game pretty much pioneered the entire free-to-play genre, as it was really the first 'mega-hit' free-to-play game out there.  It boasts over 70 million registered accounts worldwide, which is quite a number considering World of Warcraft, the most popular pay-to-play MMORPG only has about 11 million subscribers.  Okay, fine, I know it's not a fair comparison, because lots of people have multiple accounts, and the 70 million figure counts the inactive accounts as well, but that's still a LOT of players! The only real 'turn off' in MapleStory may be the game's childish graphics, which I urge older players to look past.  Because, graphics aside, Maplestory is one of the best free MMORPGs out there, and arguably the best.
Okay 'Nuff nonsense, on with the gameplay
Maplestory is a side-scrolling, 2D Fantasy MMORPG with cute anime graphics.  You start off your journey on Maple Island, the game's tutorial area, as a classless novice.  Here you can complete quests and get a feel for the game, and even gain a few levels while you're at it.  Players can advance to their first job after reaching level ten if they want to become a Bowman, Thief, Warrior or Pirate, and level eight if they want to become a Magician.  Maplestory's gameplay is extremely addictive, as unlike other free MMORPGs, each 'level up' earns players three skill points rather than just one, which makes progression feel more meaningful.  The game's graphics are also unique, as it is one of the first side-scrolling MMORPGs, but the game's success led to games like La Tale and Ghost Online, copying the game's innovative graphics.  The single best aspect of the gameplay is the simplicity, as the game practically has no learning curve.  The only real downside to the game is that it heavily 'grind' oriented, which means you'll have to kill the same group of monsters over and over if you want to gain experience.  Nexon has done a lot recently to remedy this, though, as the game is much more quest oriented than it was when first released.  With the Cygnus knights and Aran update, not all players start in the same tutorial area, but the premise is still the same.  The Cygnus Knights main 'quest line' will easily take players to level 25+, so players won't have to outright 'grind'.
Unique Quests
Maplestory does a lot to differentiate itself from other free-to-play MMORPGs.  The game has an incredibly unique questing system, which has a lot of fun quests that you won't find in other games.  One of these unique quests is the game's 'jumping' quests that involve timing jumps and trying to get from one side of a map to another, sort of like a platforming game.  Sure, the game has regular 'kill X amount of Y monsters' type quests as well, but the fact that the game has these unique platforming quests definitely spices up the game, as it's a welcomed distraction from the grinding aspects of the game.   Another fun and innovative aspect of Maplestory is the game's 'party quests', which are exactly what the name implies; a quest designed for multiple people at once.  'Party Quests' (PQs for short), are usually a series of puzzles that a group has to solve through cooperating with each other within a set amount of time.  The 'unique' aspect of MapleStory's party quests is that they are more about solving puzzles and riddles than actually killing monsters, which, once again, is a welcomed change from the game's repetitive grinding.  The game also has a lot of generic kill quests as well, so players get the best of both worlds.
Job Advancements Galore
Maplestory has a large selection of job advancements which leads to the game having a great deal of variety.  After players select their first job advancement at level ten (level eight for Magicians), they can select their next job advancement at level 30 and another at level 70.  With the game's latest series of updates, players can now select a fourth job advancement at level 120.  Each of the game's job advancements have a unique set of skills for players to learn and master.  Unlike other MMORPGs, all of Maplestory's job advancements and starting classes are incredibly balanced, with none of them being 'overpowered' or 'underpowered'.
This game is always fresh
The best aspect of Maplestory is that game is always fresh.  The publisher behind the game, Nexon, regularly updates the game's content.  I remember when I first started playing Maplestory in 2005, the game's world was tiny with only one land mass called 'Victoria Island'.  Today, the game's world has easily grown well over five-fold with the introduction of multiple new continents and areas to explore.  The game's latest content update introduced an entirely new 'pirate' class to the game, and several new dungeons for players to explore.  Just recently Nexon also released the Cygnus Knights and Aran updates which added a whopping twelve new classes to the game, as well as many new areas to explore.  The sheer amount of content in this game is jaw dropping, as there are so many quests to complete and places to explore that by the time players even come close to completing all of the content, Nexon will quickly remedy that by releasing more content.  The game has no shortage of events either, as there are events for every major holiday, and occasional random GM events with bonus experience and item giveaways.  Ultimately, if you're looking for a game that doesn't get old, MapleStory is your game.


Final Thoughts
Maplestory is one of my all-time favorite MMORPGs, along with Ragnarok Online.  The reason both games are so good are because they both have a massive amount of content that gets updated regularly.  The two most important aspects of an MMORPG is its playerbase, and content, as without both, an MMORPG is dead.  I urge gamers that are turned off by the game's graphics to at least give the game a try, as even though the game feels childish, it's an enormous amount of fun.  I mean, come on, if a game wasn't fun, it wouldn't have over 100 million accounts worldwide.
Big Bang
On December 7, 2010 Nexon rolled out an enormous update for MapleStory titled "Big Bang". The update changed just about every aspect of MapleStory – for the better. The game now supports a higher resolution of 1024×768, has three new playable classes (Battle Mage, Wild Hunter and The Mechanic, has a much higher experience rate (2x-5x faster leveling), a new area called Edelstein, plenty of new quests and so much more. Aside from the changes I mentioned, every skill in the game has been rebalanced and tweaked with the aim or getting rid of the "useless" skills. Just about every monster in the game also had their stats tweaked as well. The entire game world in MapleStory went through a radical change as well – with towns being moved closer together and maps being completely overhauled. NPCs in towns have been clumped closer together for convenience too. The Big Bang update is certainly a breath of fresh air to a game that's already rich in content.
Final Verdict: Excellent
Maplestory is hands down one of the best free-to-play MMORPGs of all time.  The game's varied gameplay and catchy game music will keep you hooked from the moment you start playing.  The game's sheer amount of content and variety is another reason to give the game a try.  Maplestory is definitely worth the download, so go download it!
Screenshots
Maplestory Screenshots
Videos
Maplestory Videos
MapleStory Boss Battle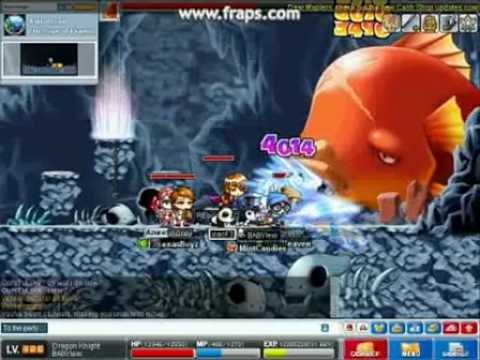 MapleStory Big Bang New Classes Video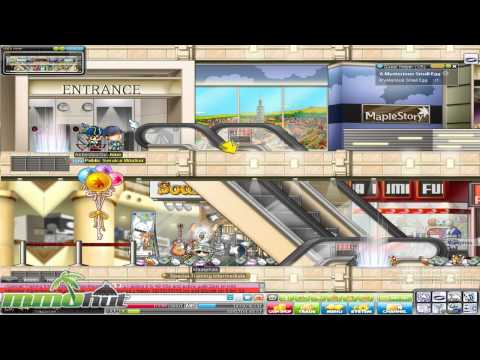 MapleStory Cinematic Trailer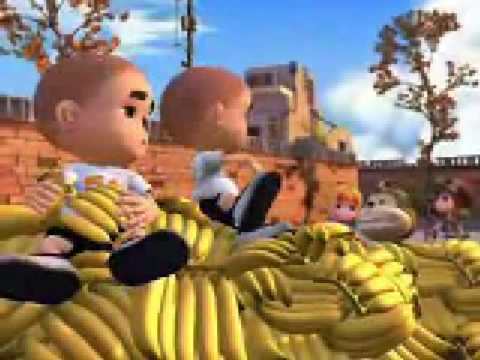 MapleStory Gameplay Trailer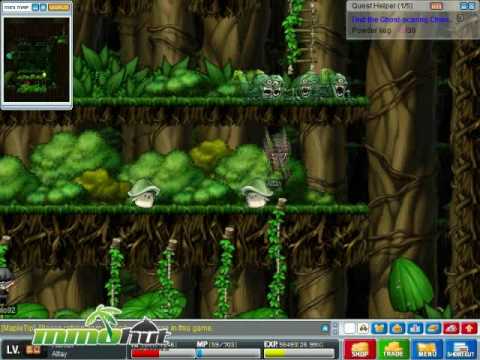 System Requirements
Maplestory System Requirements
Minimum Requirements:
OS: Windows XP / Vista / ME / 2000 / 98
CPU: 500 MHz Intel Celeron or equivalent
RAM: 64 MB
HDD: 1.5 GB Free Space
Graphics Card: Any 3D Accelerator Card
Recommended Specification:
OS: Windows XP / Vista / ME / 2000 / 98
CPU: 700 MhZ Pentium 3 or Better
RAM:  128 MB RAM
HDD: 1.5 GB Free Space
Graphics Card: Any 3D Accelerator Card
Maplestory Articles