Magic The Gathering Tactics
Magic: The Gathering Tactics is a 3D fantasy MMO based on the popular MTG franchise. Create decks and battle on gridded maps in this turn based RPG. Play against human opponents, or through the game's single player campaigns.
Publisher: Sony Online Entertainment
Playerbase: Medium
Graphics: Medium Quality
Type: MMO
EXP Rate: High
PvP: 1v1
Filesize: ~ 1600 mb
Pros: +Options tutorial. +Single player campaigns. +Tournament options. +Turn-based 'tactics' gameplay. +Create custom decks using an assortment of cards. +Talents allow for deep customization.
Cons: -Boosters & extra singleplayer content cost real cash. -Slow paced gameplay.
Overview
Magic The Gathering Tactics Overview
Magic: The Gathering Tactics is a turn based MMO with gameplay similar to PoxNora. Players create spellbooks, or decks, using a variety of cards and battle it out on gridded maps. MTG Tactics utilizes a match making system for quick 'pick-up' practice games that allow players to test out their decks. There are three tournament formats including Open, Constructed, and Draft. These require various amounts of 'gold' to enter. Gold is earned by completing daily missions unlocked after completing the first singleplayer campaign. Additional campaigns and booster packs can be purchased through the cash shop. Alternatively, the winners of tournaments are rewarded with new cards and other items. Magic The Gathering Tactics is an in-depth game that offers strategic gameplay through its turn based combat. It also has 3D character designs which bring the cards to life.
Magic The Gathering Tactics Screenshots
Magic The Gathering Tactics Featured Video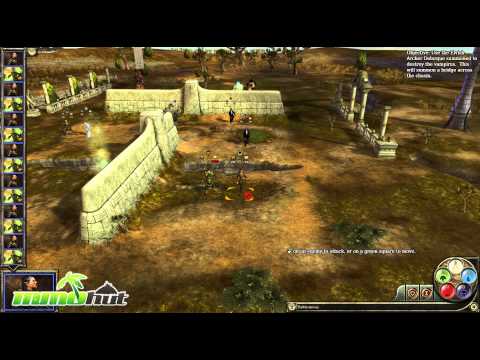 Full Review
Magic The Gathering Tactics Review
By, Ange Perdu
Magic: The Gathering Tactics is a 3D fantasy MMO where players become a powerful mage known as a Planeswalker. Based off the immensely popular 1993 trading card game that spawned an entire franchise fans get to exchange their boards for an online virtual world. Much like the original version players strategize each move on a gridded map to take out their opponent. Summon amazing mystical creatures to assist in combat. Cast various spells. Create a spellbook or deck of a great sorcerer. Complete challenging campaigns to help elevate your magic. Explore detailed animated environments. Go against other players in intense battles and compete in tournaments for prizes.
Rise of the Planeswalker, the Gameplay
Players create an avatar to represent their Planeswalker in the virtual world of Dominaria.
This animated reincarnation of a TCG is slightly different than its predecessors. Users navigate their Planeswalker through various environments completing campaign based missions and battling other players. As a character gains experience through leveling their magic capabilities also increase. There are five distinct colors of magic. Each shade represents a universal power. Select virtuous white, fiery red, earthy green, purple, or black. An optional in-depth narrated tutorial teaches mages the basics covering important techniques and interface settings. Players have the freedom to can choose their desired game mode. In Magic: The Gathering Tactics players can tackle story driven campaigns divided into chapters, wage combat against others, or participate in tournaments for bonus rewards. The solo play or campaigns allows users to accumulate experience points and additional cards. Every chapter features challenging missions. Players start off in the territory of Aerona in the wizard Academy at Tolaria West and travel across to the woods of Muronia inhabited by dangerous beasts. Complete various objectives along your journey. Kill a Goblin Piker with a melee attack. Use an Elvish archer to destroy vampires and summon a bridge. Some missions may require a Planeswalker to navigate through a certain area or activate magical globes. The tasks often vary making the gameplay interesting. Using magic to fight off shamans and wolves gives the game a true RPG feel.
The Spellbook
Each Planeswalker has an arsenal of spell cards stored in their spellbook or deck. Cards containing powerful enchantments, mythical creatures, or magical artifacts are collected and used in battle throughout the game. New players receive a free starter pack to work with. The game features a wide variety of cards for strategizing and annihilating foes. Use the Fear Enchantment to disable counter attacks from opponents. Call on the Thieving Magpie Bird to fly over obstacles. Clones enter the battlefield as a copy of its target. Other spells like the Uncommon Sorcery returns target enemy back to its owners cast bar. In the spellbook editor players simply double click to place a card in the next available slot. At the bottom of the screen there are designated rows for cards summoning creatures and casting enchantments. A minimum of 40 cards completes a spellbook. Four copies of specific card can be loaded into a deck. When a player reaches level 6 they can start earning talent points to invest in skill trees. The ability to customize and create multiple decks gives users the option of integrating a particular skill tree into a spellbook as well. Players are only as powerful as their spellbook. They are essential for strategizing attacks during combat.
Pick-Up Games & Tournaments
In pick-up games Planeswalkers fight against other wizards in turn based battles. A gridded map appears around figures in the plain. Each square counts as an area in which a character is allowed to move. A cast bar at the bottom of the screen displays spells from a player's deck along with a circle wheel monitoring mana. Mana is automatically generated per turn. Similar to PoxNora mages have the ability to summon mythical creatures to assist in battles. Clicking on a spell in the cast bar and then the desired target will initiate the attack. Although the animations for each spell are cool there is a significant lag when performing actions. It slows down gameplay and can be frustrating during intense matches. Players can also participate in tournaments. The three different types of tournaments in Magic: the Gathering Tactics are open, constructed, and draft. Each requires a fee of gold to enter. Open tournaments are scheduled throughout the day and does not require a set amount of players. Constructed tournaments are single elimination events where 8 players battle it out to the last one remaining. Draft tournaments are special Swiss events where the same number of players fights to win the best out of 3 games. These competitions often give away rare or expensive cards as rewards.
Auction House Benefits
In the Auction House Planeswalkers can buy or cards for gold. All the items are categorized by rarity, magic color, or type. There are hundreds of cards available to bid on. Buy the Gaseous Form enchantment to navigate through obstacles and figures quickly or grab a magical artifact like the Head of the Gorgon. The Talon Hawk Bird to the Giant Spider creature can be purchased for less than a user would pay in the shop area. The Auction House feature makes it easy to build up a decent deck. In the store boosters, single cards, and campaigns are available for station cash which requires real money to accumulate. Booster packs or boxes feature 10 to 24 card sets. Individual spells or creatures like the Targen, Magus of the Bazaar, and Mighty Djinn of Deceit increase the power of a mage's spellbook. There are five campaign chapters in Magic: the Gathering Tactics. Only the first campaign is free. The rest of them must be bought in the store. Paying for new campaigns can be expensive but necessary for serious players. It's possible to go through the free first chapter campaign relatively quickly leaving only pick-up games or tournaments to participate in.
Final Verdict: Good
Magic: the Gathering Tactics or MTGT is a solid MMO that combines role playing with traditional TCG elements for a unique experience. Players enter the virtual world of Dominaria to explore and conquer. Fight with familiar characters from the original Magic: the Gathering games as you cast spells and compete against other Planeswalkers. Complete missions in solo play for experience or go straight to battle in a quick pick-up game. Similar to games like PoxNora players summon mythical beasts to aid in combat.
Customize spellbooks and strategize to win tournaments for prizes. Although there's a noticeable time lag it's still fun. Fans of the MTG franchise will find this game truly addicting.
Screenshots
Magic The Gathering Tactics Screenshots
Links
Magic The Gathering Tactics Links
System Requirements
Magic The Gathering Tactics System Requirements
Minimum Requirements:
OS: Windows XP
CPU: Intel Pentium 4 3.0 GHz / AMD Athlon FX-53
RAM: 1 GB
HDD: 1.6 GB Free
Graphics Card: Nvidia GeForce 8600 / ATI Radeon HD2900
Recommended Specification:
OS: Windows XP/ Vista / 7
CPU: Intel Core2 Duo / AMD Athlon FX-60 or better
RAM: 2 GB or more
HDD: 2 GB Free
Graphics Card: Nvidia GeForce 8800 / ATI Radeon HD2900 or better