Luvinia World (previously Luvinia Online) is a top-down MMORPG by Shanda Games, previously published in North America by Outspark and recently picked up by Soa Games. Players embody members of a variety of nations divided in two alliances, the Empire and the Federals. Defeat your enemies through one of the fifteen plus classes, going from Warlock, Berserker, all the way to Artist! Similar in gameplay and style to the many Chinese-style games out on the market, this is an experience that you will either love, or hate.
Publisher: Soa Games
Playerbase: Medium
Graphics: Low Quality
Type: MMORPG
EXP Rate: Medium
PvP: Open World
Filesize: 2,830 MB
Pros: +Extensive class selection. +Bright, colorful art style. +Diverse, sometimes odd environments.
Cons: -Factions are all identical. –Sub-par character customization. –Travel is restricted. –Similar to many, many other MMOs. –Very low difficulty, minimal challenge.
Overview
Luvinia World Overview
Luvinia is Shanda Games' new North American release. The world of Luvinia is a politically conflicted one, where two alliances clash. This might seem a bit familiar to other games out there, such as Last Dyansty, and that's because it is. Luvinia most definitely does bring anything new to the table, and this is most likely why it might not appeal to everyone; there is simply quite a few games out there that are practically the same gameplay, but with a different coat of paint. That`s not to say that Luvinia doesn't have its good points. Its class tree, for one, is quite extensive, and its flashy graphics will most definitely appeal to some.
Luvinia World Screenshots
Luvinia World Featured Video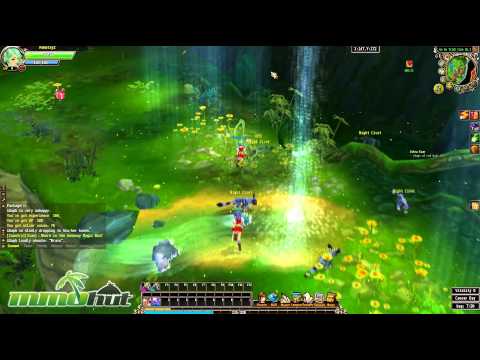 Full Review
Luvinia World Review
If you like a typical MMORPG with a whacky setting, this might just be down your alley. Luvinia World is a cute looking, low difficulty game with a truckload of classes, interesting graphics and an accent on PvP. It shares an awkward similarity with many other MMORPGs out there, loaning ideas, mechanics and even art from other games, to the point where many of the icons have a very uncomfortable resemblance to the World of Warcraft ones. It has a traditional style game that is well adapted to many computers, but that is not representative of the current generation. The real question is, does it deserve a spot in your collection albeit its flaws?
Sweet Killer
As of the writing of this review, there is only one server for North America. So after picking it, you're thrown right at the character creation screen. There's not much meat on the bones so far unfortunately. You get to pick a nation, your sex, appearance, voice and an astrological sign for which I have found no other function than the opportunity to read your daily horoscope in-game. Sure, why not. As far as nations go, nothing changes aesthetically; each nation looks identical, and this goes both for the players and in-game environments. Customization is absolutely minimal here, with a handful of faces, hair styles and colors to pick from, before throwing you into a starting area that looks like everyone else's, no matter your faction. There are however quite a few voices to pick from, which is a rare addition in a MMO, and reminds of traditional top-down RPGs such as Baldur's Gate. That said, there isn't much to gnaw on in character creation, and you're quickly sent on your way to the starting zone. In essence, nations act a bit as buffer to prevent too many players from being in the same starting zone. Like instances, they're absolutely identical, and the only reason to pick one or the other is fluff, or to be in the same areas as a friend.
Under The Sea!
Let's say it now however; this is a game that looks good. It has vivid environments, bright colors, and a lot of environmental goodies. Even though the starting area is the same for every nation and faction, it does look swell, with about 4 types of environments seen during the first 15 minutes of play. You start out in a sort of tutorial area that guides you towards the choice of your first class, which you get to choose from Warrior, Rogue and Magician. The concept is that once you reach level 10, each of these classes gets to choose between two classes, and once again at 40, creating a tendency for increasing specialization as you level up. The steady amount of class selection is definitely one of the high points of Luvinia, with some being odder class choices than others (Artist class. Seriously), and they fill the class roles you would normally expect in a RPG. The mechanics are nothing exceptional; point, click, kill. Get quests in town, do quests, return for experience, rinse, and repeat. The burden of the grind is eased by a few utility features such as auto-run towards the quest area, which, you'll find out, makes the entire process of constantly running back and forth between town and quest areas much less tedious.
Space… Fairyland?
You also get a whole lot of features more common in Asian MMOs, such as periodical gifts, calendars, horoscope, and enough health/mana potions to drown an entire village. Which brings me to my next point; the difficulty in this game is absolutely silly. With virtually no cooldown on potions and monsters that can barely notch your health bar, this is about as easy as it gets. Where it gets ridiculous is in PvP, where potions turn fights into hour-long wet slapping contests. By the time the fight is done, your character will be pissing like he just drank the Niagara Falls dry. This is a fairly serious balance issue if you enjoy PvP. That said, the entire thing is once again made better by the sheer silliness of the environment, because just as you realize you have the ability to drink twice your weight in fluid, you'll also stumble onto some of the game's more entertaining areas, with my personal favorite being Space Fairyland. There, you'll get to fight Phantom Maids (Dressed in a skimpy anime maid outfit), and Phantom Butlers, using for a weapon a giant lollipop. Yes, you read this right. I'll let you judge by yourself how awesome this last bit is.
Less-Important-Than-Space-Fairyland-But-Still-Pretty-Important
So that`s essentially it, you run back and forth from village to quest areas for 40 levels straight in areas that are identical to other factions, slowly climbing up the class tree, buying skills, and getting new items. Unfortunately, if your friends picked a different faction, you won`t be able to meet them before 40 as that level is the bare minimum to visit other factions' areas, other than during special PvP events hosted periodically by GMs. Finally, the money store is what you would expect from any store of its type. You get a few utility items, a lot of aesthetic stuff, and some crafting components, which does serve to give a bit of an in-game advantage, but nothing game breaking. The prices aren`t too bad, though you might want to wait for this game to get going a little bit more before investing serious money into it, as there is very likely a lot of content yet to come.
Final Verdict: Fair
Overall, Luvinia World is a cute looking game, but with bland, ancient mechanics. Setting aside concerns on icon art looking awfully familiar, it's still what's been done before, repackaged and sent your way hoping you'll dish out some cash in the money store. Its few good points are by far not enough to compete with an increasingly competitive free-to-play market, and as such, there are much, much better choices out there to occupy your time with. If you're looking for the next big free-to-play, move on, this isn't it. If you want bright colors, or just something to keep you busy in-between classes or while awaiting a flight, give it a try, but just don't expect anything deep or thorough.
Screenshots
Luvinia World Screenshots
Links
Luvinia World Links
System Requirements
Luvinia World System Requirements
Minimum Requirements:
OS: Windows XP / Vista / Windows 7
CPU: Intel Pentium 4 2.0 Ghz
RAM: 1 GB
HDD: 2 GB Free
Graphics Card: ATI Radeon 9500 or better, nVidia 5200
Recommended Specification:
OS: Windows Vista / 7
CPU: Intel Core2 2.4 Ghz or more
RAM: 2 GB or more
HDD: 3 GB Free
Graphics Card: Geforce 6800 GT or better
Luvinia World Articles