Lost Saga is an action-packed, 'beat-em-up'-style online fighting game that brings your favorite heroes from fantasy, history and science-fiction to life in an epic brawl for glory! Choose from over 50 unique heroes and customize their skills to fit your play style! Pick your battles with up to 15 other players in unique and treacherous terrain.
Publisher: WeMade USA
Playerbase: Medium
Graphics: Medium Quality
Type: 3D MMO Fighter
EXP Rate: Medium
PvP: Yes
Filesize: 370MB+
Pros: +Many unique classes to keep the game fresh. +Good skill animations. +Fast-paced and fluid gameplay. +Numerous 'distinctly different' game modes.
Cons: -Few maps. -Gameplay-wise, very similar to other fighting games.
Overview
Lost Saga Overview
The action-packed online fighting game returns with new Premium characters, regular content updates, and close collaboration with the title's developer to bring fighting fans the best beat-em-up game online!
LOST SAGA brings together heroes from fantasy, history, and sci-fi in an epic brawl for glory. Players can choose from over 50 unique heroes and level up and customize their skills. Fighters can be subbed in the middle of a battle, tag-team style, to create favorable matchups or initiate multi-character combos. Up to 16 players can participate in a variety of game modes while battling on treacherous terrain.
In May, WeMade USA re-launched the popular free-to-play fighting MMO under its own brand. The company has updated the game, prepared new content, and built out a plan to deliver an outstanding lineup of new and well known characters to join the game's pantheon of fighters through regularly scheduled content updates. Get ready to experience a new chapter of LOST SAGA!
Features:
PANTHEON OF HEROES: Over 50 Heroes to choose from with new Heroes continually added. From shadow assassins to cowboys, unlock melee, ranged, magic & special attack fighters.

EPIC PREMIUM HEROES: New Heroes from your favorite fighting games are joining Lost Saga! The first Premium Hero, Iori Yagami from King of Fighters, is now available. Premium Heroes offer a new player experience but do not confer special powers or unbalance gameplay.

NEW CONTENT: New Heroes, levels, and modes are available with more coming. So far, 2 new modes, 15 Heroes, and 5 new maps have been added.

MULTI-HERO COMBOS: Switch Heroes in mid-combo to chain creatively devastating attacks.

LEVEL UP: In addition to player ranks, each Hero can be leveled up through gameplay. Gain levels to unlock Upgrade Points to increase that Hero's attributes.

CRAZY SKILLS: Teleport, fire cannons, headbutt enemies, throw your hat, and more!

STEAL EQUIPMENT: Knock off an enemy's equipment in a match and claim it for your own use!

CUSTOMIZE: Mix & match different Helms, Armor, and Trinkets to customize your Hero.

MULTIPLE MODES: From Team Match to Boss Raid to the new 2D fighting game-style Champion Mode, find new ways to play.
Lost Saga Screenshots
Lost Saga Featured Video
Lost Saga – First Look – Refresher
Full Review
Lost Saga Review
By, Omer Altay
Lost Saga is an incredibly unique 3D Fighting MMO published by OG Planet. Gameplay-wise, Lost Saga plays out a lot like games like Rumble Fighter and Splash Fighters, with two exceptions – it's a lot more chaotic, and much more fluid. Think of Lost Saga as a 3D super smash brothers MMO (with more chaos), and some interesting MMO elements. Choose from one of over nine playable 'heroes' ranging from the generic fantasy 'Fire Mage', to the more modern gun-wielding 'Infantryman', and duke it out online with up to 16 players at once across numerous game modes.
Starting Out
Immediately after logging into Lost Saga for the first time – players are given the option of completing a short yet informative tutorial. The tutorial only takes a few minutes to complete and is well worth checking out before proceeding to join a game. All players start off their adventures in Lost Saga as a Shadow Assassin, one of the game's many playable heroes, and must first 'unlock' the other characters before being able to play them. The good thing is that none of the game's heroes are exactly 'over powered', so even though most players won't have access to the higher tier characters right away, the game is still fairly balanced. Anyways, right after completing the tutorial players should go ahead and join their first game by selecting the 'battle'  button on the bottom-left corner of the screen. I recommend joining a 'team match' game first, as players respawn right away after dying.  This makes it the most newbie friendly of the game modes.
Extremely Chaotic
Lost Saga is an extremely chaotic fighting game. It's fairly fast-paced and supports to up 16 players at once. Nearly all of the game's maps are fairly small as well, and the fact that most of the game's heroes have at least one 'area-of-effect' skill further fuels the chaotic nature of the game. Another aspect of the game that makes it all the more intense is that every single one of the game's 9+ playable heroes have four different skills, so at any given time there's almost always a Shadow Assassin hidden somewhere in the shadows waiting to ambush a player, or a Fire Mage up front casting some devastating area of effect spells. While playing, try to knock enemies off of the map, as falling off the map deals A LOT of damage to a player. Personally, after playing many slow-paced fighting MMOs like Rumble Fighter and Splash Fighters, I find that the hectic nature of Lost Saga is quite fun.
Unlocking New Heroes
All players in Lost Saga start off with access to only a single hero (the "Shadow Assassin"), but can quickly unlock the other heroes by playing the game for a bit. I was able to unlock the "Iron Knight" class after a single "Team Match" game, and the "Fire Mage" after four "Team Match" games, so unlocking new heroes doesn't take that long. Do keep in mind that although new heroes have to be purchased in the game's store with Pesos (the game's currency) in order to be used, every time a new hero is unlocked for the first time players are rewarded with '2 hours' of free game time with that hero. After those two hours are up, you'll need to purchase additional time with that hero in the game's store. It's not a bad system, as most people won't play as every single hero, but rather only a handful of them. Personally, I only liked playing as Iron Knight and Infantryman, so I could spend my money on purchasing time only for those heroes rather than all of them. The first two hours with each hero is free, so players will have plenty of time to try them all out and see which they like the best. Also, keep in mind that unlike games like Combat Arms and Wolfteam, (where players purchase items for X amount of days, the timer beginning immediately after the purchase), the hero time in Lost Saga only counts the time spent actually playing the game and that particular hero, not time spent logged off or in the chat lobby.
Enormous amounts of customization / Variety
Perhaps the most notable feature in Lost Saga is the game's customization options and variety. Every single one of the game's many heroes each level-up/earn experience independently from one another based on how often and how effective they were used in a single match. Every time a player dies, they can choose to spawn as a new hero, so if the enemy team has a bit too many fire mages or Infantryman it may be a wise decision to respawn as a Shadow Assassin and ambush them from behind with stealth. As players earn experience for their heroes and level them up they can further customize them by purchasing them new clothing, as well as use up 'upgrade points' earned by leveling up on decreasing skill cooldowns or boosting attributes (Attack, Defense, Speed and Dexterity). Every single hero has their own skills and attributes, so try to level the heroes you're good with rather than all of them at once. Each hero feels distinctly different as well, so it's hard to get bored of Lost Saga. If you're tired of playing as a Knight, try the Cowboy or Boxing Champ hero. The developers are constantly working on releasing more heroes as well, so in terms of overall content and variety, Lost Saga scores quite well.
Even more Variety!
One incredibly interesting aspect of Lost Saga that I feel adds a lot of depth to the game is that players can pick up weapons and equipment from other players that they defeat, or their allies defeat. The equipment you pick up can change which skills your character has, which makes for some really interesting combination. If I'm playing as a Shadow Asssassin and I pick up, say, a Wizard's Hat, I'll lose my own 'hat throw' ability but gain the Fire Mage's teleport skills. Let's say I'm teleporting around and killing people as a weird Fire Mage/Shadow Assassin combo, and I also drop my Assassin claws for an Infantryman's rifle.  Now I'm running around with the Stealth ability of an Assassin, the teleport ability of a Fire Mage, and the ranged attack of an Infantryman. Of course, in order to pick up a weapon from a dead player, you need to drop yours first, but this whole mix-and-match-pick-up-dead-people's-equipment system is a really quite awesome. My favorite mix of items was the Knight's gear plus an Infantryman's gun, as it allowed me to have incredibly high defense as well as a powerful ranged attack. Keep in mind, though – if you die, you'll respawn as one of the default classes again.
Few Game Modes
Even though my favorite game modes in Lost Saga was 'Team Match'.  The game has a few other modes worth mentioning. Team Match has two team (red and blue), and whichever team reaches a certain amount of kills first wins. Death Match is exactly like Team Match, but without the teams. Prisoner Mode plays out like Team Match except without respawns (Think Counter-Strike). Lastly, the "Boss Raid" gameplay mode involves all players on one team against one tough computer controlled 'boss' on the other. One of my only major complaints with Lost Saga is that there aren't more game modes. I mean, come on – how hard could it have been to program a few extra modes? Game modes like "King of the Hill" and "Capture the Flag", for example, should have definitely been included.
Final Verdict – Great
Lost Saga is without a doubt one of the best fighting MMOs out there. The sheer amount of customization and variety, as well as genuinely fun gameplay makes Lost Saga a must-play for anyone into the whole 'fighting' MMO genre. Do keep in mind though, the gameplay is extremely chaotic and likely won't appeal to everyone, though I still suggest that anyone who hasn't played Lost Saga yet to at least check it out. What are you waiting for? Give Lost Saga a try!
Screenshots
Lost Saga Screenshots
Videos
Lost Saga Videos
Lost Saga – First Look – Refresher
Lost Saga Gameplay Video
Lost Saga Feature Video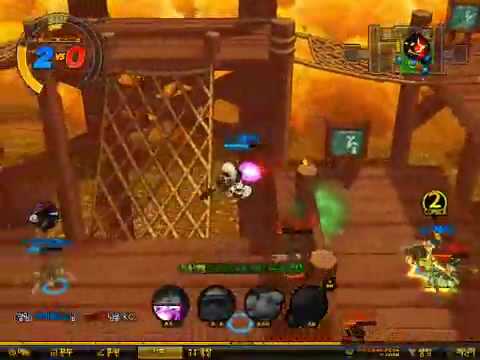 Links
Lost Saga Links
System Requirements
Lost Saga System Requirements
Minimum Requirements:
OS: Windows XP / Vista / 2000
CPU: Intel Pentium 4 1.2 Ghz or AMD 1600+
RAM: 256 MB
HDD: 900 MB Free
Graphics Card: GeForce4 Ti 4200 or ATI Radeon 9000
Recommended Specifications:
OS: Windows XP / Vista / 2000
CPU: Intel Pentium 4 2.4 Ghz
RAM: 512 MB Free
HDD: 900 MB Free
Graphics Card: GeForce FX5200 or ATI Radeon 9250
Lost Saga Articles
WeMade USA Updates Lost Saga and Launches Free Pass Community Event -

Posted on May 17, 2013


WeMade USA has updated the popular PC fighting MMO, Lost Saga, with a new Premium character, game map, and game mode, continuing its mission to keep the game fresh with ongoing new content.
WeMade USA Launches Lost Saga With Dynamic New Content -

Posted on May 3, 2013


WeMade Entertainment USA, the US-based publishing arm of leading online game company WeMade Entertainment, today announced the commercial launch of the popular PC fighting MMO, Lost Saga.
WeMade USA Appoints Philip Yun as CEO -

Posted on March 21, 2013


WeMade USA, the United States subsidiary of WeMade Entertainment, has announced the hiring of Philip Yun as their Chief Executive Officer.