UPDATE: This game has been shutdown and is no longer available
Overview
Legend of Martial Arts Overview
Legend of Martial Arts is fantasy MMORPG by the Chinese studio Perfect World Entertainment. Like Ether Saga Online, Legend of Martial Arts has anime inspired graphics and is based on Chinese mythology. The game offers a much more casual gaming experience that mixes a more relaxed atmosphere with comedic text. Legend of Martial Arts still has many traditional gameplay features including mounts, crafting, PvP, pets, and dungeons. There are two playable races, the Humans and the Reavers. Players start as novices, but have access to a variety of classes (called disciplines) as they level up. New characters start classes, but can make their first class change at level 10, their second at level 30, and their third at level 60.
Races & Disciplines:
Human:
Grasshopper -> Sharpy -> Tank / Slasher -> Meat Shield / Khan / Ninja / Samurai
Grasshopper -> Mager -> Medico / Augurer -> Healbot / Padre / Guru / Witch Doctor
Reaver:
Imp -> Summoner
Imp -> Transformer
Legend of Martial Arts Screenshots
Legend of Martial Arts Featured Video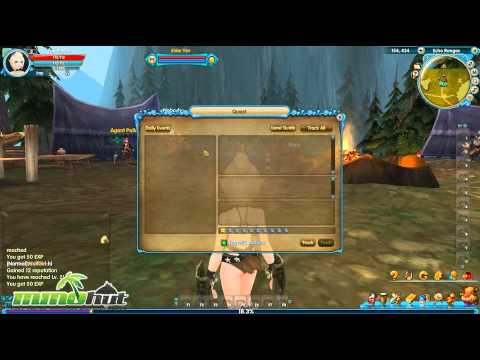 Full Review
Legend of Martial Arts Review
By, Erhan Altay
Legend of Martial Arts is the current iteration of a game that was originally known as Q-World when it was an Asia-only MMORPG. First released in 2008, the game was to be titled Kung Foo! in America but another round of development lead to it adopting the name Legend of Martial Arts. LOMA has a much more casual atmosphere than most other Perfect World Entertainment titles and an anime inspired graphic style most similar to Ether Saga Online.
Human vs Reaver
Like most Perfect World games, Legend of Martial Arts is based on Chinese mythology and set in a fantasy version of the Middle Kingdom. The graphic quality is decent, and the client clocks in at around 1700 mb. Despite entering beta on November 24, 2010 LOMA is actually older than Forsaken World or Battle of the Immortals. New players have two nearly identical races to chose from during character creation: Human and Reaver. Appearance customization for both races is limited to gender, several hair styles, and face styles. New players don't chose their class during character customization, they start as novices (either Grasshoppers or Imps), and can make their first class change at level 10.
Bastion for Beginners
Both Humans and Reavers start in the 'Founder's Bastion' map which has a city in the middle and various hunting grounds scattered around it. This is just one of 15 maps that are currently available, each of which is fairly large and connected to others via portals. The game world it self is known as 'Wulin' and composed mainly of a peninsula surrounded by several islands. The various maps have your standard mix of desert, snowy, and forest themes. The oriental background music sets an upbeat mood as do the brightly colored anime graphics. Visual settings allow for multiple resolutions and the option of fullscreen or windowed mode. The interface is tidy; movement can be controlled via W,A,S,D or with the mouse. While both are functional, point-and-click movement just feels more fluid in Legend of Martial Arts. The severely limited backpack space is frustrating, but has become a common feature across many free to play MMORPGs.
Talk, Quest, Grind
The beginner experience in Legend of Martial Arts involves a series of quests to lead from one NPC to another. Like nearly every Asian MMORPG, there's an auto-navigation feature which allows for effortless movement between quest objectives. Alternatively, players can bring up the area map and click on a spot to auto-move there. There are some pathing issues with the auto-navigate, it gets caught on obstacles at times, but a slight readjustment usually fixes the problem. There's also the standard Chinese lack-of-challenge. Early level monsters are never aggressive, and go down with little effort. Experience is best accumulated via questing, and it shouldn't take long to hit level 10 at which point players qualify for their first job change. Players need not worry about stat point distribution in Legend of Martial Arts, but they will receive a skill point each level. Skill resets are freely available during the early levels, so feel free to experiment. When the time does come for a job change, keep in mind that both Humans are Reavers are given two options. But the way the two races are structured starts to change soon after. Humans have a much more complicated and flashed out class tree to maneuver. There are two second job options available at level 30, and two more for each of those at level 60. Reavers, on the other hand, have a linear path to follow after their initial class selection.
Hunting Squirrels
Legend of Martial Arts has a casual atmosphere which is reinforced by both the goofy NPC dialogue and by the scenery and monster designs. Despite the casual friendly setting several in-depth features. Besides open world PvP, LOMA has an interesting dungeon PvP system where players must battle for the privilege of facing off against bosses. There's also a simple crafting system where players acquire recipes by completing quests and looting them off monsters. These recipes are memorized upon consumption. Players can also acquire special items that allow them to transform into monsters. The Berserker class centers around the ability to transform, but any class can use transformation items. There are over 100 of these transformation items available in Legend of Martial Arts. Iris Online has a similar transformation feature, but does a better job integrating it into the overall experience.
Old Dog, New Tricks
Despite being several years old, Perfect World Entertainment did put effort into updating the game for its US release. This isn't just Q-World, it has undergone heavy localization and warrants the new title. LOMA is not PWE's first cartoony game. Ether Saga Online has that distinction, and fans of that game should be sure to check out Legend of Martial Arts. But with that said, gamers who aren't comfortable with the art style found in Legend of Martial Arts won't be won over. It's great to see some more diversity in Perfect World's lineup, especially following a string of more serious releases including Battle of the Immortals, Heroes of Three Kingdoms, and Forsaken World. Check it out if you're looking for something light hearted, casual friendly, but with traditional MMORPG gameplay.
Final Verdict: Fair
Legend of Martial Arts is a functional MMORPG, but the gameplay and visuals feel too familiar. Despite its age, the game still looks nice and the light hearted environment does help it stand out. The large range of classes (at least for the human race) is also a plus, but the linear progression and similarity with other fantasy MMORPGs prevents it from earning a higher score.
Screenshots
Legend of Martial Arts Screenshots
Links
Legend of Martial Arts Links
System Requirements
Legend of Martial Arts System Requirements
Minimum Requirements:
OS: Windows XP / Vista / 7
CPU: Pentium 4 1.5 GHz
RAM: 512 MB
HDD: 5 GB Free
Graphics Card: GeForce 4 Ti4200 64MB / ATI Radeon 8500 64MB
Recommended Specifications:
OS: Windows XP / Vista / 7
CPU: Pentium 4 2 GHz or better
RAM: 2 GB
HDD: 14 GB Free
Graphics Card: GeForce FX 5200 128MB / ATI Radeon 9500 128MB or better