UPDATE: This game has been shutdown and is no longer available
Overview
Iris Online Overview
Iris Online is a free-to-play MMORPZG developed by Eyasoft, the same studio behind Luna Online. Like Luna, Iris boasts a cute, anime-inspired visual style. But don't let the graphics fool you, Iris Online is a full-feature MMORPG with a unique gypsy theme. Tarot cards effect much of the world, including the twenty-two instanced dungeons, each of which have a different theme based off one of the cards. Players can collect monster cards off almost any enemy in the game and use them to transform into those monsters. PvP battle zones pit up to fifteen players near the same level against each other. Players progress by gaining experience and skill points. The game has a variety of races and classes to choose from.
Human - Easily adaptable race that possess great strength and excels at technology.
Fighter - Fighters rely on brute strength and large weapons to deal heavy damage at melee range.
Mage - Arcane spellcasters who fight from a distance. They can buff allies, but are fragile in combat.
Hybrid - Half-human, half-animal. Hybrids have high strength and stamina, though their knowledge of magic is limited.
Warrior - Equipped with heavy armor, warriors are always at the forefront of battle where they can defend their allies.
Rogue - Shrewd combatants that rely on speed and cunning. Rogues exploit vulnerabilities in their opponents.
Elf - Elves are the oldest race in Arcana. They have unmatched knowledge and an affinity for nature
Ranger - Trackers and outdoorsmen. Rangers are masters of stealthy movement and the gun. They can also use daggers.
Shaman - Masters of fire, air, earth, and water magic. Shamans can summon elementals to aid them.
Iris Online Screenshots
Iris Online Featured Video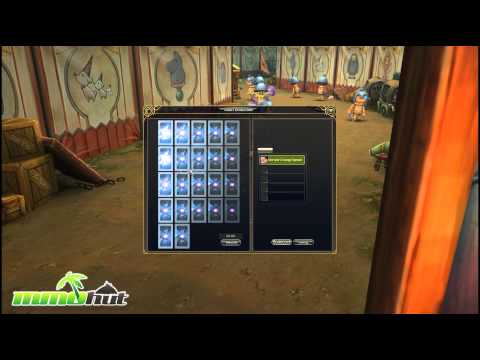 Full Review
Iris Online Review
By Erhan Altay
Most anime-themed fantasy MMORPGs tend to be very similar, but once in a while a game like Iris Online comes along and adds a new twist to the genre. Iris Online is developed by the Korean studio Eyasoft and published in North America on Gala-Net's gPotato portal. Eyasoft is behind a number of anime styled games including Luna Online and the recent Legend of Edda, but Iris Online is different from those titles. It has a 'Gypsy' theme, which means the world is filled with tarot cards, carnivals, and circus themed areas and instances. Behind the brightly colored visual style is an in-depth MMORPG with varied races, classes, PvP options, and other features.
Races of Arcana
Iris Online entered beta testing in the middle of October in 2010, and with a 2.4 gb client size, its a fairly large game. Each account has five character slots per server, which is almost enough to cover the six starting classes. There are three playable races to chose from: Human, Hybrid, and Elf. Each of these has two distinct classes available, for a grand total of six. There are a few face, hair, and hair color options, but appearance customization is very limited overall. The character models themselves look great. After character creation, the game prompts players with an option to take part in the tutorial. It's short, and explains some of the original features found later in the game. There's also a reward for completing it, so new players should run through it at least once.
Sign Up for the Circus
The tutorial in Iris Online takes place in a circus-themed zone where players are introduced to a new aspect of gameplay in each room. The game supports both keyboard (W,A,S,D) and point-and-click controls which will please many gamers. Better still, the keyboard controls actually feel fluid. This is one of the few Asian developed free-to-play MMORPGs where I felt more comfortable using W,A,S,D over the mouse. Players can even jump by hitting the space bar, but this propels them far into the air and is rarely practical. After learning to move, the next quest explains a bit about the game's lore. Most gamers will skip past this, but just remember that the world is called Arcana, and the races had to work together to defeat some evil force long ago. Next, players can choose between three cat mounts. Mounts come in all shapes and sizes in Iris Online including giant cats, crabs, and so on. Newbies won't be able to keep their tutorial mount, it only serves to show them how to use one. The interface in Iris Online is simple, the map is opened by hitting 'M', the quest log opens with the 'L' key, and inventory with the 'I' key. The only major complaints with the interface are the limited inventory space of twenty-five slots that new players start with, and the inability to view maps beside the one a character is currently in.
Fortune Telling
One major feature that distinguishes Iris Online from other free-to-play games is its Gypsy theme. Tarots cards, which are still used by fortune tellers today, have perhaps the most well known aspect of Gypsy culture. These cards, and especially the twenty-two major ones, play an important role in Iris Online. Each of the original twenty-two instanced dungeons in the game are based off one of the twenty-two major Tarot cards. Veteran gamers may have come across these cards before in other games like the Persona or Ultima series. They include cards like 'The Fool', 'Judgment', and 'The Emperor.' The order that a person draws these cards is supposed to reveal something about their fortune, but in Iris they play a role in weapon customization, crafting, and monster summoning. The tutorial explains most of these features, but its important to note that besides the twenty-two major tarot cards, there are fifty-six minor ones. On top of that, nearly every monster in the game (including raid bosses) have a chance of dropping cards. The cards monsters drop come in two forms: one type can be attached to equipment Ragnarok Online style, while the other kind is used to temporarily transform into the particular monster that dropped it. Each monster has a unique set of skills, and buffs. Cards are also used in crafting and can be combined with other items to create completely new items.
Character Growth
Progression in Iris Online is fairly linear. Players gain experience by hunting and completing quests, but they also gain SXP (skill experience) independently of their base experience. When the SXP bar fills, players are rewarded with a skill point which can be distributed among the multple skill trees each class has. Each starting class has access to two or more weapon/spell types, and each is represented by its own skill tree. Rogues, for example, can use rifles or dual daggers. Shamans can specialize in divine or offensive magic. Fighters can specialize in two-handed swords, dual swords, or sword & shield skills. All classes have a passive skill tree which contains permanent boosts to health, damage output, or particular stats. It is possible to spread skill points across multiple specializations, but this is not recommended. Players can a free skill reset at level 30, when they can make their first job change, but must use a cash shop item if they mess up before or after that time. Base experience is a lot simpler. Players don't receive stat points as they level, they increase automatically and can be raised further with magic equipment and buffs. Besides skills, there is one extra layer of customization in the form of an elemental 'Force.' There are four forces to chose from: Helen (fire), Nero (water), Annes (wind), Dera (ground.) Why does Nero represent water? I'm not quite sure, but there are several translation quirks throughout the game and this may just be one of them.
Point A to Point B
Gameplay in Iris Online is heavily quest-based, and players are usually lead from one zone to the next in a linear path. New players start in the town of Terminus, which is in perpetual night and progress to hunting grounds that are at different times of the day. The assortment of quests should be familiar to MMORPG fans; kill quests, item gathering quests, and talk to NPC X quests. To auto-move to a location, players must bring up the map and click on a certain area. There's no quest objective to quest objective auto-navigation, which is actually a good thing since too much automation can make a game boring. Combat relies on actively using a variety of skills, as they usually have cool downs of a few seconds. Luckily, every class is equipped with an assortment of skills and mana regeneration is pretty high. Interestingly, spells and skills cost a percent of total mana, not just a set amount. This makes the MP recovery rate a very important stat for every class. The constant use of skills keeps combat exciting, and monsters in Iris Online start aggroing at an early level, which makes things more challenging. Early quests reward players with dozens of HP/MP potions, but these will run out eventually. There's no death penalty until level 10, and players are free to spawn right where they died. After level 10, death carries a small exp penalty, and resurrecting where you fell causes a debuff for several minutes.
Carnival Games
Iris Online has many small features that help round it out as a full-feature MMORPG. These include an auction house, the ability to open personal shop stalls, and a title system. Titles are earned in a variety of ways, the most common being consuming tokens dropped by monsters. Titles effect the stats of a character when equipped, and can have both positive and negative effects. A title geared towards casters may increase magic damage and intelligence, but may decrease strength. Iris Online also has several PvP modes on top of the standard duel. Every so often, players are prompted on whether they want to participate in a capture the flag or team deathmatch event. If enough players within a certain level range agree, everyone who chose to participate is teleported to an instanced Colosseum field where two sides (each with up to eighteen players) duke it out. The game keeps track of PvP stats, including total kills, deaths, and also rewards points towards the player's currently chosen 'Force.' Besides large-scale PvP events, players can also group up to clear instanced dungeons scattered across the world.
You've Come a Long Way
The visuals in Iris Online are very reminiscent of earlier anime-styled games, particularly Fiesta Online, Seal Online, and perhaps a bit of Rose Online thrown in. Being a newer game, it's not much of a surprise that the graphics in Iris are better than those previous games. It's a high quality title, and a slightly more mature alternative to Eyasoft's more chibi-oriented titles.
Final Verdict: Great
Iris Online may feel familiar at first glance, but it has a lot of depth and a unique theme. With three races and a large assortment of classes, Iris Online offers varied gameplay options but with a simple to understand progression system. Instanced dungeons, instanced PvP battlegrounds, and the multi-purpose card system all add up to make Iris Online a top-notch MMORPG. It doesn't breakthe mold enough to earn the top score, but it's still a game well worth checking out.
Screenshots
Iris Online Screenshots
Videos
Iris Online Videos
Iris Online Cinematic Trailer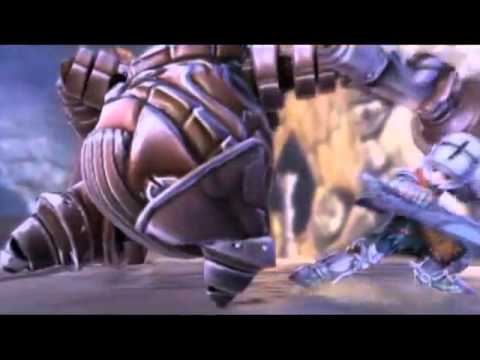 Iris Online Gameplay Trailer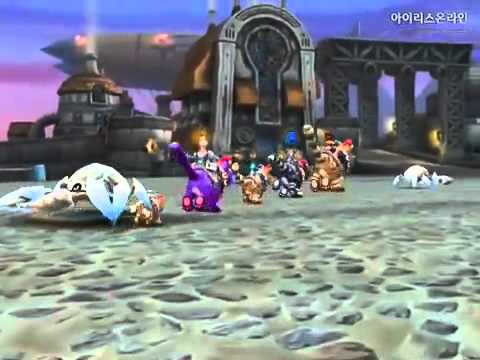 Iris Online Gameplay – First Look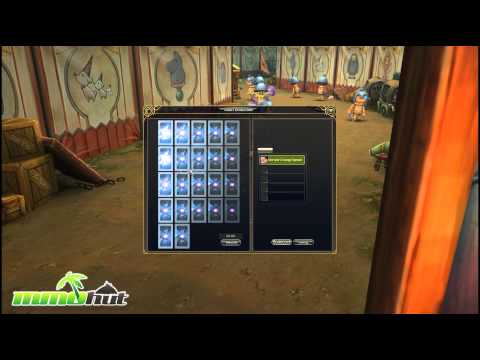 Links
Iris Online Links
Shut down.
System Requirements
Iris Online Requirements
Minimum Requirements:
OS: Windows  XP / Vista / Windows 7
CPU: Intel Pentium 4 2.0 Ghz
RAM:  1 GB
HDD: 3 GB Free
Graphics Card: ATI Radeon 9500 / nVidia 5200 (128mb memory)
Recommended Specification:
OS: Windows Vista / 7
CPU: Intel Pentium 4 3.0 Ghz or better
RAM: 2 GB or more
HDD: 4 GB Free
Graphics Card: Geforce 6600 GT / 256 mb video memory or better
Iris Online Articles