UPDATE: This game has been shutdown and is no longer available
Overview
Heroes of Kung Fu Overview
Heroes of Kung Fu is a strategy browser MMO that combines text style turn based combat with martial arts. Similar to other WebMMO games like Lords of Evil and Heroes of Gaia players are introduced to a unique battle system between warring states. Players choose from the spear, sword, or dagger class. These three basic classes branch off into sects and then into specialized professions of Knights or Hermits.
Spears Destruction Sect – They are the most destructive of the warriors. Possess the ability to deliver powerful blows to opponents.
Spear Defense Sect – These heroes are more honed in protective maneuvers. They provide good defense in a team environment.
Sword Sect – As a master at the sword their incredible arm strength destroys enemies swiftly. Speed and agility are also strong points for them during battle.
Sword Qi Sect – This type of hero utilizes magic to administer heavy sword attacks to opponents. MP serves as a powerful asset and as a weakness when running low.
Dagger Control Sect – Possessing amazing defense abilities and masters of the dagger they easily conquer other players in duels.
Dagger Assassin Sect – Their talent is initiating fatal attacks. Utilizing the art of surprise these warriors are experts at killing.
Heroes of Kung Fu Screenshots
Heroes of Kung Fu Featured Video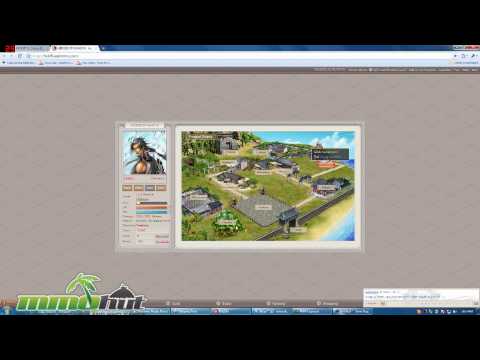 Full Review
Heroes of Kung Fu Full Review
By, Ange Perdu
Heroes of Kung Fu or HoK is a free strategy browser based MMORPG set in a world where anything is possible. Players become a time travelling hero from present day sent back to China in 249 B.C. in order to change history. Prevent the country of Qin from reigning, fight monsters, battle, duel, and alter the future in the process. Magic, science, and martial arts collide in this innovative game from WebMMO Flame Entertainment Inc.
The Way of the Sword, Spear, or Dagger – the Gameplay
Although the combat is text turn based Heroes of Kung Fu's endless quests and special features mesh well to form a challenging RPG. Quests or tasks in HoK usually involves slaying mystical creatures, stopping thieves, killing multiple warrior bosses, collecting blood for potions, and passing messages between high-ranking NPCs. Up to 20 daily tasks can be accepted. There are also separate main and extended tasks to complete each day. Most extended tasks include a storyline for your character and upon completion yields special item rewards. A special auto feature lets heroes delegate one quest at a time to an automated service called entrust. It usually takes about 30 minutes for them to finish the mission for you but it's a nice tool to help multi-task. XP points are earned by completing these types of tasks and fighting. Energy points are used during battles. The daily amount of energy points is limited so players must strategize which activities to spend it on. When a character's energy is too low they can no longer fight. It also affects speed in combat. There's no repetitive grinding necessary to level up. The various missions, battles, and PvP assassinations are provide enough variety to keep busy. Each player can choose their own path towards honor and glory.
Hero Killings and Slavery
The battle system for Heroes of Kung Fu is quite impressive. The stakes are set high. Players are not only fighting for honor but their freedom as well. During Arena PvP battles the winner has the option to make their defeated opponent into a personal slave. When a hero has captured a warrior as a slave they earn extra XP points. Players can even send their slaves to complete tasks for them. A captured hero has to duel their slave master in order to win their freedom back. In the Martial Hall Tournaments are held against warring states. In this area fights are initiated between heroes from distant kingdoms. Scoring a victory in the Martial Hall earns renowned recognition. The PK system in HoK is also a cool feature that allows players to kill each other at whim. The player killing option is free and open. Users who want to avoid the risk of assassination can set their mode to peace otherwise anyone is fair game. Throughout Heroes of Kung Fu players can also collect beauties from other territories by battling and leveling up. They are kept in the Beauty Gallery and divided into seven categories consisting of dainty, foxy, dazzling, adorable, gorgeous, stunning, and seductive. Once all the sets are collected players can start to acquire beauties from other kingdoms. This feature is simply for status. It's an extra bonus which makes the game stands out.
Steam Monkey Brains with Wine
The training system feature in Heroes of Kung Fu allows players to level up their character without fighting creatures or other heroes. It even functions when you're not playing. By simply clicking the training icon next to a monster a battle will begin instantly. The amount of XP points earned can be increased by eating rare foods like the infamous steam monkey brains which boosts experience points by 30% for three executive hours. If the length of training time is too long users with extra gold or energy points have the option to complete practices within seconds. As players conquer lands they will encounter passes leading to separate instances. Each instance has a variety of monsters and challenges. Working as a team with other heroes can make passing through them easier. Rewards are often special equipment to improve a character's attributes. The training and instance team system are two features that help speed of the leveling process and in turn the flow of gameplay overall.
Power of Seven Color Stones – Weapon Customization
There isn't really a wide variety of items to customize your hero in HoK. Most weapons are standard according to the warrior's class. Swords have swords, spears have spears, and daggers have well daggers. Occasionally a new weapon will be unlocked as a hero levels up. On the upside there is a weapon upgrading system. Specific stones like the seven color stone can be forged with any weapon or sometimes armor to increase upgrading levels adding an advantage in combat. Moon stones and other materials available at shops improve armor durability or strength. The in-game item mall has a small assortment of rare food like sesame cake, bamboo wine, and steamed pork dun which boosts certain attributes. Most of the armament in Heroes of Kung Fu can be purchased using coins or gold at any Market. Common items includes bronze plates, steel cuffs, belts, battlefield leggings, courage boots, leopard scarf, red ribbons, mantles, blood swords, plum blossom dagger, and fire spears.
Final Verdict: Good
Across-the-board Heroes of Kung Fu is a good game. If you don't mind the text style turn based combat or small Market you'll find HoK has a lot to offer. The diverse PvP options, unique system features, and rather fast paced gameplay give players an entertaining gaming experience different from the typical browser MMORPG. Players go on an adventure capturing slaves, village girls, assassinating rival heroes, dueling, and killing dangerous monsters. Comparable to Lords of Evil or Heroes of Gaia in some ways this game is definitely worth playing.
Screenshots
Heroes of Kung Fu Screenshots
Links
Heroes of Kung Fu Links