UPDATE: This game has been shutdown and is no longer available
Golfstar is a 3D golfing MMO. Create a custom avatar using a variety of clothing and accessories and play a few holes alone or with up to 30 other players. Golftstar has anime inspired character designs and allows simultaneous play, making multiplayer games much faster paced.
Publisher: Gamigo
Playerbase: Medium
Graphics: Medium Quality
Type: MMO
EXP Rate: Medium
PvP: N/A
Filesize: 975 MB
Pros: +All players can play simultaneously in multiplayer. +Variety of clothes and accessories available. +Up to 30 players per match. +Great interface
Cons: -Very Similar to other Golfing games. -Few playable characters. -Limited golf-course variety.
Overview
Golfstar Overview
Golfstar is a Korean developed golfing MMO being published in North America and Europe by Gamigo. The game was developed by Com2uS and has anime styled characters. The golf courses and surrounding environments are well rendered. Golfstar supports multiplayer matches of up to 30 players, and allows them to all play at once. This speeds up gameplay tremendously and is an improvement over several older golfing games. Like other golfing MMOs, players can customize their avatars and explore persistent shopping areas. As players progress, they'll be able to learn passive skills that improve their stamina and strength. Golfstar competes with games like Pangya, Shot Online, and Tiger Woods Online. Graphically speaking, Golfstar looks fantastic and is well worth checking out for those interesting in golfing games.
Golfstar Screenshots
Golfstar Featured Video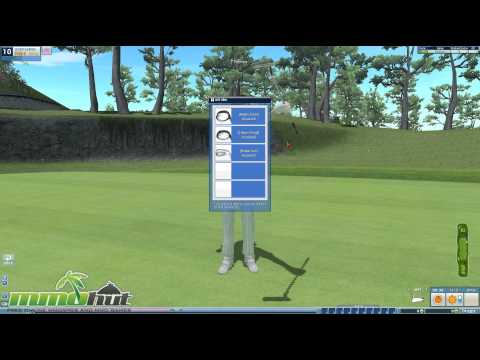 Full Review
Golfstar Review
Golfstar Review
There are few sports that have as much international appeal as golf: the polite atmosphere, the calculated shots, and the athleticism required have inspired even video game players. In recent years, golf games have made their way into the online arena, hoping to capitalize on the multiplayer aspect of online gaming. One of these games, Golfstar, is published by gamigo. While similar to Shot Online, as well as other golf games like Pangya and Tiger Woods Online, Golfstar still has plenty to offer the online golf fanatic.
Take Your Pick
Golfstar's character creation is very limited: there are two male and two female stock characters, complete with a name, age, and biography, to choose from. These characters can be customized a little: each has two hair styles and a few hair colors, plus two faces, to choose from. Still, you'll have the look of looking like one out of every four players, with the only distinguishing feature being the clothing you equip in-game. Fashion items also offer bonuses, however, so you still may end up looking pretty similar to the player you're putting against.
Teeing Off
While Golfstar aims for fair realism, the controls during play are relatively simple. Swings take place in two phases; the first has you hold down the space bar to fill your power meter and letting go when the power is to your liking, while the second phase has you tap the space bar within a small aiming reticule on the ball itself (the closer to the center of the ball, the better the shot). This mechanic works the same for both regular shots and putts, with putts showing their power meter on the green itself instead of as a swing bar.
There are a few additional controls as well. Using the mouse will let you aim left or right. Camera controls are also managed by the mouse, and three views, allowing you to focus on either the hole, the projected landing area, or the golfer, can be switched between with the keyboard. Golfers can also learn skills, which can be added to an action bar and used with standard 1-0 hotkeys for easy access. While these controls are easy to master for a beginner, the mouse controls are on a reverse axis, which may slip up a player from time to time.
How's the Weather?
While the graphics and controls of Golfstar are softly realistic, the challenges facing golfers on the holes are not. Like Shot Online, Golfstar impressively takes into consideration all the factors affecting a golf game, from wind and slope, to weather and humidity. Every condition you come across on the course can and will affect your shot, making it important to take a full scan of your situation on each shot – an impressive feat sometimes, as each shot is limited by a time of 30 to 90 seconds.
Get a Grip
Golfstar is not just a free-for-all golf game; equipment and player statistics play a major part. The game features a full set of fashion items for players to equip (purchased with both the game's in-game currency and in the cash shop), many of which affect a player's stats. Clubs are also a major necessity in game, as are various items that can help improve a player's accuracy, power, stamina, or control.
As you play on courses, you gain experience and money. Experience will help you gain levels, which in turn grants you a few points that you can allocate between the four stats mentioned above. This is where players can really customize their experience, putting points in the stats that they are weakest at, as well as those they feel will give them an edge on the courses. Players also get to learn skills, special abilities that can be activated while on the course to help give their shots an edge.
Get on the Course Already
There are only four courses available in Golfstar right now, and they all look generally similar to each other with the exception of White Cliff, which offers some beach-like obstacles and background noise. Thankfully, there are several game modes to make things more interesting. These modes are stroke (a standard golf match with the lowest score winning), match (head-to-head per hole, with one or two people per team), skins (where players bet per hole to win in-game currency), and both competition and team competition, which can feature up to 30 players golfing at the same time.
Not only does Golfstar allow a large number of players on the course at once, it also makes sure that golf play goes quickly by making all players play simultaneously. While this does give a little illusion that you're playing alone, it also significantly speeds up the golf game – a usual problem for most golf MMOs. The game also supports guilds, and hosts a regular guild day every Friday in which guilds get boosted experience and rewards as they play on the greens.
Final Verdict: Good
Golfstar is one of the better golf games available online; it's realistic, it's fast, and it supports its community through in-game lobbies and guilds, helping make it feel like a little less of a lobby and more like a golfing community. However, the game also has a very limited amount of content, and follows the same style of equipment rules that many FPS games do – permanent equipment is almost nowhere to be found (even your starter set has a thirty day limit.) While you can earn money in game to pay for clubs, you'll have to keep a close eye on your inventory to make sure you don't go broke and lose out on valuable stats. If you're looking for a more realistic golf game, this might be your best bet – just watch your pocketbook.
Screenshots
Golfstar Screenshots
Links
Golfstar Links
System Requirements
Golfstar Requirements
Minimum Requirements:
OS: Windows XP / Vista / 7 / 2000
CPU: 1.0 GhZ Pentium 3 or Equivalent AMD processor
RAM: 512 MB Memory
HDD: 3 GB Free
Graphics Card: GeForce 5200 / Radeon 9200 or better
Recommended Specifications:
OS: Windows Vista / 7 / XP / 2000
CPU: 2 GHz Pentium 4 processor
RAM: 1 GB Memory
HDD: 5 GB Free
Graphics Card: GeForce 6600/ Radeon 9600
Golfstar Articles