UPDATE: This game has been shutdown and is no longer available
Overview
GoGo Racer Overview
GoGo Racer is Gamers First's foray into the online kart racing genre. GOA has Kart' N Krazy, Nexon has Kart Rider, and Alaplaya has Racing Star: Come On Baby. It seems like the cartoony racing genre has really caught fire, as more and more publishers are releasing similar titles. GoGo Racer is a casual, fast-paced racing game that draws a lot of its inspiraton from Nintendo's Mario Kart. Actually, all kart racing MMOs draw their inspiration from Mario Kart, which unfortunately makes them all a bit too similar. Unfortunately, GoGo Racer, although fun, doesn't really bring anything new to the table, even though its one of the newest kart racing MMOs. It's still a fun game, though, so if you're looking for a new game to play, GoGo Racer is certainly worth checking out.
GoGo Racer Screenshots
GoGo Racer Featured Video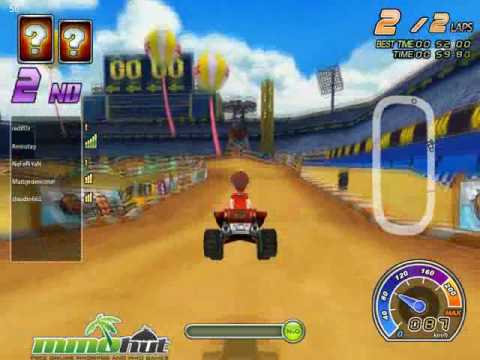 Full Review
GoGo Racer Review
By Omer Altay
GoGo Racer is the newest Kart Racing MMO on the block. It seems like 'Cartoony' racing games are starting to become more and more popular. I remember Nexon basically pioneered the MMO Kart Racing genre with the open beta of Kart Rider back in October 2007. The game's open beta service has since ended, but the game has yet to be released. Nexon's short term success with Kart Rider led to the release of many similar kart racing games, like GOA's Kart n Krazy and Alaplaya's Racing Star: Come on Baby. Every single one of these Kart Racing MMOs drew their inspiration from Nintendo's Mario Kart, so it shouldn't be too surprising to hear that they're all very similar. GoGo Racer, although similar to its competitors, is still a fun MMO that's worth checking out for fans of the genre.
First Impressions
I went into GoGo Racer without knowing what to expect, as I've already had a chance to play Nexon's Kart Rider, which is without a doubt the most popular game in the genre. Although Kart Rider isn't released yet in North America, I just can't imagine a new game like GoGo Racer to beat Nexon's title. When I first logged into the game, I was required to play through the game's five or so 'tutorial' quests. These quests were designed to introduce newbies to the game by teaching them the basics of the game while rewarding them with experience points. The tutorial quests are actually all incredibly short.  I finished all of them in a few minutes, so it shouldn't take too long to for players to be able to get through them and into the actual multiplayer races.
Gameplay in GoGo Racer mostly plays a lot like the other kart racing MMOs out there. Players lob items and drift while racing. Like Kart Rider and Drift City, players fill their boost gauge as they perform drifts. One unique aspect of GoGo Racer's gameplay that I really liked was the game's 'jump boosts'. Players that let go of the acceleration key while in the air immediately before they land receive a small boost. This may not seem like much, but this small feature alone adds a lot of enjoyment to the game, as it adds a layer of skill to a game that is largely luck-based. One small complaint I had with GoGo Racer was that simply moving around felt a bit awkward and glitchy. It just doesn't have the same fluidity that other racing MMOs like Drift City and Project Torque have.
Too Similar
Perhaps the most generic aspect of GoGo Racer is its core gameplay. It just feels way too much like Kart n Krazy and Kart Rider, but with less features. Heck, GoGo Racer currently only has one game mode and mostly dull maps. I'm not sure what Gamers First was thinking when they decided to launch GoGo Racer. It's not like all the other racing MMOs out there are so overpopulated that players are looking for a new place to go. It's actually quite the opposite – both Racing Star: Come on Baby and Kart n Krazy have a fairly low playerbase. The kart racing MMO market is already too saturated, so I'm still not sure what the publisher was thinking when they launched GoGo Racer.
Last Lap Syndrome
Unfortunately, like most racing MMOs that have items, GoGo Racer suffers from 'Last Lap Syndrome'. This simply means that since items are so incredibly powerful, the only lap that really matters is the last one. One player could easily be leading for a good 90% of the race, but a timely rocket can quickly turn the tides. This isn't exactly a drawback to the game, though, as a lot of players prefer chaotic, item-based racing games. The powerful items sort of level out the playing field, as even first timers can defeat 'pros', which is one of the genre's appeals.
Okay, Seriously, Nuff' Negativity
So far, a good majority of this review has been largely critical of GoGo Racer, so it's only fair if I dedicate some space to the game's positive aspects. Perhaps the single best aspect of GoGo Racer is its varied item shop. Players can customize their own vehicles with new parts and designs or purchase new vehicles entirely. The item store also has a large selection of aesthetics for sale like shirts, pants, hats and other accessories. Far too many MMOs neglect their item stores, which in and of itself can ruin an otherwise good game. GoGo Racer also has a large selection of maps and a single player 'time attack' mode that's actually quite fun. The game's experience rate is also fair-paced, so levels never feel out of reach. Another interesting aspect of the game is that at the end of every race, players can select one of three 'cards', which yield a random reward. It's an interesting way of keeping players coming back for more and it works, as playing the game feels rewarding. A lot of the game's more advanced features, like additional quests and game modes, are still under development though.
Final Verdict – Fair
GoGo Racer has solid game mechanics and some interesting gameplay, but unfortunately it's just too similar to the other Kart racing MMOs out there. It does have some unique aspects, and is worth playing until Kart Rider is released in North America.

Screenshots
GoGo Racer Screenshots
Videos
GoGo Racer Videos
GoGo Racer Gameplay Footage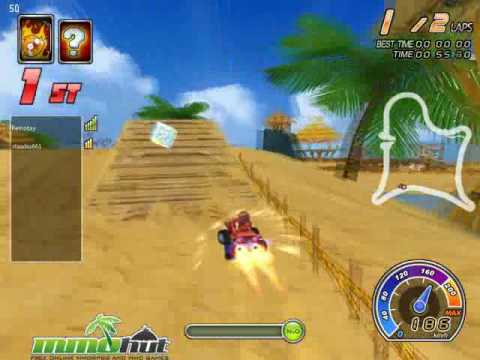 GoGo Racer Official Trailer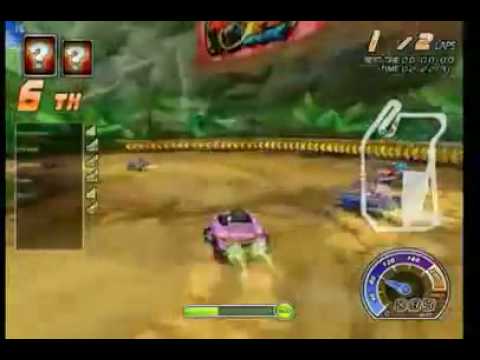 GoGo Racer Character Creation + Item Store Video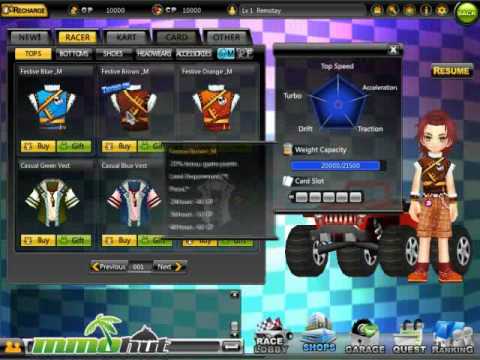 GoGo Racer Tutorial Video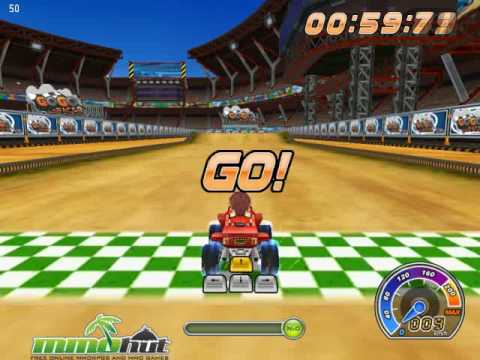 GoGo Racer Featured Video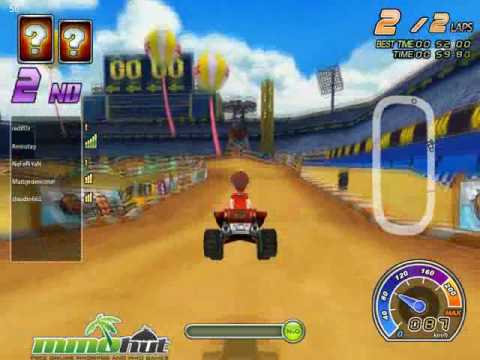 Links
GoGo Racer Links
Shut down.
System Requirements
GoGo Racer Requirements
Minimum Requirements:
OS: Windows 2000 / XP / Vista
CPU: 800 MHz Pentium 3 or equivalent AMD processor
RAM: 256 MB Free
HDD: 1.0 GB Free
Graphics Card: Any Direct x 9.0c compliant VGA card
Recommended Specifications:
OS: Windows 2000 / XP / Vista
CPU: 1.4 GHz Pentium 4 or equivalent AMD processor
RAM: 512 MB Free
HDD: 1.0 GB Free
Graphics Card: Any Direct x 9.0c compliant VGA card