Overview
GodsWar Online Overview
GodsWar Online is a simple fantasy MMORPG with rather basic graphics and gameplay.  What sets it apart from the competition is the unique theme based on Greek Mythology and faction wars between the two major Greek city-states -Sparta and Athens.  GodsWar Online has a pet system, and an interesting afk botting program built-in that allows gamers to set their characters to grind without player input.  While there are a plenty of quests during the early levels, and the experience rate is brisk, things begin to slow down as you approach the late game.  There are currently four classes in GodsWar Online:
Warrior - The front-line fighters who take the brunt of the enemy's attacks.  They can inflict damage, but their main strength is their high defense and HP, which allows them to tank for their teammates.
Champion - The melee damage dealers.  Champions use spears to inflict as much damage as possible on their opponents.  They lack the high defense and health warriors possess.
Priest - A supportive class that has powerful healing and enhancement spells that keep the priest's allies in peak shape. The priest does wield offensive spells, but excels in a team environment.
Mage - The primary damage dealers of GodsWar Online.  Mages can deal massive damage with their spells, but have low defense and health which leaves them vulnerable.
GodsWar Online Screenshots
GodsWar Online Featured Video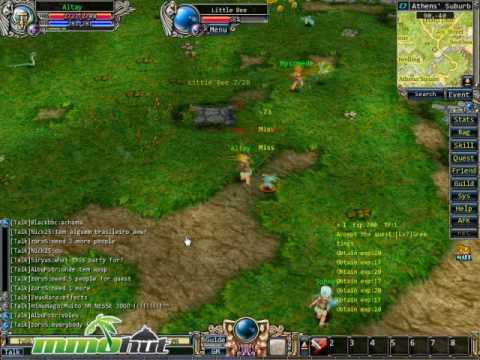 Full Review
GodsWar Online Review
By Erhan Altay
After an extended testing period, GodsWar Online finally entered open beta on April of 2009.  Published by the China-based gaming portal IGG, GodsWar Online takes place in a mythological version of ancient Greece.  While GodsWar is a relatively new game, it has very basic graphics and a traditional gameplay style that makes it look and feel like a much older game.  If you're looking for an easy game that even manages to play itself, read on.
This is SPARTA!
There are currently two live servers, but players can only have a single character on each.  There is no race selection, but players can chose between the two major city-states of ancient Greece: Athenes and Sparta.  There are a total of four classes that are shared between both cities: Warrior, Champion, Priest, Mage.  Appearance customization isn't very in-depth.  It involves choosing a gender, between eight hair styles, five hair colors, and five face styles.  The character models themselves don't look very impressive, but their clothing does manage to give them a Hellenic style.  There's also a space to enter a referrer's 'buzz code', which consists of seven numbers, but I don't see many people bothering to do this.
Welcome to Athenes
Regardless of which city you chose to start in, the first few quests will involve walking around town and talking to several NPCS.  These talking quests are common in many games, but are made slightly more inconvenient in GodsWar Online since quest NPCs are not marked on the map.  Coordinates are provided to quest locations, but is a red marker on the mini map too much to ask?  As newbies complete these initial quests, they'll notice that the game has a high experience rate; I got to level three before receiving my first kill quest.  From my experience, leveling up alone doesn't reward any stat or skill points.  Instead, there is a small green bar below the hp/mp bars titled the expertise bar.  Every time this bar fills, you're rewarded with a talent point to distribute on the talent tree.  Most talents have a max rank of forty, and there quite a few of them, which leads me to believe that the max number of talent points is extremely high.
See the Sights
Movement and combat in GodsWar is very simple.  Click to move with the mouse and left-click on monsters to attack.  Sadly, you cannot tilt the camera at all, though you can zoom in and out with the mouse wheel.  A toolbar is provided to assign skills and consumables like potions.  The graphics are two dimensional with some 3d effects.  Many developers call this style "2.5″.  I was generally unimpressed with the graphics, especially with the monster designs.  Even into the level 50′s, you'll be hunting animals such as snakes, spiders, deer and so forth.  Throughout my time with GodsWar, I can't claim to have seen any creatures from actual Greek mythology, though there may be some in the higher level dungeons.  The game world isn't tiny, but there are relatively few maps, and the number of available quests dwindles rapidly towards the end-game.  One major complaint that dedicated players express is the general lack of end-game content, though this may be because the game is still very new.  Despite its age (or youth), GodsWar Online just doesn't play like a new game.  It is far closer to several older MMORPGs, as we shall see below.
Battle Bots
When I first headed into the suburbs of Athens, I fought the local wildlife manually with shield and swords equipped.  Eventually, a helpful menu screen informed me that by pressing F12, I could open up the built in official afk botting tool.  With this tool, you can set it to automatically attack nearby monsters, heal when your hp falls below 60% and even head back to town to restock on potions when you're out.   It was then that I was reminded of Magic World Online and Chaos Online.  Both those games, along with WYD Global, have built-in botting programs that basically play the game for you.  An argument can be made that by providing this service it eliminates the most tedious parts of gameplay and since people will bot anyway, why not make it official?  I don't buy into either of these arguments.  PvE is a major component of any MMORPG, and the developers should strive to make it enjoyable, not so tedious that they feel compelled to allow you to automate it.  Secondly, caving in to botters is the wrong approach.  They should be dealt with harshly with perma-bans.
What's The Use?
Most of the translations in this game are acceptable, but the quest descriptions and backstory fail to create a real sense of purpose.  This isn't uncommon in free-to-play games, which is why they rely on solid gameplay and a steady sense of character growth.  With a game that automates combat, this is difficult to achieve.  Faction-based PvP between the two city-states does play an important role in GodsWar, but you'll need to invest a good deal of cash into the item mall in order to compete.  The game does have some more current features (such instanced dungeons and a pets at level 10), but is still by no means cut out to be a 2009 release.  I must admit, it was pleasing at first to leave GodsWar running in the background and level up as I surfed the web, but eventually I asked myself "what's the use?" and promptly exited out.
Final Verdict: Fair
GodsWar Online adds little to the genre besides a somewhat distinct theme.  It is a simple game that seems like a repackaging of older MMORPGs rather than a new 2009 release.  An automated combat tool allows players to grind while AFK, but the game lacks the end-game content to make it worth the (lack of) effort.
Screenshots
GodsWar Online Screenshots
Videos
GodsWar Online Videos
GodsWar Online Character Creation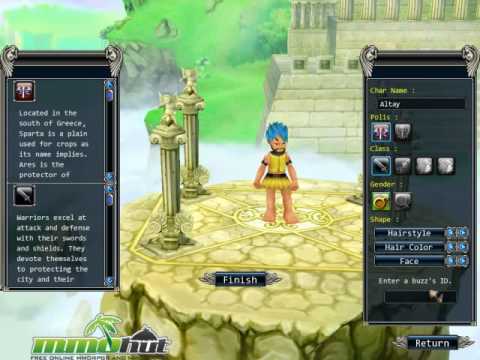 GodsWar Online Beginner Video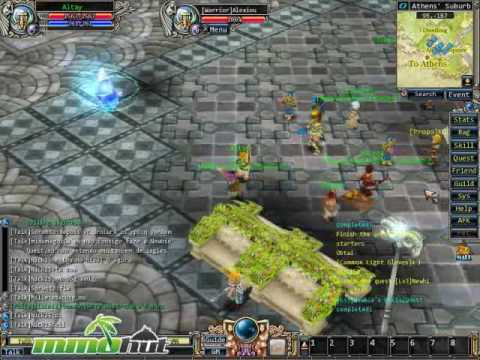 GodsWar Online Skills Trailer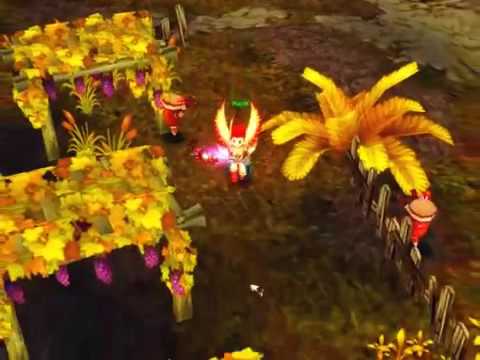 GodsWar Online Gameplay Footage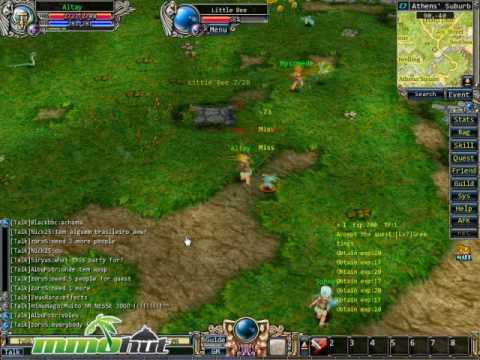 Links
GodsWar Online Links
System Requirements
GodsWar Online System Requirements
Minimum Requirements:
OS: Windows XP
CPU: Pentium 4 1.2 GHz
RAM: 512 MB
HDD: 1.0 GB
Graphics Card: Geforce MX440
Recommended Specifications:
OS: Windows XP / Vista
CPU: Pentium 4 2.0 GHz or better
RAM: 1024 MB or more
HDD: 1.5 GB
Graphics Card: Geforce 5600FX or better