UPDATE: This game has been shutdown and is no longer available
Overview
Genesis A.D Overview
Genesis A.D is 3D MMOFPS published by ijji that's set in a dystopian sci-fi future. The game blends the tactical gameplay of Alliance of Valiant Arms with the crazy wall jumping mechanics of GunZ. Genesis A.D is also one of the few MMOFPS games with a sci-fi setting; that alone helps the game stand out amongst the dozens of modern-day tactical shooters. The game boasts smooth gameplay, solid graphics, and plenty of game modes to keep players entertained. Much like Alliance of Valiant Arms, Genesis A.D has three playable classes:
Assault – Specialize in shotguns and automatic rifles. They are excellent soldiers meant for front-line combat and can be played aggressively, as their booster packs allow them to quickly leap across the map into battle.
Sniper - Specialize in picking off their enemies from a safe distance with high-powered sniper rifles and energy rifles, which can quickly kill their opponents. They also have access to cloaking technology, making them quite deadly and capable of covert kills.
Supplier - Capable of using automatic sub-machine guns, and are useful for recharging their teammate's HP and energy. They are excellent support characters, and while incapable of standing toe-to-toe with a good assault character, they are extremely versatile and helpful to their team.
Genesis A.D Screenshots
Genesis A.D Featured Video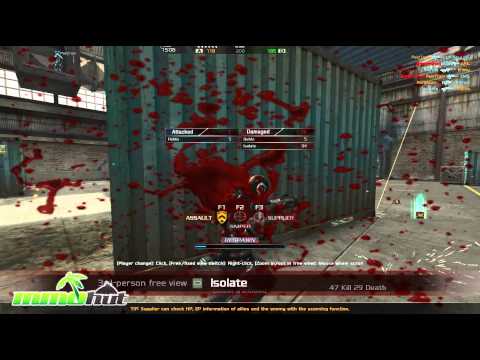 Full Review
Genesis A.D Review
By Omer Altay
Genesis A.D is a 3D sci-fi MMOFPS published ijji and developed by the Korean game studio Queen's Soft. The game launched into open beta testing on November 8, 2010 and has no IP restrictions, meaning it can be played worldwide. Ijji definitely has a thing for shooters, as before Genesis A.D even released, the publisher already serviced three other shooters: Alliance of Valiant Arms, Soldier Front and GunZ. Genesis A.D is a unique title that mixes tactical shooter elements with more fast-paced GunZ style wall jumping. This combination proves to be a successful formula for fun, as Genesis A.D does a great job differentiating itself amongst dozens of other MMOFPS games, keeping players engaged long-term. I personally went into Genesis A.D not knowing what to expect, as aside from S4 League, there really aren't many sci-fi themed MMO shooters out there.  After playing and exploring what this sci-fi FPS had to offer, I was pleasantly surprised, especially since the game kept me coming back for more.
Getting Started
Getting started in Genesis A.D is quite simple; name your character, select a channel to play on, and decide if you want to complete the optional tutorial or jump straight into a live game. Whether you're a novice or a hardcore FPS guru, the game's tutorial is well worth completing, as it's short, informative, and rewards players some extra CR (the game's currency). The tutorial also does an excellent job of explaining how to perform some of the special moves in Genesis A.D, such as wall jumping, dodging and boosting. Using these abilities correctly and effectively in games can prove to be incredibly useful.
Upon completing the tutorial (or choosing to skip it), I recommend players to spend some of their starting CR on better equipment. A better backpack and a second primary weapon is a good place to start. Purchasing these items shouldn't be a problem early on, as players start out with a generous amount of CR. Players can equip upwards of three primary weapons, and having at least two is enormously helpful, as switching between weapons is always more effective than reloading – especially in a tight spot. Like almost every other MMO shooter, Genesis A.D is lobby based, so find a map and game mode you're interested in or host your own room and get started.
Core Gameplay
As mentioned earlier, the core gameplay in Genesis A.D is a mix between modern tactical shooters and more fast-paced titles like GunZ. Upon joining a game players can select from one of the game's three playable classes, which the game calls "branches" – Assault, Sniper and Supplier. Each branch has its own set of weapons and armor as well as their own strengths and weaknesses. Like in Alliance of Valiant Arms, players in Genesis A.D can switch between any of these three classes at will by hitting the F1, F2 or F3 keys while in a game, and upon dying, players will respawn as their chosen class.
The most interesting aspect of Genesis A.D is most certainly its fast-paced gameplay, which is the result of the games special abilities. The assault and supplier classes can use impact boosters to "jump" their characters across the map and catch their enemies by surprise, while snipers can use their cloaking ability to sneak up on their enemies or evade detection. All three of the classes can perform wall jumps and quick dodges. EP (Energy Points) and SP (Stamina Points) are required to perform these special abilities. Energy points are used as a fuel source for both cloaking and impact boosters while also doubling as a shield against damage. EP can be restored quickly by picking up energy cells from defeated opponents. SP is used to perform wall jumps and doges, and it replenishes quickly on its own. The special abilities in Genesis A.D add a lot of flavor to the game, as matches are always chaotic and fun.
There are a lot of little details in Genesis A.D that help make the game great. The actual gameplay itself in Genesis A.D feels fluid and responsive. The game supports up to 1920×1080 resolution and has impressive graphics when maxed out, but can run smoothly on older PCs as well as on lower settings. Different pieces of armor in the game affect movement speed, and players even move noticeably slower while walking up stairs. Another little detail in the game that adds some depth is the ability to lean. Players can lean over and shoot through corners while only exposing the top half of their body. It's an interesting mechanic that few other free-to-play shooters offer.
A bit Simillar…
Even though Genesis A.D is sci-fi themed, it still plays a lot like a "tactical" shooter, as players can easily be killed in one or two hits. On top of that, Genesis A.D shares many of the same game modes found in other tactical games such as the ever popular "Plant the bomb, defuse the bomb" style demolition mode, as well as standard team deathmatch mode. Oddly enough, there aren't any sci-fi-ish game modes in Genesis A.D, at least when the game first launched into open beta. Odds are the game's developers will add some more interesting game modes in the future. The whole class switching mechanic is also taken straight from Alliance of Valiant Arms, which, while adding some interesting dynamics to the game, isn't exactly original. Even with its similarities to other FPS games, Genesis A.D's sci-fi setting and unique special abilities system allows the game to stand out in an otherwise crowded MMOFPS market.
Item Store
The item store in Genesis A.D is quite varied; each of the game's three playable classes have their own set of weapons and armor. Like in Combat Arms and Soldier Front, weapons and armor can be purchased in Genesis A.D for short periods of time (the longest being 30 days). The longer an item lasts, the more it costs. When an item expires, it disappears from your inventory and must be purchased again. Being that Genesis A.D is so similar to Alliance of Valiant Arms, I'm a bit disappointed that the weapons don't last forever as they did AvA. Luckily, this isn't a big drawback, as anyone who plays the game moderately will have enough CP to have their favorite characters fully equipped. I say "favorite character" because each of the game's three classes (Assault, Sniper and Supplier) have their own unique set of weapons and armor. Armor or weapons purchased as an assault cannot be equipped for a sniper or supplier. Since players can hold up to three different primary weapons, having all three classes fully equipped can be quite costly. I didn't quite enjoy playing the supplier as much as the other classes, so having both the Assault and Sniper classes well equipped was easy. Anyone who plays the game a bit each day shouldn't have any problems having enough cash to equip two favorite classes.
Players can also purchase armor and backpacks in the Genesis A.D item store. Each class has access to different kinds of armor and backpacks and each piece has its own unique stats, so pay attention to what you're buying. As a sniper, some body armor prevents them from using their cloaking ability in exchange for more defense and other bonuses.  So, if you want to use the cloaking ability as a sniper, make sure to purchase armor that actually allows you to cloak. The same thinking applies for backpacks; each backpack provides certain bonuses.  The bigger the backpack, the more equipment players can have equipped.  Some backpacks don't allow suppliers and assault classes to use their boost ability, but provide other stat bonuses instead. Overall, I was quite impressed by the store in Genesis A.D.  Each class has an excellent variety of weapons, armor and other items. Since players can have up to three primary weapons equipped (depending on the size of your backpack), players are free to mix and match their favorite weapons. The only disappointing aspect of the item store in Genesis A.D is the lack of in-depth weapon customization. Weapon modifying is clearly not the game's strong point, as there are only a handful of modifications available.
Money, Maps and Modes
Players can earn CP in genesis A.D by playing matches and completing missions. Missions are usually simple tasks which require players to play certain maps or complete various objectives. They're similar to the medals in AvA, and useful for providing players some extra direction as well as some cash.
In terms of game modes and maps, Genesis A.D is varied. Those looking for a classic FPS frag-fest can play Team Deathmatch, while those looking for a more serious team oriented game can check out Demolition mode. One of my favorite game modes was Capture the flag, as it required a lot of individual skill as well as some team work. None of the game modes are particularly unique, but they offer radically different styles of play, which helps keeps things interesting. The map designs in the game are interesting as well, especially with the game's wall jumping and boosting mechanics. I'd definitely like to see more maps in the game, as when Genesis A.D launched, it only launched with ten or so maps. Luckily, since release ijji has been updating the game regularly and adding new maps, weapons, and equipment.
No IP Blocks
With so many games launching with IP restrictions lately, I should mention that Genesis A.D doesn't block any IP addresses at all, which means that anyone anywhere in the world can access the game. One of the ijji GM's even joked and said that even aliens could connect to the servers, as it was open to everyone. Since the game is available world wide, players could experience latency issues if they join a game hosted by someone across the globe, so pay attention to a game's ping before joining it, as players are penalized for leaving a game after it begins.
Final Verdict – Great
Genesis A.D is a breath of fresh air in the MMOFPS scene. The game's unique blend of GunZ style wall jumping and boosting mechanics coupled with tactical elements proves to be quite fun. Those looking for a fun MMOFPS should definitely give Genesis A.D a try.
Screenshots
Genesis A.D Screenshots
System Requirements
Genesis A.D System Requirements
Minimum Requirements:
OS: Windows XP / Vista / 7
CPU: Intel Pentium 4 2.4 Ghz or AMD 3400+
RAM: 512 MB
HDD: 4.0 GB
Graphics Card: NVIDIA GeForce 6600 or ATI Equivalent
Recommended Specifications:
OS: Windows XP / Vista / 7
CPU: Intel Pentium 4 3.0 GHz or AMD Equivalent
RAM: 1 GB or more
HDD: 5.0 GB
Graphics Card: NVIDIA  GeForce 7600GT Or ATI Equivalent