FreeStyle Street Basketball
FreeStyle Street Basketball (FreeStyle for short), is a 3D Basketball MMO developed by JC Entertainment. Gameplay is fast-paced, smooth, and incredibly addictive. Even if you aren't a fan of Basketball, FreeStyle's simple and fun gameplay should entertain. With three positions, numerous courts and boatloads of customization options, FreeStyle is certainly one of the best sports MMOs out there.
Publisher: Gamekiss
Playerbase: Medium
Graphics: Medium Quality
Type: MMORPG
EXP Rate: Medium
PvP: Faction based
Filesize: 920 MB
Pros: +Unique gameplay. +Good tutorial. +Plenty of customization options. +Matches are short, simple and fun. +Good music. +Plenty of items / skills in the shop.
Cons: -Only one game mode. -Cash shop items can create imbalances. -Many non-english speaking players.

Overview
FreeStyle Street Basketball Overview
FreeStyle is the first and (currently) only Basketball MMO out there.  In the past, Sierra Online published it for North American users, but unfortunately they closed the game on September 25th, 2008. It took a year or so for the game to be re-opened to North American users through the new publisher Gamekiss. FreeStyle is a fast-paced and incredibly fun basketball MMO with three starting classes, or positions. They are:
Positions [Classes]:
Guard (G)- Point Guards are speedy characters that are most proficient at making 3-point shots. They have relatively weak 2pt shots and rebound capabilities. At level 15, Guards can chose to become either a Point Guard (PG) or a Shooting Guard (SG)
Forward (F)- Forwards are the 'jack of all trades' type class in FreeStyle. They have powerful mid-ranged capabilities and can score most of the time when making 2pt shots. They are also capable of making 3 point shots and getting rebounds. At level 15 Forwards can choose to become either a Power Forward (PF) or a Small Forward (SF)
Center (C)- The center in FreeStyle is the defensive position. They have the highest block capabilities in the game and are incredibly effective at scoring 2-point shots and catching rebounds. Their weakness is that they move incredibly slow. Centers tend to be difficult to play, so newbies should opt to play one of the other professions. Unlike the other two positions, centers do not get promoted at level 15.
FreeStyle Street Basketball Screenshots
FreeStyle Street Basketball Featured Video
Full Review
FreeStyle Street Basketball Review
FreeStyle Street Basketball, or just Freestyle for short, is a casual 2D Basketball MMO published by Gamekiss. You'd imagine that since there's an MMO for nearly every sport someone would have made a basketball MMO sooner – but nope. FreeStyle is currently the first and only Basketball MMO on the market.  Before I get into the meat of the review, the most important thing I'd like to emphasize about FreeStyle is that players don't need to like basketball to enjoy the game. Personally, I don't care much for the sport, but from my time with FreeStyle, I can safely say it's one of my personal favorite MMOs.
Starting Out
Players start out their B-balling career in FreeStyle by first selecting one of three positions; Guard, Center or Forward. Positions in FreeStyle are basically the equivalent of 'classes' in an MMORPG.  Guards are proficient at long distance 3-point shots, while centers are masters of defense and 2-point shots. Forwards are the 'balanced' class with mediocre capabilities in both defense and offense. After trying out all three positions, I recommend new players play either as a guard or a forward as they're a lot easier to get used to compared to the center position, which is both difficult to master and incredibly boring to play, at least for beginners, as they're awfully slow and require a lot of practice to master. Like most MMOs, character customization is limited to only a handful of hairstyles, faces and body types, but the one good thing about customization in FreeStyle is that players can adjust their character's height while making their character, which impacts their stat distribution.
Gameplay in FreeStyle is broken down into three game modes at the moment; 3v3, 2v2, and 1v1 and players can currently only play half court. Currently, the overseas version of the game in either Japan or Korea has full court features, so it's only a matter of time before those features are released here in North America. Like Project Powder and GunZ: The Duel, FreeStyle has a lobby system where players have to find and join a 'team' in a lobby before they can actually enter the court. Even though the game has a fairly small population, players shouldn't have trouble finding a game as the newbie channel is almost always crowded.
Simplicity. Simplicity. Simplicity.
Without a doubt, one of the most attractive aspects of FreeStyle for me is the game's simplicity. Nearly anyone can just pick up the game and start playing without ever having to look at the tutorial, because the game's controls are so simple and prominently displayed at every loading screen; even complete newbies should be able to figure the game out almost immediately. Even though the game is easy to pick up, I recommend EVERYONE makes sure to check out the game's 'mission' mode, as it's an incredibly easy and rewarding way to master certain aspects of the game, like blocking and retrieving rebounds. Missions in FreeStyle are basically 'tutorial-like' missions that help players better understand how some of the game mechanics work. Even if you're a FreeStyle pro, there's no reason to skip the missions as they're short and extremely rewarding. Newbies should be able to walk out of the game's mission area at level 3 and with a good deal of cash.
Silky Smooth, Fun Gameplay
Simply put, FreeStyle is fast-paced, incredibly fun and addictive. It's without a doubt one of the best sports MMOs on the market. Since games only last five minutes, even those gamers with short attention spans should be able to enjoy the game. My only real complaint with FreeStyle is that the game has some latency issues. Since the game is open to players all the way from Eastern to Europe to South America to North America, there is bound to be some lag, and at times the lag can get pretty bad. You'd imagine with only three game modes, the FreeStyle would get old pretty fast, but surprisingly, the has managed to keep my attention for a good three months, as I've been playing the game on and off for a while now.
Skills to pay the bills.
On top of being extremely addictive and having simple and balanced gameplay, Freestyle has a boat-load of unique skills which can be acquired at the game's skill shop. Players can spend the 'points' they've earned on the courts at the skill shop and learn some killer tricks that can give them an edge on the court. Skills range from the cliché 'dunk' to the more elaborate double-clutch. Certain skills have prerequisites, but even those that just started playing the game should be able to purchase a few skills right off the bat.
On top of a skill shop, FreeStyle has an item shop where players can buy clothing and accessories. Clothing, like skills, can be purchased with points earned on the court and provide bonus 'stats' which can boost anything from shooting accuracy to blocking chance.  As it stands, the game actually has a fair amount of items in the shop, so players should be able to create a unique outfit for themselves, without looking identical to another player, which is something that's all too common in most MMOs.
Final Verdict – Great
FreeStyle Street Basketball is an innovative, fast-paced MMO with enough content to keep players hooked. Even with the game's latency issues and limited game modes, it's without a doubt one of the most polished and addictive sports MMOs on the market. Those that have no interest in Basketball should also be able to appreciate the game, so don't skip this one just because it's a basketball game.
Screenshots
FreeStyle Street Basketball Screenshots
Videos
FreeStyle Street Basketball Videos
FreeStyle Gameplay Video [ReMo Plays]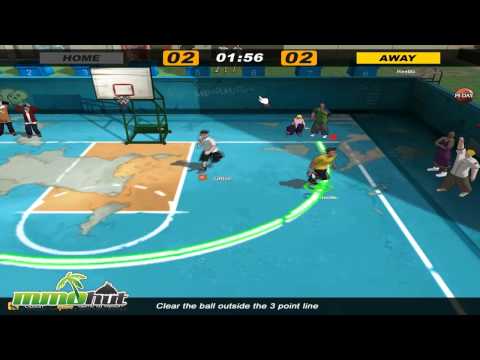 FreeStyle Street Basketball Trailer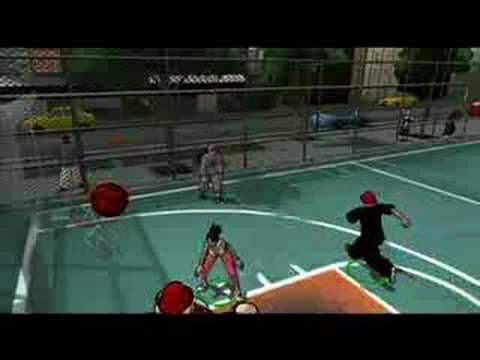 System Requirements
FreeStyle Street Basketball System Requirements
Minimum Requirements:
OS: Windows XP / Vista
CPU: Pentium III 800 MHz processor or AMD Equivalent
RAM: 256 MB
HDD: 1.0 GB
Graphics Card: GeForce2 MX OverATI Radeon 7000 Over
Recommended Specifications:
OS: Windows XP / Vista
CPU: Pentium 4 1.2 GHz processor or AMD Equivalent
RAM: 512 MB
HDD: 1.0 GB
Graphics Card: GeForce3 Ti OverATI Radeon 7500 Over