UPDATE: This game has been shutdown and is no longer available
Overview
FreeJack Overview
In FreeJack, players race on foot through the urban environments of New Jack City. Getting from point A to point B requires jumping from rooftops, over cars, walls, and overcoming other obstacles. FreeJack mixes the odd but interesting 'parkour' concept with the crazy and casual friendly gameplay found in kart racers. Players will be able to chose from many modes, use items on one another, and create clans to face off against each other. Single player missions and the ability to decorate an instanced home add variety to FreeJack.
Characters:
Jin (M) - The leader of the Andro Bob-omb, Jin turned to free racing to get back at the man who stole his lobster pie. Special: Agility
Nadia (F) - A former gold medal gymnast, Nadia is now a private detective who is undercover as a runner. Special: Technique
Goodspeed (M) - The most famous quarterback in New Jack City. Saul Goodspeed turned to running after a stint in dentistry. Special: Toughness.
Tina (F) - Despite her size, Tina is a master of Judo and physics. She turned to racing to help find her former sensei. Special: Speed
FreeJack Screenshots
FreeJack Featured Video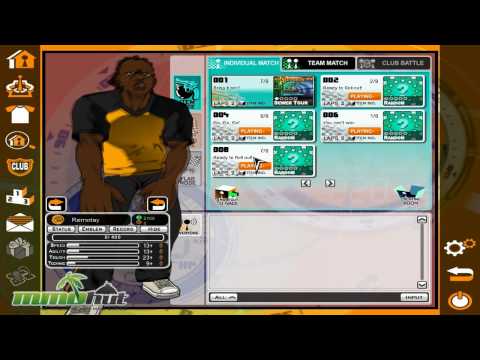 Full Review
FreeJack Review
By, Erhan Altay
FreeJack is a highly stylised racing MMO. Rather than race on cars or karts, players must rely on their own two feet. FreeJack is officially a parkour, or freeracing game. This mean players race across urban environments and must overcome obstacles like railing, walls, fences, cars, and even pedestrians.
Put On Your Running Shoes
FreeJack is the second free to play game published by GamerKraft with their first being the European version of Priston Tale 2. The client size is around 700 mb which means it won't take long to get started. The graphic quality is impressive considering the filesize, but there are only two supported resolutions. Each account is limited to a single character so choose wisely among the four available characters. Appearance customization allows players to chose from a few hair styles, face styles, and clothing colors. There are also several beginner clubs (guilds/clans) to chose from, but players will be able to create or join player-made clubs later on. Many more clothing and accessory options are available in the in-game shop.
Blame the French
The parkour concept originated in France and quickly spread across the world. It's still a niche, but an interesting one. Parkour, or freerunning, was never limited to urban environments but the city environment provided the ideal obstacles and courses for the fledgling sport. Besides simply running, players must master special techniques to overcome obstacles. An in-depth tutorial is available to provide step-by-step guidance. The tutorial is a bit on the long side, but it does provide in-game currency (called jacks), and furniture that can be used to decorate private homes. The tutorial is optional, and player who skip it can go back and finish it later. What drags the tutorial out is the fact that players must watch an NPC perform each technique before getting a chance to do it themselves. The controls in FreeJack are very simple. Players move with the arrow keys, and jump with the space bar. The space bar is also used to trigger the animation to get over obstacles. Timing plays a large role since each obstacle requires different timing. Besides jumping over stuff, players must slide across rails, use spring boards, and tumble as they fall. The tutorial also teaches players how to dash and use items. As players successfully overcome obstacles, their two item gauges fill. Clicking 'a' unleashes these items which either provide boosts or hinder opponents.
New Jack City
After completing the tutorial, players are free to explore New Jack City. The persistent world environment of the city is just one of the differences between FreeJack and Tales Runner, another foot racing game. Both games have anime inspired graphics, but Tales Runner is more 'chibi' while FreeJack is more stylised. Its difficult to explain, but the visuals remind me of Viewtiful Joe, a console platformer. There's not a whole lot to do in the city, but it does connect the various zones including the item shop, player house zone, and leaderboard. If running from one location to another doesn't fit your fancy, a toolbar on the lefthand side of the screen provides shortcuts for more instant transportation. Each player has their own instanced apartment which they can customize using various wall papers and furniture. It is from their home that players can purchase and switch between other characters. Besides the four starting characters, there are many special characters that can be unlocked. Each has its own distribution of four key stats: speed, agility, tough, and technic. To customzie their character's apperance, players can head to the store where there is a large variety of shirts, pants, shoes, hairstyles, and accessories for sale. Most items are priced in the in-game currency of jacks, but don't provide any stat bonuses. During the beta there were no expiration dates for these items so that's a positive sign.
Two Ways to Race
The city, player housing, and shopping aspects of FreeJack are reminiscent of many dancing MMOs like ShowUp, but the main gameplay aspect is much different. There are two primary gameplay modes, mission and versus. In Mission mode, players play solo and must complete a given task. These missions are available in three difficulties, can be repeated, and come with a story that includes dialogue and cutscenes. The story isn't all too serious, in the first few missions players are tasked with chasing down a punk who didn't pay for the tattoo work he had done. For some reason, players must run through traffic and perform other tasks to hunt him down. Many of the stages in the mission mode are used in versus, so playing a few missions to familiarize yourself with the maps is not such a bad idea. Missions also provide experience and cash upon completion, but are not as exciting as versus matches that involve other players.
Wait in the Lobby
The versus mode is set up using a simple lobby. There are three supported game modes, item race, speed race, and flag mode. Players focused on pure skill will want to stick with speed race. Items do add excitement to racing games, but can also prove frustrating. There are usually plenty of players playing both modes, but item race seems to be the most popular. All three modes can be played as either individual, team, or club matches. In individual matches, players race against everyone else and the game ends a few seconds after one participant passes the finish line. This can be discouraging for new players as they constantly find them selves 'retiring.' Failure to finish the race means players earn less experience and jacks. This can be remedied by trying a team match where players are split into two teams and their individual performances are averaged. Its not as popular, but should be a viable option as FreeJack moves from beta to release. Club battles are clan matches and are geared more for veteran players.
The Shortest Distance is a Straight Line
One of FreeJack's greatest strengths is its varied course designs. There are a variety of shortcuts and alternative paths on each map. Players must chose to take an underpass, or to jump from roof top to roof top. Do you want to climb over a series of walls or take a more direct method? Sometimes the path a player takes depends on whether they make a mistake on a previous obstacle. Many of the feats accomplished in FreeJack may not be physically possible, but they help spice up gameplay. A good example is wall running where players must continuously tap forward while running horizontally across certain walls. Item designs are also worth mentioning. Some summon a group of ninjas or assassins that hunt down the nearest opponent and slow him down. Another small but nicely done aspect are the waiting rooms in FreeJack. The game supports 2-8 players but while waiting for additional users, players can placed in the hosts private home where they can walk around and chat.
Final Verdict: Great
FreeJack is an original racing game with stylish animated graphics. Varied courses, a single player mission mode, and a persistent world area make FreeJack an indepth MMO experience. The ability to purchase additional characters, customize their appearance, and even decorate a private apartment serve as icing on the cake.
Screenshots
FreeJack Screenshots
Videos
FreeJack Videos
FreeJack Official Debut Trailer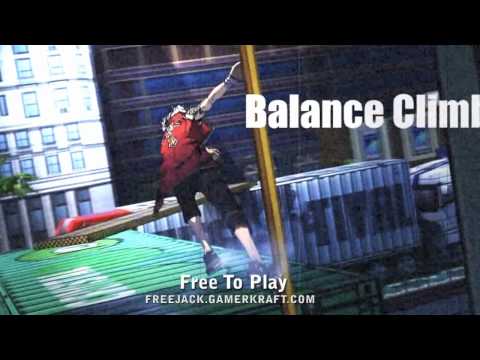 FreeJack Character Creation and Tutorial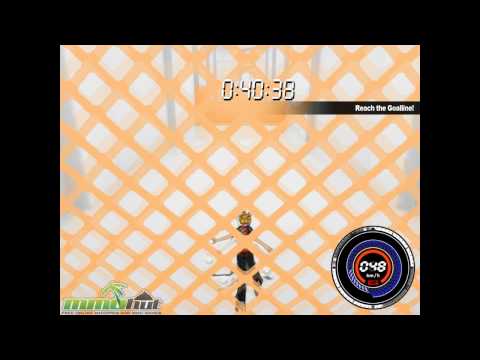 FreeJack First Mission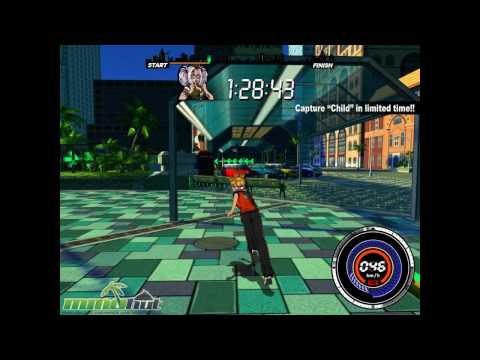 FreeJack Gameplay Footage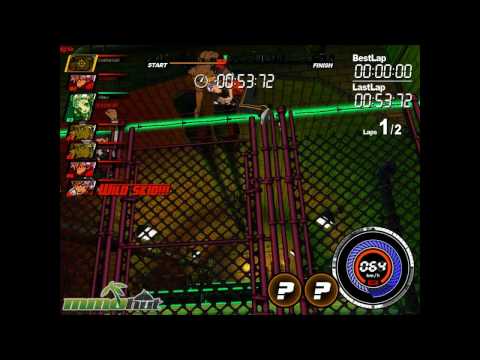 FreeJack Gameplay – First Look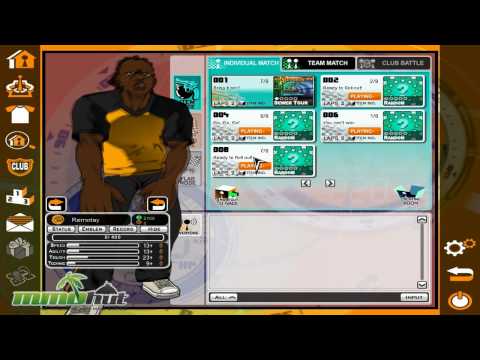 Links
FreeJack Links
Shut down.
System Requirements
FreeJack Requirements
Minimum Requirements:
OS: Windows  XP / Vista / Windows 7
CPU: Pentium Dual Core / AMD Athlon 64 X2
RAM:  2 GB
HDD: 1 GB Free
Graphics Card: ATI Radeon 9500 or better, nVidia 5200
Recommended Specification:
OS: Windows Vista / 7
CPU: Intel Pentium Dual Core or better
RAM: 2 GB or more
HDD: 2 GB Free
Graphics Card: Geforce 6600 GT or better