UPDATE: This game has been shutdown and is no longer available
Fantasy Tennis is a unique 3D sports MMO with anime inspired graphics. The game's simple controls and varied game modes help create a unique MMO experience like no other. Fantasy Tennis both looks and plays a lot like the Mario Tennis games for the consoles but with MMO elements!
Publisher: Alaplaya
Playerbase: Medium
Graphics: Medium Quality
Type: MMO
EXP Rate: Medium
PvP: N/A
Filesize: ~ 400 MB
Pros: +Unique Gameplay. +Catchy music. +Varied game modes. +Simple controls. +Good single player content. +Fun secondary features (Housing, fishing, etc.).
Cons: -Few items in the shop. -Many non English speakers. -Latency issues. -Limited customization.

Overview
Fantasy Tennis Overview
Fantasy Tennis is a unique 3D sports MMO. It was the first tennis MMO to be released and is currently being published by Alaplaya, a European MMORPG publisher. The shorted and most accurate way to describe Fantasy Tennis is 'Mario Tennis Online'. Whether you're a fan of tennis games or just looking for something new to try, Fantasy Tennis is simply a lot of fun and well worth checking out. Just don't expect a serious tennis simulator.
Fantasy Tennis Screenshots
Fantasy Tennis Featured Video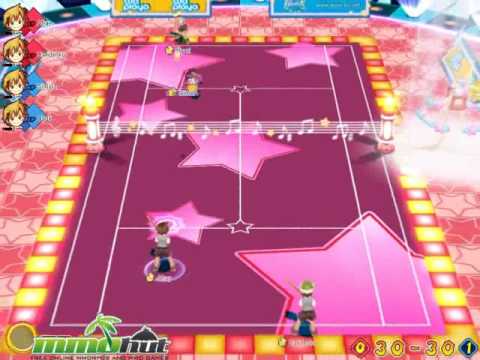 Full Review
Fantasy Tennis Review
By, Omer Altay
Fantasy Tennis is an extremely addictive fast paced 3D tennis MMO currently being published by Alaplaya. It is actually the first of its kind and currently the only tennis MMO out there. You'd imagine that with the popularity of Mario Tennis on the Nintendo consoles someone would have released a tennis MMO long before other sports MMOs, but both Shot Online and Albatross18 were released well before Fantasy Tennis and they're golfing MMOs! The MMO sports genre is certainly growing and I'm happy to see that Fantasy Tennis is pushing the genre into the tennis scene.
Starting Out
One of Fantasy Tennis' weaker points is its character creation, but that doesn't really come as a surprise as virtually no MMOs have comprehensive character creation systems. Players first select their gender and then allocate their starting five stat points into the game's four attributes; STR, STA, DEX and WIL. Each level gain awards players an additional stat point that they can distribute. The fact that players only have a single avatar to choose from while making their character is disappointing, as every newbie in the game looks identical to each other. Players can purchase additional avatars in the store, but they don't have any bonuses over the starting one, so it's sort of silly that the game doesn't just have them freely playable at the start.


Pure unadulterated fun
Simply put, Fantasy Tennis is fun. It's light hearted, fast paced and extremely varied. The game has three distinct game modes, Basic, Battle and Battlemon and a myriad of other secondary features like fishing and player housing. The game is certainly no tennis simulator, as it focuses more on whacky, fast paced fun rather than realism. The best way to summarize the game would be a free online version of Mario Tennis with MMO features. Although the game is far from being an actual tennis simulator, players can play both doubles and singles mode against their opponents. The game also has an optional, yet rewarding single player experience that is also worth checking out. Players earn gold in matches that can be used to purchase new rackets, clothes or other fun items in the game's store. Unfortunately, like many other sports MMOs like Project Powder and Upshift StrikeRacer, Fantasy Tennis has a poorly stocked shop as there are only a handful of items available for purchase. The only serious complaint I have with Fantasy Tennis is that the game has some latency issues due to the fact that the current publisher, Alaplaya, is located in Europe. It's also quite lame that most of the players online don't speak English, but that isn't a huge issue as you'll be playing tennis with them not coordinating a massive guild raid.
Fun Fun Fun All in One!
Aside from offering a traditional Mario Tennis like gameplay mode, Fantasy Tennis has a few other fun modes that are worth mentioning. One of the game's more interesting modes is the 'Battle Mode' which is HP based and extremely chaotic. Whenever an opponent scores a point, your hit points are decreased and upon reaching zero hitpoints, your character is out for the round. To make things even more fun, players can collect items which can be used to wreck havoc on your opponents. Items such as meteors and fireballs can deal devastating amounts of damage to your opponents, but they can usually be dodged so players have to aim them carefully. Whichever player or team is left standing at the end wins. Fantasy Tennis has another game mode called 'Battlemon' which requires a 'battlemon', a cute pet, to play.  Players can basically partner up with their 'battlemon' to defeat other players in a doubles match, you and your 'battlemon' vs. your opponent and his 'battlemon'. The game certainly has enough variety to keep it from getting stale too fast, but I'd like to see future updates include more content.
Other Distractions
Unlike other MMOs, Fantasy Tennis has some interesting secondary features that aren't really a part of the main game. It has an interesting player housing system that has a lot of potential and a fun fishing mini game. The game's housing feature, although limited, is quite interesting. Players can use the gold that they've earned winning matches online to purchase furniture and other upgrades for their virtual homes. Currently, the game's has an extremely limited selection of furniture, but hopefully future updates will add new items to the store and expand the game's player housing system. Fantasy Tennis also has an interesting fishing mini game that players can take part in to collect fish. Fish can be combined to create items by utilizing recipes that can be purchased in the game's store. I'm not exactly sure how combining two types of fish can make a potion, but heck when have MMOs ever made sense anyway?
Final Verdict: Great
Perhaps I enjoyed Fantasy Tennis a bit too much, but the game did what it intended to do very well, and that was to create a casual Mario Tennis like MMO. The only real complaint I have with the game is that the publisher is located in Europe, so latency issues aren't uncommon and a lot of the players don't speak English.
Screenshots
Fantasy Tennis Screenshots
Videos
Fantasy Tennis Videos
Fantasy Tennis Gameplay Trailer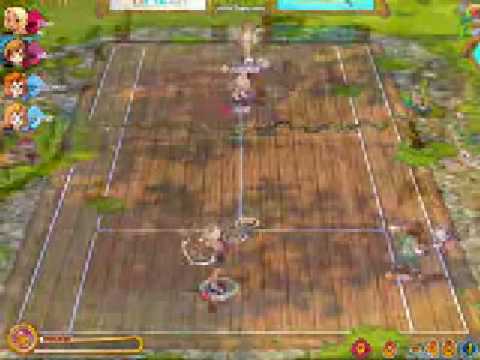 Fantasy Tennis Gameplay Video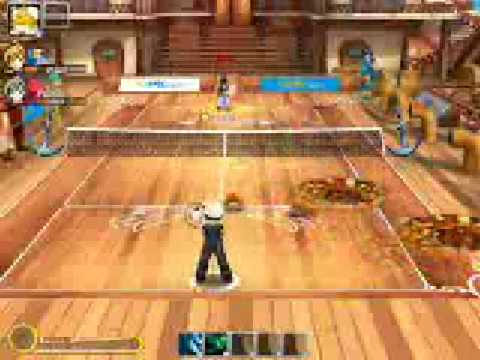 Fantasy Tennis Boss Video
Fantasy Tennis Featured Video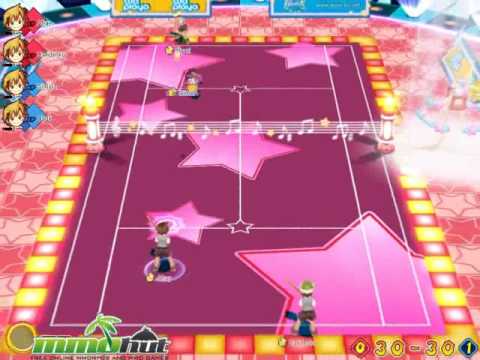 Links
Fantasy Tennis Links
Shut down.
System Requirements
Fantasy Tennis System Requirements
Minimum Requirements:
OS: Windows 98 / ME / 2k / XP / Vista
CPU: 1.0 GHz Pentium 3 or equivalent CPU
RAM: 256 MB Memory
HDD: 3.0 GB Free
Graphics Card: NVIDIA GeForce2 MX 440 or equivalent ATI Card

Recommended Specifications:
OS: Windows 98 / ME / 2k / XP / Vista
CPU: 1.7 GHz Pentium 4 or equivalent CPU
RAM: 512 MB Memory
HDD: 3.0 GB Free
Graphics Card: NVIDIA GeForce FX 5700 or better