Overview
EverQuest Overview
EverQuest is set in the enormous fantasy world of Norrath and has a whopping 15 unique classes and 16 different races. On top of that, players can choose from one of 17 deities to further customize their character. The free version of the game offers full access to the base game plus 18 expansions, and all race/class options, but has some limitations in spell ranks, character slots, and social features.
In EverQuest's most recent expansion, Darkened Seas, the level cap will raise to 105, and players will be able to use the new Mount Key Ring to access their entire collection in one go. The expansion also comes with eight new zones, new quests, missions, raids, tradeskills, spells, AAs, and items!
EverQuest Screenshots
EverQuest Featured Video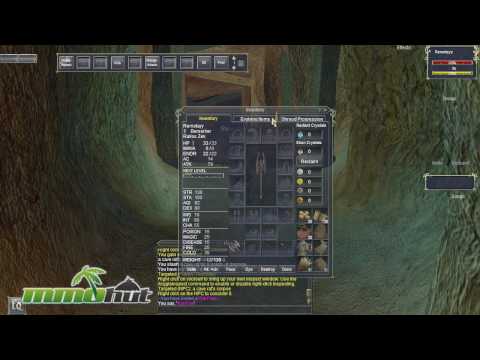 Full Review
EverQuest Review
By, Omer Altay
Everquest, also called EQ for short, is a 3D Fantasy MMORPG that was originally released in 1999. It was the first fully 3D MMORPG, and the first real 'mega popular' MMORPG after Ultima Online. The game was both developed and published by Sony Online Entertainment, and since its release it has enjoyed 15 expansion packs and countless free content updates. The game is quite massive to say the least, but before you get too excited, there is a catch, a big one.
The Mines of Gloomingdeep
The Everquest 14 day free trial has some very serious restrictions to and the biggest one is that the game limits trial users to a single 'tutorial area' in the game called 'The Mines of Gloomingdeep'. The town of Gloomingdeep has a boat load of quests and areas to explore, but the fact that it's the only area available to free trial players is certainly disappointing, especially since the zone can be fully completed in a mere 6 hours. To be fair though, a newbie should be able to get a good grasp of the features in Everquest just by playing around in this one zone, but I find it a bit ridiculous that Sony would advertise their free trial as a '14 day free trial' when in reality, everything in the free trial can be accomplished within 6 hours. Players that decide to purchase the game after the free trial do get to keep their character and all the goodies they've earned in the tutorial zone. On top of this huge restriction, the Everquest free trial also limits players to a maximum level of 10, which can once again be cleared within the 6 hours it takes to fully explore and complete everything the zone has to offer.
Classes Galore
Everquest has the most playable races and classes of any game, both pay to play and free to play. It has a whopping 15 unique classes and 16 races, all of which are available to 'try out' in the free trial. Even though some of the game's expansions introduced a few races and classes a good majority of them have been available since launch, which is quite impressive, considering most MMORPGs today, both pay to play and free to play ones, usually never come close to those figures. Heck, World of Warcraft, which is considered by many as the 'best MMORPG of all time' only has 10 races and 8 classes. Although quality is always better than quantity, having both quality and quantity is best, and in this regard Everquest has a solid number of balanced races / classes. After playing so many free MMORPGs with only a handful of classes, seeing a game with so many playable classes was quite surprising and fun, as I had a chance to try them all out.
First Impressions
The first thing I noticed about Everquest is that the game has surprisingly good graphics for a 10 year old game. The game really did age well, as when I first played Everquest back in 2001, the game had such horrible blocky graphics and an interface that was unusually bad. The game's graphics simply cannot stand toe-to-toe with newer titles like Warhammer Online and Pirates of the Burning sea, but they're still tolerable.
Upon actually logging into the game the first thing I had to do was change the controls from the default directional keys to WSAD. I mean come on, who still uses the D-PAD? After grabbing a couple of quests, I headed outside of town to fight some monsters. The only thing I have to say about combat is that it's extremely slow paced. For those that have a short attention span, Everquest just isn't for you. Just about everything from moving around, to attacking to experience gain just feels sluggish. On top of that, recovering HP and MP also feels like an eternity, even when sitting down! The game's combat animations are also far from impressive. Whenever my Monk went to punch or kick, it would look like he was just blindly swinging his arms rather than taking a punch at my target. I would love to talk more about the game's positive gameplay aspects, but the game's massive game world, instanced dungeons and other interesting features just aren't available in the free trial.
Skill based Progression
Ontop of the game's level based progression system Everquest has an interesting skill system where players would gain 'skill' with the weapons and abilities they use in combat and other skills as they use them. I'm actually a fan of this system, because it makes 'progression' feel more in depth, as I can see my character get stronger as I level, rather than ONLY when I level. Everquest also has a detailed progression system after users hit the game's maximum level of 85 called 'alternative advancement', but since the free trial is only 14 days long and has a maximum level cap of 10, these features won't be available to you.
Crafting Skills
Everquest has a fairly in depth and comprehensive crafting system outside of the free trial, but within the free trial, players are limited to basically getting a chance to seeing how the crafting system works rather than really getting involved with it. All of the game's crafting instructors are located in one convenient location in the free trial area of Gloomingdeep, so it should be easy and convenient to give the crafting system a try. Unfortunately though, the free trial area only has a handful of crafting recipes and a cap on skill caps, so players can't 'really' experience everything the system has to offer without first buying the game.
Final Verdict – Fair
The fact is, even though Everquest has a lot to offer, too many of the features in the game just aren't available in the free trial. Being restricted to a single area in the game that can be completed in 6 hours just doesn't give the player enough to do. If I were reviewing the full game rather than the free trial, I would certainly give Everquest a better score, as it has the most content I've seen in an MMORPG and an incredibly number of playable classes and races, but as it stands too much of the game's content isn't available in the free trial.
Videos
EverQuest Videos
EverQuest Character Creation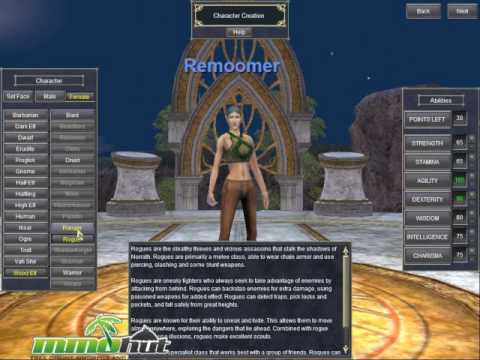 EverQuest Dancing Official Trailer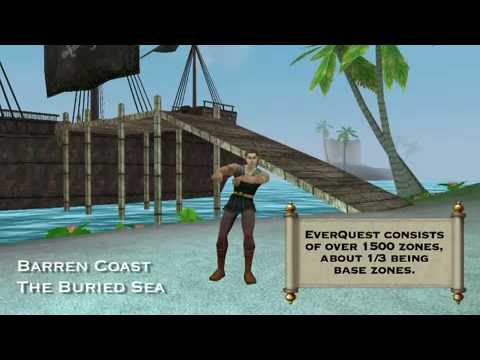 EverQuest Tutorial Zone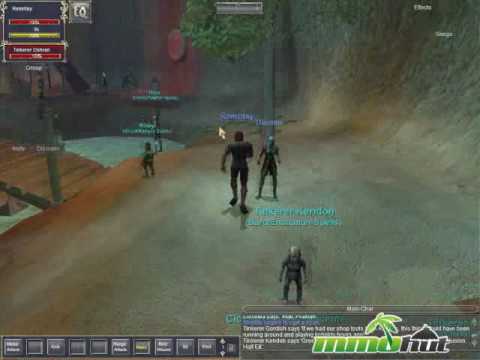 EverQuest Featured Video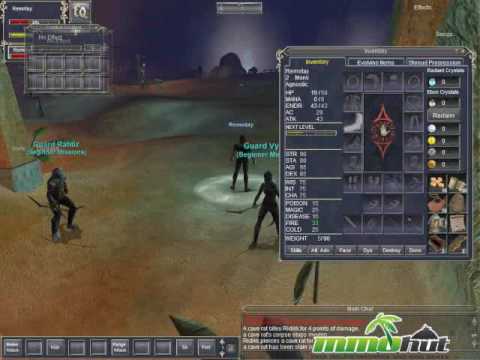 System Requirements
EverQuest Requirements
Minimum Requirements:
OS: Windows XP / Vista / 7
CPU:  1 GHz Processor
RAM: 512 MB RAM
HDD: 10 GB Free
Graphics Card: NVIDIA Ti 4800 or ATI 9800
Recommended Specifications:
OS: Windows XP / Vista / 7
CPU: Pentium 4 or better
RAM: 2 GB RAM
HDD: 10 GB Free
Graphics Card: NVIDIA 6800 or ATI x1800
EverQuest Articles
Similar games we recommend
EverQuest II - EverQuest II is a 3D fantasy MMORPG published by Sony Online Entertainment. It was released back in 2004 as a pay to play game, but is now free to play.
EverQuest Next - Join Sony Online Entertainment as it reimagines EverQuest with content being controlled by the players, and built from scratch with a new generation of MMOs in mind.