UPDATE: This game has been shutdown and is no longer available
Overview
Esteria Mythos Overview
Esteria Mythos transports players into a land overrun by monsters and evil.  This challenging MMORPG mixes magic with a compelling community system that requires players to master it.  The primary race in the Esteria Continent is human.  There are three basic classes that players have a choice of combining with 1st/2nd jobs to customize their character's destiny.  The 1st job selection starts at level 5 and the 2nd job at level 10.  Listed below are the three basic classes:
Warrior – Warriors are armed with swords and axes to inflict serious damage on opponents.  They are survivors with immense strength.
Explorer – Explorers are known for their long range attacks.  Equipped with an arsenal of mighty spears and bows, they can hit any target with precision.
Magician – Magicians rely on powerful spells to help defeat, defend, and heal.  They use enchanted staffs to inflict major damage during battles.  Magicians are also the only class allowed to use magic shields for protection.
Esteria Mythos Screenshots
Esteria Mythos Featured Video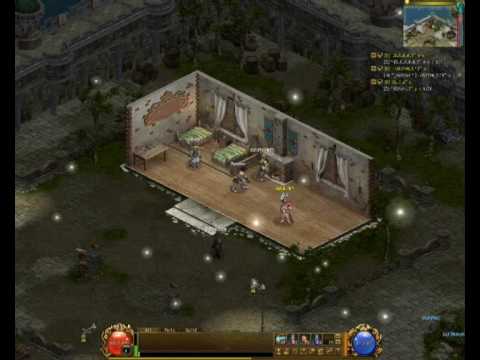 Full Review
Esteria Mythos Review
By Ange Perdu
Save the Esteria Continent and prevent history from repeating itself in Esteria Mythos.  This free-to-play, fantasy-based MMORPG lets players explore a vast game world overflowing with mystery, magic, and mayhem.  Players choose their gender and class before beginning their quest to stop the War of Darkness from happening again . Graphically speaking, Esteria Mythos looks a lot like classical RPGs like Diablo 2 and Mir 3, or even Dungeon Runners/Warrior Epic, except with much 'older' graphics.
A Bunch of Bad Apples, the Gameplay
The Esteria Continent is a mystical world filled with evil, yet almost cuddly creatures.  One of the first monsters players will face is a sort of fairy that resembles an apple called Pink Appie.  Players will have to kill numerous monsters like the Appies as they complete quests and adventure deeper into Esteria.  Killing monsters such as the consistent Appies, Tongtongs, Soldier Burtos, Doekki, and Inorio earns XP points.  Often after a kill enemies will drop items or Donia.  Donia are gold coins that are used as currency in Esteria.  Treasure chests with gold coins are also scattered throughout the land, which promotes exploration.
Esteria Mythos has plenty of quests, and a high level cap of 60. Quests usually involve delivering messages to different posts, destroying monsters, exploring the lands, or finding items for others.  In-between quests players have time to work their 1st/2nd jobs or destroy patrolling enemies.  Esteria Mythos requires a significant amount of grinding to level up.  Although the gameplay is fun, it can become slightly redundant after awhile.
To enter certain areas in the Esteria Continent players must reach a specific level.  The mysterious lands, locked buildings, secret passageways, and battle arena serves as motivation to continue playing.  The battle arena is the only location PVP fights can take place.  Players can change the pace of the game by entering the arena to test their magic skills against others.
Don't Catch a Cold!
In Esteria there are four different types of diseases.  As players level up higher in the game they risk the chance of catching a cold, anemia, headache, or a bad case of the measles.  Each disease causes the player to lose a specific ability.  A cold restricts automatic MP and HP recovery.  Anemia decreases magic defenses, while headaches reduce the amount of damage inflicted during attacks.  When a player catches the measles their hit rate slows down making them more vulnerable in battle.  All diseases can be cured by a doctor.
Esteria Mythos has a strong structured community system.  Players have to depend on each other to survive in the Esteria Continent.  Each member must choose a 2nd job after reaching level 10.  They can become a doctor who heals other players, a smith that repair items for others, or an alchemist with the ability to craft.
A Magical Barter Country
There are always options in Esteria Mythos.  Virtually everything can be purchased, traded, or sold within the country.  Most NPCs have an option to trade listed below their dialogue.  Clicking it will bring up a box with an assortment of items new or used that is up for sale.  Players can sell unneeded items for extra Donia when using the trade option.  Players can set up their own booth trading their items with other players as well.  Trades are a way of life in the Esteria Continent and very easy to come by.  It's an enchanted country of bartering.
Attire, armor, and accessories are available for all classes.  Helmets, boots, belts, shields, necklaces, robes, turbans, gauntlet, gloves, and rings can be purchased using Donia.  Players can buy all sorts customization items with their gold coin currency referred to as Donia.  Each item has a level requirement except for potions.  Potions come in a variety of sizes, from tiny to medium, and possess the ability to improve health or magic levels.  Mystery packages, keys, skill books, licenses, and upgrades are for sell by various NPCs.  Some items are rarer than others and can be traded among players for higher prices.
Weapons & Magic Shields
There is a wide selection of weaponry in Esteria.  Every player's potential arsenal depends on their class and level . As players level up, access to weapons inflicting higher amounts of physical damage are available.  Items range from medieval to magical.  Swords, hatchets, pole axes, blood blades, hunter bows, battle staffs, sealing trident, dragon scimitar, magic wands, magic shields and necromancers can be used in battle.  Even firecrackers can be purchased to distract and damage enemies.
Weddings, Parties, Guilds, Oh My…
The love in Esteria only gets deeper when players decide to get hitched.  The process is quite extensive.  Both users have to reach level 20 before considering marriage, and it costs 100,000 Donia to conduct a wedding.  Rings must be purchased from a NPC, wedding reservations sent to all friends, and a priest summoned.  Esteria has a huge chapel set aside specifically for weddings.  The bride and groom, along with all guests, have to arrive on time for the wedding to commence.  Guests are asked to gift money to the newly wed couple after they exit the chapel.  If it doesn't work out the unhappy party can return to the church and file for divorce.
At anytime players can form a party.  A party can consist of up to four players.  When hunting monsters together, additional experience points are given.  Personally, I feel that a maximum of four players per party is a bit restricting, as even Diablo 2 (which Esteria Mythos drew a lot of inspiration from), had much larger party sizes.  Forming a guild requires a player to be level 30 or higher and costs 100,000 pieces of Donia.  A limit of 2,000 guilds can be created per country.
Final Verdict: Good
Esteria Mythos has a lot to offer and explore.  Although the graphics are less than stunning the large mysterious game world makes up for it.  The overall gameplay is solid with hordes of enemies to slaughter.  A handful of cool bonus features like the wedding ceremonies, arena battles, and trading abilities add to the game.  The 1st/2nd jobs are somewhat confusing since there is no tutorial on how to perform them.  Esteria Mythos is fun and slightly similar to the games Diablo or Ragnarok Online at times.

Screenshots
Esteria Mythos Screenshots
Links
Esteria Mythos Links
System Requirements
Esteria Mythos System Requirements
Minimum Requirements:
OS: Windows XP / Vista / 2000 / Windows 7
CPU: 1.0 GHz Pentium 3 or better
RAM: 512MB Free
HDD: 2.0 GB Free
Graphics Card: Nvidia GeForce MX or equivalent
Recommended Specifications:
OS: Windows XP / Vista / 2000
CPU: 2.0 GHz Pentium 4 or equivalent AMD processor
RAM: 1GB Free
HDD: 2.0 GB Free
Graphics Card: Nvidia GeForce FX 5700 or better