UPDATE: This game has been shutdown and is no longer available
Erebus: Travia Reborn is a 3d fantasy MMORPG with old-school graphics and gameplay. Erebus is the North American version of the classic Korean MMORPG known as Travia Online. The game has low system requirements and plenty of PvP options.
Publisher: Zemi Interactive
Playerbase: Medium
Graphics: Low Quality
Type: MMO
EXP Rate: Low
PvP: Duels / Arena / Guild Battles
Filesize: 500MB
Pros: +Large scale PvP events. +Old school action-RPG feel. +Low system requirements. +Diablo II style random item system. +High level cap.
Cons: -Dated graphics and gameplay. -Poor interface. -Only four character classes. -No character customization.
Overview
Erebus Travia Reborn Overview
Developed by Zemi Interactive, the same Korean studio behind Gates of Andaron, Erebus is a fantasy MMORPG with Diablo II style graphics and gameplay. There's not much news available on the game so far but players with old computers will at least have another option in the free to play MMORPG space. The graphic and gameplay style in Erebus are similar to those found in old school action-RPGs so expect plenty of frantic clicking. PvP also plays a large role in Travia, expect large scale guild battles along with plenty of other players vs player mayhem. The game's four playable classes are:
Warrior - Warriors are the primary melee oriented damage dealer and tank in Erebus. They have plenty of hitpoints and can deal a fair amount of damage in melee combat.
Archer - Archers are capable of dealing plenty of damage from a safe distance. They have less armor and hitpoints than a Warrior but more than any of the spell casters in Erebus.
Cleric - Clerics are a supportive class in Erebus. They heal and buff their team mates, making them essential for any instance.
Mage - Mages are the primary offensive spell casting class in Erebus. They have low hitpoints, but they can deal devastating amounts of damage with their spells.
Erebus Travia Reborn Screenshots
Erebus Travia Reborn Featured Video
Full Review
Erebus Travia Reborn Review
By, Omer Altay
Erebus: Travia Reborn is a 3D Fantasy 'hack n slash' style action MMORPG published by Outspark. The game both looks and plays like Blizzard's  2000 epic – Diablo II.  Before we get into the review, let's talk a little bit of history. Erebus: Travia Reborn was originally called Travia Online and was published by Zemi Attractive back in 2006. After failing to reach a sizeable audience, the game was shut down in 2007. Sometime between the closing of the game and the release of Erebus: Travia Reborn, Outspark managed to secure the license for the game and appropriately added the subtitle 'Travia Reborn' to the game's new name 'Erebus'.  Fans of the game can finally rejoice as the game is indeed back and back with many improvements.
Erebus – First Impressions
After logging into Erebus, I was fairly disappointed with the game's character creation. You'd think that a game released in 2010 would have at least some sort of customization, but that isn't the case. Erebus has absolutely no character customization. Simply select from one of four playable class (Warrior, Mage, Archer and Cleric) and that's it. You also can't select your character's gender either. So in a way, the game's character creation is a lot like Diablo II -the game Erebus is based off of. After creating a character, players begin in the small town of 'Balmore', which has plenty of quests for players to sink their time into. Unlike most free to play MMORPGs, the quest descriptions and dialogue with NPCs is actually well written. This doesn't exactly win big points for the game, as most gamers, myself included, just skip question descriptions.
Graphically speaking, Erebus looks a lot like WYD Global and Red War, except with crisper graphics. I say 'crisper graphics' a bit reluctantly, because although the graphics are a bit nicer than the two games mentioned, they aren't 'much nicer'. The original Travia game was released in 2006 and Erebus hasn't really received any major graphical overhauls, so compared to newer games like Allods Online and Aika, Erebus is a bit behind in terms of visuals. I should mention though that gameplay wise, Erebus is much different than the original Travia game – as the game utilizes a skill tree system now rather than a skill book system. Like every other 'Diablo-like' game, movement is controlled with the mouse through point and click with the DPAD useable for controlling the camera.  One big improvement over the Diablo games is that the camera in Erebus isn't 'fixed' and can be freely controlled.
Core Gameplay
The core gameplay in Erebus is fairly straight forward. The game's combat mechanics and simple, fluid and fast paced. Those looking for a game with similar combat as Diablo II shouldn't be disappointed. The action oriented gameplay is surprisingly fun, but it could be better. Like Diablo 2, Erebus: Travia Reborn has a pretty straight forward skill system. Every four levels, players receive a single skill point which they can immediately spend into learning or improving a skill. What I really liked about Diablo II was the game's sense of progression. Every level players could 'feel' there character getting stronger, but that isn't the case in Erebus. Players do gain five stat points each level, but there's still little sense of progression. On the plus side, the game does have many more skills than Diablo 2, as each class has 25+ skills, all of which can max out at level 20 (Just like Diablo 2!). The large variety of skills and the very few skill points players have does add a unique sense of 'variety' to the game. Players have to choose their skills wisely and plan their 'builds' ahead of time in order to avoid screwing up their character.
Grind…Grind.. Grind…
Experienced gain in Erebus is a bit different than most MMORPGs. Players gain experience every time they deal damage to an enemy, rather when they kill an enemy. The only other game that does this is Eudemons Online and Zero Online. I'm sure there are other examples, but those are the only two I could think of at the moment, but I did want to point it out because it is a bit different. I actually feel that it's a bit more rewarding. Unfortunately though, the experience rate in Erebus feels quite slow. This isn't a bad thing, but the game has such a high level cap, that everything just feels 'so out of reach' (The level cap is 200+). One good thing about the grind is there are plenty of quests available, which makes leveling up a tad bit easier.  The game also has instances which are well worth completing for the rewards.
Poor Presentation
One of Erebus' weakest aspects is its poor presentation. Even though the game's graphics aren't exactly great, they're not terrible either, so that's not the problem. The problem is that the game's interface both looks and feels 'old', though the interface has received major updates since the days of Travia. A game's interface is quite important, at least to me, as it's something I'll be interacting with for hours on end. Another small gripe I have with the interface is that finding certain quest monsters can be difficult, as the game's radar isn't too helpful. Perhaps I'm just spoiled after playing games like Red Cliff and Cloud Nine, which make finding quest enemies and locations incredibly easy, but I feel that the map in Erebus could have been more helpful.
Enchanting and Items
Much like every other modern MMORPG, Erebus has all of the common MMORPG staples from guilds to crafting. The game's crafting and item enhancement systems aren't nearly as in depth as say… Luminary: Rise of the Goonzu, but they aren't terrible either. Players can break down magical equipment that they find into Halcons, which can be used to upgrade equipment. The game's item system as a whole is pretty interesting. Like Diablo II, much of the equipment in Erebus has randomized stats, which makes hunting for the 'perfect weapon' quite fun.
PvP
PvP is definitely a big part of Erebus. The game has large scale guild vs guild battles as well as a PvP arena where players can prove their worth. The guild based PvP battles are also really interesting, as guilds can take control of entire towns and levy taxes on all transactions that take place in that particular city. The individual 1v1 duels are also fascinating, as players have the opportunity to 'put their money where their mouth is', as the game has a wagering system on duels.
Final Verdict – Fair
Even though Erebus: Travia Reborn is an interesting alternative to Diablo II and something many Diablo II fans may enjoy, but it's tough to recommend it, as there are numerous other games just like Erebus, many of which offer more features (Battle of the Immortals comes to mind). One good thing about Erebus is that the game has very low system requirements, so those on lower end machines can enjoy the game without any hiccups.
Screenshots
Erebus Travia Reborn Screenshots
Videos
Erebus Travia Reborn Videos
Erebus Travia Reborn Gameplay Video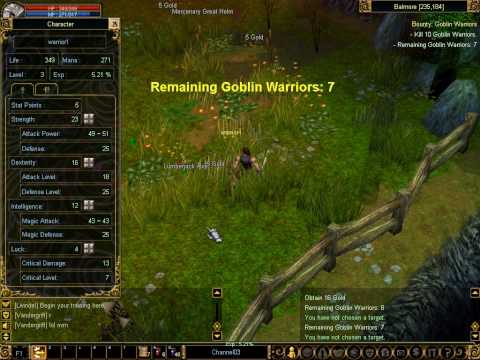 Erebus Dungeon Crawling Gameplay
Erebus Feature Video

System Requirements
Erebus Travia Reborn System Requirements
Minimum Requirements:
OS: Windows 2000 / XP /Vista / 7
CPU: Pentium 3 600 MHz
RAM: 128 MB RAM
HDD: 500 MB Free
Graphics Card: Any 32MB VGA card
Recommended Specifications:
OS: Windows 2000 / XP /Vista / 7
CPU: Pentium 3 600 MHz or faster processor
RAM: 256 MB RAM
HDD: 500 MB Free
Graphics Card: nVIDIA GeForce 2 32MB or better