Overview
Empire of Sports Overview
Empire of Sports is an innovative sports game that has done something remarkable. Most sports games like FreeStyle Street Basketball, Football Superstars, and Project Powder focus on a single sport, but Empire of Sports offers six games in a single package. Plenty of missions, minigames, and three large cities to explore help add even more content to the feature rich Empire of Sports.
Sports – Tennis, Basketball, Ski, Bobsleigh, Football (Soccer), Track & Field

Empire of Sports Screenshots
Empire of Sports Featured Video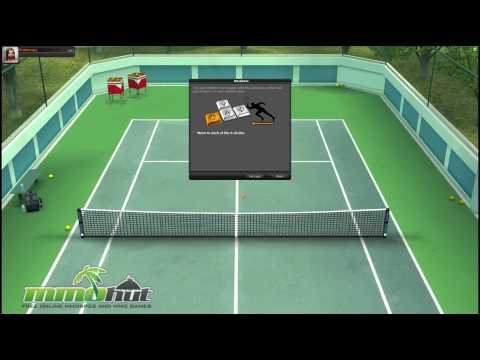 Full Review
Empire of Sports Review
By, Erhan Altay
Empire of Sports is the first free to play sports game to support multiple sports. It was originally conceived back in 2007 by a French studio called F4. Despite being publicly available for some time now, the game is officially in prologue (beta) phase. Empire of Sports offers a wide variety of activities and huge persistent cities to explore each of which is filled with minigames, clubs, and stores. It is a massive undertaking that leaves most other free sports MMOs in the dust.
Transcending Borders

Players start by creating their own avatar using the game's surprisingly in-depth character creation system. Besides the usual hair and face styles, players can chose their avatar's height and skin tone. All characters start with the same shirt, pants, and shoes but each come in a variety of colors. Most importantly, players can select which of the three available cities their character will start in. The choices are France, UK, and Arabia. I know what you're thinking, those aren't cities. Let's just assume they meant Paris, London, and Dubai. Finally, players can select a nationality for their character. Its best to pick the one that matches your location since this determines which ranking list you'll be grouped with.
Fitness Club
Newbies begin their athletic careers in a special tutorial area. Empire of Sports is generally beginner friendly, the controls are explained with small prompts and there are a variety of movement methods available. Players can use the mouse, W,A,S,D, or the arrow keys to move around the game world. The controls may vary when playing a particular sport, but the Sports Complex players start in has a tutorial available for each activities. The game's help prompts encourage newbies to try at least one tutorial, but I highly recommend playing all six. The length of each tutorial varies depending on how complicated the particular sport is. There's no limit to how much time players can spend in the Sports Complex so take the time to learn the basics.


Six Degrees of Freedom

The six sports available are Basketball, Skiing, Tennis, Football, Bob-sleighing, and Track & Field. Unlike many Asian sports MMOs, Empire of Sports tries to maintain a sense of realism. But that doesn't mean there's no room for some fun skills. The Tennis mechanics in EoS are much more realistic than, say Fantasy Tennis, but certain trick shots still leave a temporary crater on the floor which is obviously impossible in real life. Basketball is full-court and supports more players on the field than FreeStyle: Street Basketball. Football, also known as Soccer here in the US, is fluid and is probably the most popular sport in the game. Another European sports MMO called Football Superstars competes with EoS. Not being a major fan of the sport myself, I can only encourage dedicated players to try both to see which they prefer. Skiing and Bobsleigh racing are the easiest simplest sports and are basically played alone. Sure there's competitors, but players don't directly interact with them like in the other sports. The most obvious game to compare these winter sports to is Project Powder. Track & Field offers four different gameplay modes including 100m Dash, 110m Hurdles, Long Jump, and Triple Jump. After familiarizing themselves with these sports, players can talk to the local NPC chauffeur and make their way to the city they chose during character creation.
Tourist Attractions
Each city offers unique geography and even has background music that matches its theme. Several NPCs are scattered around each city that offer players missions. The ability to walk around these cities and take on missions helps increase the game's immersion factor, it definitely beats the classic lobby model. Unfortunately, there just aren't a lot of players online at any given time. This makes the cities feel like ghost towns and that can get discouraging. The basic layout of the cities are identical. Each sport has its own corner while the center contains a dance stage, training centers, an air travel office, and other key buildings. By talking to the Dance Trainer NPC, players can activate a Dance Dance Revolution style minigame. There are a few built in tunes, but players are free to import their own music and play the rhythm game to increase their physical attributes. While not quite as in depth as 5street, Dance Online, or Audition Online, the dancing feature in Empire of Sports shows how much content can be packed into a single game. If that wasn't enough, there's also a shooting minigame where targets hoover over the screen and players must shoot them first-person style. It's similar to many arcade games from back in the day. A training room in each city offers several machines, each with a different minigame. One asks players to repeatedly tap two buttons, others ask players to spell out words as they appear. That's right, Empire of Sports has a typing tutor minigame built in! Each of these minigames has adjustable difficulty and 'reps' which control how long they last.
While all the aforementioned minigames help increase a character's physical attributes, there are other places to spend time between sports matches. Clubs and shops offer places to relax and chat, but it seems there's only one kind of currency in Empire of Sports and that's gold. Gold can only be acquired with real cash so that puts a lot of the clothes, accessories and even features out of reach for most players. Participating in certain tournaments and even traveling between cities requires gold. But for all its content, the game has a debilitating fault and that is the severe lack of players. Most cities are empty, and it is almost impossible to find a match. Many people on the official forums ask for more sports like golf and American football to be added, but what the developers really need to work on is attracting players. The game is still in beta, so perhaps there's more to fix before worrying about advertising. Empire of Sports is an interesting game, an original game, and one that sports fans shouldn't miss.

Final Verdict: Good
Empire of Sports has a lot to offer. The graphics are attractive, the sheer number of sports supported is impressive, and the training minigames don't hurt either. The problem is the game seems to be stuck in perpetual beta and just doesn't have enough players to make it functional. Nevertheless, the game has potential so long as the developers keep at it.
Screenshots
Empire of Sports Screenshots
Videos
Empire of Sports Videos
Empire of Sports Character Creation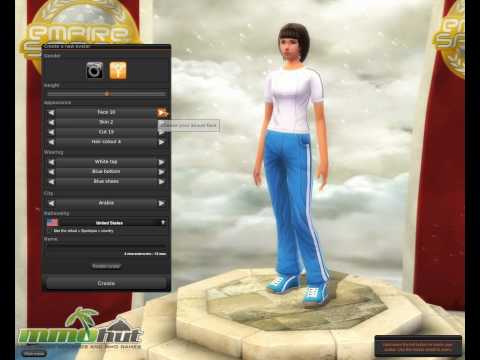 Empire of Sports London Tour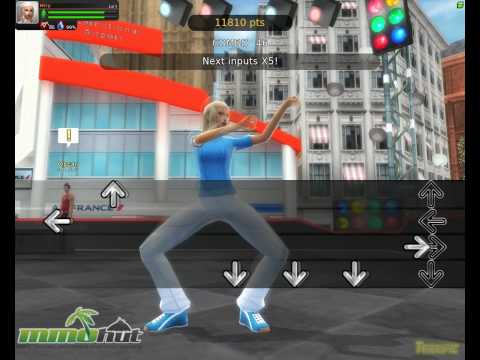 Empire of Sports Tutorial Video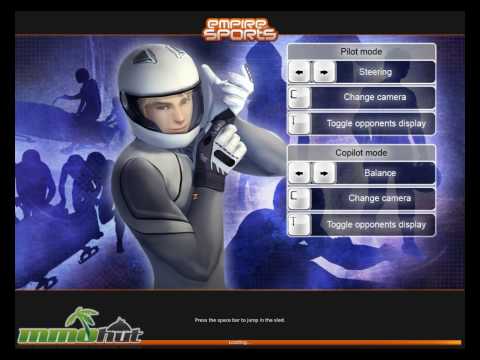 System Requirements
Empire of Sports System Requirements
Minimum Requirements:
OS: Windows XP / Windows Vista
CPU: Intel or AMD GHz
RAM: 1 GB
HDD: 4.0 GB
Graphics Card: GeForce 5600
Recommended Specifications:
OS: Windows XP / Windows Vista
CPU: Pentium 4 2.5 GHz or better
RAM: 2 GB or more
HDD: 4.0 GB
Graphics Card: GeForce 6600 GT or better