UPDATE: This game has been shutdown and is no longer available
Overview
DragonSoul Overview
DragonSoul is a free-to-play MMORPG with fantasy and Asian mythology interweaved for a more traditional role playing experience. Players become young heroes defending their kingdom from invading adversaries seeking territorial control. Set in a land where magic and dragons exists each warrior must complete various challenges along their journey. Much like Soul Order Online, Scarlet Legacy, and Battle of the Immortals heroes embark on an adventure of a lifetime. Explore a massive world overpopulated by beasts and men with cruel intentions. Collect and raise pets to assist in combat. Teach them an assortment of skills. Ride and battle on mounts. Take out a rival or participate in PvP battles with friends. Work your way up the political system and even take the throne in this action-infused MMO by Neonga AG.
Classes:
Warriors (m) – Notorious for their close range physical attacks they are strong in defense. These legendary fighters deliver damaging blows to their enemies. Subclasses branch into Gladiators and Champions.
Hunters (f) – Best at long range and wind elemental type attacks. Hunters are skilled with the crossbow. They are capable of precise strikes using poisoned to lightning bolt infused arrows. Subclasses branch into Archers and Arbalests.
Mages (m) – Considered as messengers from heaven they possess the power of the elements. Mages can produce high levels of damage paralyzing their enemies with ice or a burst of flames. Subclasses branch into Ice Mages and Fire Mages.
Assassins (f) – Assassins are silent blade killers leaving a trial of victims in their path. These weapon experts are armed with two daggers or a single long blade to strike enemies swiftly. Subclasses branch into Stalkers or Strikers.
DragonSoul Screenshots
DragonSoul Featured Video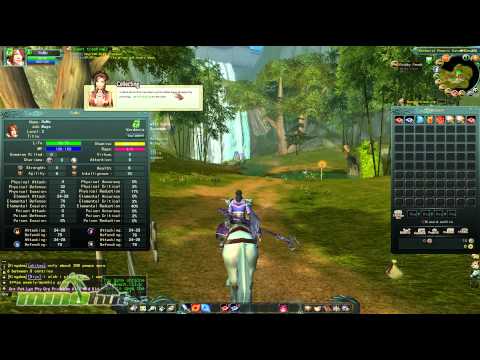 Full Review
DragonSoul Review
By Ange Perdu
DragonSoul is a 3D F2P fantasy themed MMORPG where players become young heroes defending their country and king's honor. Complete challenging quests to prove your worthiness as a soldier. Trek through dangerous zones and dungeons defeating monsters or men that oppose your cause. True to the style of traditional MMOs players enter a universe deeply based in Asian mythology. The themes are somewhat similar to Battle of the Immortals with users having the ability to build up their characters into legendary warriors skilled in combat. There are hundreds of skills that each warrior can master. As characters are leveled up they can participate in large scale PvP guild sanctioned wars. Ride mounts directly into battle or while tackling challenging quests. Collect multiple pets to train and fight alongside during attacks. Conquer surrounding territories and even seize the throne.
Protecting Your Kingdom, the Gameplay
DragonSoul has thousands of different quests for heroes to complete. Most of the gameplay revolves around accomplishing these tasks along with a significant amount of monster grinding. Players start out in a small local village with scattered NPCs throughout the town delegating various missions to complete. These tasks often vary from relaying messages back and forth between generals to sneaking over to the enemy's camp ground to spy. There's a nice variety to prevent boredom. Sometimes players have to slay beasts, rescue a damsel in distress, or collect some common herbs for a quick batch of healing tonic. Quests start off easy and quickly progress as a soldier levels up. Go from killing a few Swordsmen for a mission to eliminating a clan of 20 or 40. Successfully completing a quest earns XP, silver, and occasionally a rare item. The controls and interface is pretty basic. Players use their mouse button to maneuver throughout the world.
The environments are a bit barren. Many of the zones look similar with endless lush green fields or rugged deserts and not much else. Luckily, there's an extensive map and auto-walk feature that makes getting from point A to B almost effortless. A mini-map located in the corner of the screen displays enemies, NPCs, and other players. Players have the option of customizing their map to show only one of these points or all simultaneously. When a beast or foe is encountered a simple double-click on the desired target initiates an attack. Much like Scarlet Legacy there's a built in botting system which activates auto-fighting. This feature comes in handy since this is a high level cap game. There's a lot of grinding necessary to level up at a decent pace. Players will find themselves killing the same gray wolves and cat burglars for extra XP. It can make the gameplay feel repetitive at times.
Taking the Throne & PvP Battles
The main allure of this game is the potential to actually reign as king. As players level up their characters with a broad range of skills, pets, and mounts they can earn status among their peers and potentially rule their own kingdom. In order to participate in party based dungeon raids or large scale PvP battles players have to form alliances with others. The social aspect of this MMO really comes into play. The political system integrated in guilds allows heroes to move up the ranks from commanding general to sovereign king. With such a huge incentive to grind and battle others skills become a major factor. There are over 150 different animated skills to master. Perform animated high flying power attacks, flame bursts, poison enchantments, or freeze foes dead in their tracks. Players have the option of truly building the ultimate warrior. Whether off or on the battlefield a wide variety of fighting pets and mounts can be taken into combat to assist or give a hero an advantage.
Kung Fu Hedgehogs to Chubby Pandas
One of the best features in DragonSoul is the pet and mounting options. Warriors have the ability to collect, raise, and fight multiple pets. Each pet can be leveled up and master a set of special skills that can be performed during combat to aid their master in battle. Certain equipment items have the ability to strengthen a pet's attributes as well. The pet system is quite impressive. These tamed creatures can be evolved into a more advanced species using magical stones. Similar to Soul Order Online players earn their pets and mounts early on. Beginners get to choose a rabbit, mantis, or frog pet to start off. As they adventure through the world defeating certain monsters will drop new pet eggs that can be hatched and raised. Adopt a Kung Fu Hedgehog, Alpaca, Pumpkinhead, Whiz Fox, Mumbly Bear, or Opera Puppet as your companion. The mounts are also diverse in this game. There are a lot of cool choices. Players can be traditional with a trusted horse or get a little wild on a Chubby Panda. Warriors can ride Cranes, Snow Lions, Flood Dragons, Blast Hogs, White-Hump Rhinoceros, Cranes, or even a Wooden Rocking Horse. All mounts can be taken into battle. The only downside is that certain skills are not available to be performed while performing mounted combat. Some mounts are able to carry multiple passengers making factional based wars loads of fun. A large variety of pets and mounts can also be purchased in the Premium Item Shop.
Weapons of Mass Destruction
Although the game has over 2,000 weapons and equipment many of the items are rather generic. NPC shops are loaded with leather or cloth soldier tops, belts, kneepads, jackets, pants, gloves, boots, cuisses, coats, and breastplates. Most of these items are duplicated in different material such as silk, gold, pure moon essence, or patterned. They all look exactly alike limiting the ability for a player to customize their character. The weapons are slightly different in their appearance but still resemble the standard MMO arsenal. Depending on a hero's class they can be equipped with the Darksteel Sword, Seeker Longbow, Dagger, Rolling Steel Blade, Blue Cloud Sword, Copper Club, Six-Sun Plume Bow, Magnificence Short Bow, Soaring Crane Saber, Star Pipe, Ceruleum Bamboo Flute, Sandal Wood, and Jade Essence. Most merchant NPC shops also carry a variety of tonics, portal scrolls, mount feeds, and pet food for boosts. Grinding and questing generally provides many of the items sold in the NPC shops.
Final Verdict: Good
Overall DragonSoul is a fun Asian mythology inspired fantasy MMORPG. Players get to become a warrior fighting for their kingdom. Battle fierce beasts and men while on the path of greatness. The quests alone are enough to keep gamers busy. Despite the excessive grinding, the PvP and political ranking system which gives a hero the opportunity to rule as king of their domain is quite rewarding. Ride massive mounts in the form of dragons or elephants into the battlefield. Train multiple pets to aid in combat and rule the eight kingdoms. The extensive amount of quests, pets, and mounts make it worth trying out. Fans of titles such as Battle of the Immortals, Scarlet Legacy, and Soul Order Online will definitely enjoy this adventure.
Screenshots
DragonSoul Screenshots
Links
DragonSoul Links
System Requirements
DragonSoul Requirements
(estimates)
Minimum Requirements:
OS: Windows XP / Vista
CPU: Intel Pentium 4 3000 MHz / AMD Athlon 64 3000+
RAM:  2 GB
HDD: 5 GB Free
Graphics Card: GeForce 7600 / ATI Radeon Х1600
Recommended Specification:
OS: Windows XP / Vista / 7
CPU: Intel Core 2 Duo 3000 MHz / Intel Core Quad 2400 MHz / AMD Athlon 64 6400+ or better
RAM: 4 GB or more
HDD: 10 GB or more
Graphics Card: GeForce 8800 / ATI Radeon HD 4700 or better