UPDATE: This game has been shutdown and is no longer available
Overview
Dragona Overview
Dragona is a free-to-play fantasy based MMORPG that is set on a planet referred to as Magic Earth. In this world monsters and dragons are not only real but have taken over. Players step into the role of a brave recruit on a mission to stop the evil plaguing the land. Similar to the popular Aion in terms of graphics and style players complete various quests, slay local beasts, and battle enormous dragons in honor of their nation. Learn skills, craft enchanted items, and transform your character into a more powerful opponent using the soul essence of ancient dragons. Much like Lineage 2 and SilkRoad Online players can participate in PK or PvP battles. There are four races on Magic Earth consisting of Humans, Kalis, Eldin, and Catcha. Choose between eight different gender set classes and prepare for war.
Classes & Races:
Gunner (Human, Male) – The human race utilizes advance Dwarven technology. They are equipped with heavy armor and powerful guns known as the ethereal blasters. Gunners deal large levels of damage to their enemies using an assortment of short range ethereal blasters.
Sniper (Human, Female) – Snipers are not only sexy but armed with a long range ethereal blaster allowing them to take out opponents at a distance. They are a force to be reckoned with on the battlefield.
Guardian (Kalis, Male) – Guardians are masters of the sword. They use the long sword for close combat encounters and refuse to take prisoners. Foes meet their maker at the hands of these honored warriors.
Assassin (Kalis, Female) – Assassins hide in the shadows waiting for the opportunity to strike. As part of the Kalis race they have the ability to shoot venomous blood or provoke panic by creating a dense fog.
Ranger (Eldin, Male) – Equipped with arrows this class is able to attack multiple targets or make a precise shot while dealing high levels of damage. Spells can be casted on their arrows to paralyze enemies.
Magician (Eldin, Female) – Knowledgeable in Draconic magic magicians can perform an assortment of deadly spells. Illuminate the battlefield with a mana shield or summon meteor showers to rain down on enemies.
Shaman (Catcha, Male) – Shamans tap into the power of nature. This class can use their bare knuckles to hold off sieges. They are a valuable member of any party.
Scout (Catcha, Female) – Blessed with the breath of fire scouts can easily ignite their opponents with a single exhale. When transformed they have incredible strength that enables them to rip apart an enemies armor.
Dragona Screenshots
Dragona Featured Video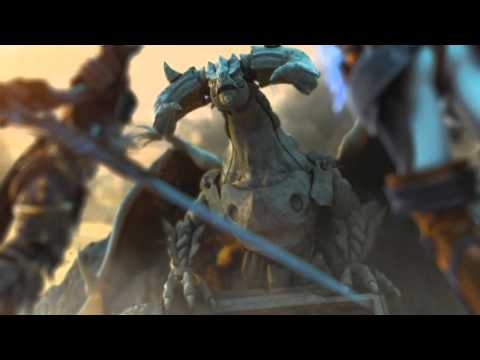 Full Review
Dragona Review
By Ange Perdu
Dragona is a 3D fantasy themed F2P MMORPG where players become legendary dragon lords on a mission to save their cursed world. Begin as brave recruit and work your way up to a hero with the power to change history. Choose from four different races ranging from humans to aliens known as Catchas. Fight giant dragons gathering their soul essence. Complete various quests. Craft magical items and transform your hero for an edge in combat. Participate in random player killing to mark your territorial stumping grounds or wage war in arena style PvP battles. Trek through a vast world inhabited by hordes of dangerous mythical beasts and even zombies. Raid dungeons, learn enchantments, and aid your chosen race in their efforts to reverse the spell corrupting Magic Earth.
Sea Turtles on the Beach, the Gameplay
Most of the gameplay in Dragona consists of tackling quests and monster slaying. Players start out on a beach crawling with giant sea turtles. A flashing icon at the top of the screen indicates an available quest and prompts a remote chat with an NPC instructing recruits to kill several turtles. Throughout the game instead of searching for stationed NPCs to receive a task the convenient NPC icon guides soldiers through their journey. Combined with the auto-walk feature it makes navigating through the massive world relatively easy. Quests vary from relaying messages to battling boss characters. Kill zombies roaming the fields, hunt dragon hatchlings, or gather the meat of fat saber tigers. Players use the WASD keys or their mouse to maneuver through the cursed land. The boss characters are challenging. Players have to do a significant amount of grinding to level up their hero and unlock new skills. The animations are quite impressive players will often find themselves fighting a flock of gigantic fire breathing dragons which beats slaying standard gray wolves any day. The graphics and repetitive grinding is somewhat similar to Aion. Players can form parties with friends and enter dungeon instances as they level up.
Transforming During Battle
At level 15 players can participate in PK and PvP Battles. Areas outside of any village or city are fair game. The only downside to this feature is that most of the time the world isn't heavily populated. Players that live to take down unsuspecting newcomers will be disappointed with the slow traffic influx. During a PK match the winner can take weapons or items from the other player if it's not bonded to them in an enchantment spell. Arena battles are available every two hours. Players can participate in the Battle of Might or the Battle of Celebration. Both utilize a match system and automatically divide players into teams. During Battle of Might heroes must destroy all the opposing team's members while trying to stay alive. It's much like any other PvP arena battle. In the Battle of Celebration guardian stones are strategically placed in the environment. Each team must defend their stones while trying to destroy their opponent's stone. Special war gear and large amounts of XP is rewarded to the winners.
In Dragona players can also alter their character with a dragon transformation during combat. This is a unique and fun feature which gives a hero the power of a mighty dragon temporarily. Transformations can manifest as partial or full. During a partial transformation a particular body part morphs unlocking higher damaging hits, speed, magical bursts, or stellar defense. The appearance of the character's head, arms, upper body, or lower body changes upon activation. Although the transformations is reminiscent of the Transformers series players get to experience major boosts and special skills. The full transformation changes a hero's entire appearance. During full possession previously learned skills and weapons cannot be used. Players have to perform a completely different set of active and passive skills while in this mode. All of the animations are intensified making the combat more exciting. Similar to SilkRoad Online there's a nice variety of skills that can be performed such as the Incendiary Shot, Gaze of Destruction, Catalyst, or the Resilient Medium. Collapse an enemy's body from within or apply poison to a weapon to execute a critical hit.
Gear of a Dragon Lord
All the weapons, armor, and accessories can be purchased in any of the stationed NPC shops. There's not much of a selection. Much like Lineage 2 the character customization options are limited. Most of the gear looks identical. Buy basic tunics, trousers, robes, and boots. Players can stock up on HP or mana. Purchase accelerators in the form of potions that boosts attack, movement, evasion, and protection during combat. Weapons vary depending on a hero's class. They're somewhat generic in name and appearance as well. Equip your character with the Lycan Tooth Crusher, the Army Sword of the Hunter, the Fanatic Sword, the Jewel Shuriken of Punisher, Sentinel Bow of the Hunter, and the Guardian Staff of Heretics. There is also a crafting system that players can use to create magic embedded weapons and armor but in order to collect the ingredients heavy grinding is required. Gamers like to spend a little real cash for an advantage over others will not like the mall shop in Dragona. It's pretty bare. Other than a few expensive mounts and an extra storage pass there's nothing worth buying. Only skill resets, binding oils, and the Goddess's Grace which prevents loss XP is available.
Final Verdict: Good
Overall the only thing keeping Dragona from being a really great MMORPG is its small community. The lack of players can stifle forming parties to storm dungeon instances, relishing in PK, and participating in PvP battles. However it's still an entertaining game. Players that enjoy the lore of dragons and the walking undead will find this world to be very cool. The graphics are beautiful making it easy to become totally absorbed in the storyline as your character progresses.  Battle dragons, face-off with challenging boss characters, craft magical items, explore, transform your character, and become a legend in a land known as Magic Earth. This fantasy adventure might be worth checking out if you're a fan of Aion, SilkRoad Online, or Lineage 2.
Screenshots
Dragona Screenshots
Coming Soon…
Links
Dragona Links
System Requirements
Dragona System Requirements
Minimum Requirements:
OS: Windows 2000, XP, Vista, 7
CPU: Pentium 4 2.8GHz or higher
RAM: 1GB
HDD: 3GB
Graphics Card: Radeon X700 / Geforce 6600
DirectX: 9.0c
Recommended Requirements:
OS: Windows 2000, XP, Vista, 7
CPU: Pentium Dual Core or higher
RAM: 2GB
HDD: 3GB
Graphics Card: Radeon HD3650 / Geforce 8600GT
DirectX: 9.0c