Overview
Clone Wars Adventures Overview
Star Wars: Clone Wars Adventures is a free to play MMORPG by Sony Online Entertainment. The game uses the Free Realms engine which fits the animated Clone Wars franchise perfectly. Clone Wars Adventures has plenty of social aspects, in fact most of the game is either social or minigame related. Like Free Realms, Clone Wars Adventures offers a wide range of activities for players to take part in. Some of the features include:
Minigames - Lightsaber Duels, Starfighter Battles, Speeder Bike Races, Tower Defense, and more!
Pets - Modify your very own droid!
Housing - Customize your very own home. Invite friends to visit and chat about your exploits.
Clone Wars Adventures Screenshots
Clone Wars Adventures Featured Video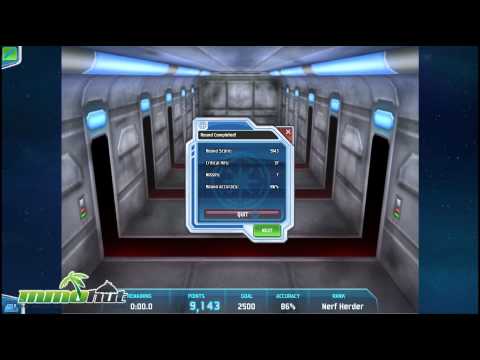 Full Review
Clone Wars Adventures Review
By, Jamie Skelton
Licensed games – made specifically for, or as derivative works, of popular culture works such as books, movies, and television – are a strange sort. There's a great deal of potential and profit for a game based off something that's hot in pop culture; on the flip side, developers must be careful as that brand also carries with it certain expectations. For Sony Online Entertainment's Star Wars: Clone Wars Adventures, based off the Free Realms game engine and the Clone Wars cartoon series, it seems the mark of excellence may have been missed.
Thrust Into The World
Character creation takes place on the website for Clone Wars Adventures itself, rather than inside the game client; you can choose to be male or female, and either Human, Twi'lek, or Clone (male only), and then choose one of a few styles for your character's main appearance. All that's left for you to do afterward is choose a name, which you may manually input or allow a random generator to suggest for you.
Once the client is then downloaded and you log into the game, you'll be greeted with a screen that lets you go straight a few of the games options, and see special "advertisements" for new or special events in game. Once you close the screen, you're on your own in the game. There is no tutorial, no starting quest, no guide of what you should do first; you're simply dumped into the Lounge of the enclosure and given free reign to do as you like.
Mini-Games Galore
After running around for a while, you'll eventually discover a gateway into one of the dozens of minigames available in Clone Wars Adventures; alternatively, if you're impatient (as I was) to find anything to do, you can jump straight to a menu of mini-games straight from the "play games" button on the bottom of your screen. There are several different types of games: shooter, puzzle, strategy, action, racing, and "daily" games. Some games are locked to Jedi only, "Jedi" being the new codeword for a player with a membership to the game. Most games also only unlock "easy" mode for free players; it requires membership to play medium or hard modes.
For the most part, the minigames are enjoyable and rewarding, showing attention to detail and design. My personal favorites had to be Republic Defender (tower defense game), Droid Programming (a pick and drop match four game), Speeder Bike Racing, and Starfighter (a space combat game on rails). More questionable were games like Stunt Gundam (which has you launch Jar Jar and try to get him as far as possible), Rocket Rescue (a simple platformer), Blaster Training (a Police Trainer style shooter), and Star Typer (a typing game which was far too easy and slow-paced at lower levels). Particularly rewarding was the Lightsaber Duel, which while not an action game (attacks are determined by entering the right combination of arrow keys before your opponent), offers wonderfully choreographed lightsaber fighting animations.
Not Much More
What else is there to do besides minigames? A young Padawan can of course explore the entire enclosure, except for one Jedi-only area. This consists of about 8 small rooms, populated with both generic NPCs and characters from the Clone Wars series. There are a few easter egg interactable objects inside these rooms, but generally speaking, the only purpose of these rooms is to see other people that are playing and interact with the in-game gateway to the minigames. As you're exploring, you'll also find shops, mostly populated with cosmetic gear, furniture, and ships that can only be purchased or used by Jedi members.
Otherwise, Padawans and Jedis also get their own personal home, an interior-only space that can be decorated with furniture, visited by, and voted thumbs up or down for. It's a nice personal space that comes with a view, but only offers decorative and social functions at this point in time.
Overall Verdict: Fair
The meat of Clone Wars Adventures is definitely in its minigames, which are well designed and fun to play, with rare exceptions. Unfortunately, that just isn't enough for this game. With the expectations of the Clone Wars series storyline, plus the vast possibilities and opportunities in Free Realms, the combination of these two elements should have been more engaging and fascinating. Unlike Free Realms, there are no combat jobs, no quests, no events – just some social spaces and minigames. That leaves Clone Wars Adventures as little more than a 3D social hub with minigames, and while the games are worth playing, there isn't enough substance to keep a player there long enough.
Screenshots
Clone Wars Adventures Screenshots
System Requirements
Clone Wars Adventures System Requirements
(estimates)
Minimum Requirements:
OS: Windows  XP / Vista / 7
CPU: Intel Pentium 4 2.4 GHz / AMD 2500+
RAM:  1 GB
HDD: 2 GB Free
Graphics Card: Geforce FX 6600 / ATI Radeon X700
Recommended Specification:
OS: Windows Vista / 7
CPU: Intel Pentium 4 3.0 GHz / AMD 3200+ or better
RAM: 2 GB or more
HDD: 4 GB Free
Graphics Card: Geforce 7600 GT or better
Clone Wars Adventures Articles