Overview
Carte Overview
Based on the original 1996 card game known as Arcadia, Carte revisits a world where magic and honor is everything. With an entire continent at war, join others as you choose one of five nations (Iron Empire, Kingdom of Darkness, Kingdom of Nature, Divine Empire, or Magician's Association) and build a deck of cards capable of a glorious victory. Each deck is built around a player's selected Hero card and 64 additional cards to assist in attacks and defense strategies. Similar to other iTCGs like Magic the Gathering or Yu-Gi-Oh users can cast spells, set traps, and use special items for an edge in battles. Participate in solo matches against AI, PvP duels, raids, or tournaments for huge prizes. Collect multiple decks to summon mighty creatures and rule the land of Arcadia in this F2P CCG.
Carte Screenshots
Carte Featured Video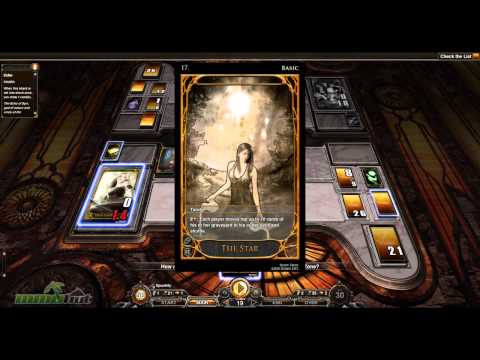 Full Review
Carte Full Review
By Ange Perdu
Carte is a free-to-play collectable card game from GamesCampus based on the TCG Arcadia. Set in a land consumed by magic and violence players must choose between one of the five warring nations. Create a powerful army of knights and summon monsters to protect your alliance using various decks of cards. Strategically place cards to support your selected Hero card and ensure a victory. Collect hundreds of unique cards or gather and combine special material cards to produce an entirely new card. Participate in solo matches against an AI opponent, duel others in PvP battles, or join forces with friends for challenging boss raids. Tournaments are also held daily in this fantasy world where myths and legends are real.
Placing Creatures in the Attack Zone, the Gameplay
Don't let the brief comic style tutorial introduction fool you. Unlike Yu-Gi-Oh, there's a somewhat steep learning curve in this game. Players begin with an optional yet very necessary tutorial guided AI match covering the basics. In Carte not only do you have a variety of playable cards but each card can be played in multiply ways which can be confusing in the beginning. Luckily, players do not have to build their deck from scratch. Each player starts out with a thorough starter deck of 65 cards. Once a match has been initiated players are transported to a virtual table top battlefield divided into zones. A quick toss up of paper, rock, or scissors decides which opponent goes first. Each player selects their Hero card and then places a creature card on the battlefield in either the attack or defense zone. All decks are built around a player's selected Hero card to assist during combat. If a hero's HP reaches zero then the game is over. There is an assortment of different so-called creatures that range from militia men to vampires depending on the affiliated faction and deck used.
Cards representing items, magic, tarot, and traps can also be used at various points in the game. Item cards are primarily for heroes to use. They often come in the form of weapons like the mighty sword, blade, staff, or dagger. Magic cards cast powerful spells and tarot cards add a random twist to the match. Traps when placed are only triggered when their required condition has been met on the battlefield. Players have to strategically place the best creature card in the attack or defense zone suitable to defeat their opponent's lineup. All battles are turn-based. Users have to double click or press F1 to confirm each action, which makes the matches feel slow paced at times. Similar to Magic the Gathering Tactics mana is required to execute each move implementing a shard system. Cards can be placed in the mana zone or a shard card can be drawn to produce additional mana per turn.
Duels to Tournaments
In the lobby area players have several game options consisting of single matches, duels, and raids. There are also daily tournaments held every two hours. Tournaments reward winners with special prizes and bragging rights, of course. During the single match mode a player will battle solo against an AI opponent. In duels mode a player battles another in an intense match where XP and rare cards are rewarded. Much like the World of Warcraft Trading Card Game raids allow players to team up in order to battle challenging bosses. Teams in raids can only have up to three players. This mode is very difficult and matches have been known to go on for hours. The reward for each raid is listed before the game starts. They usually consist of hard to acquire cards. Earn rarities like the Sword of Advance, Full Moon of Coercion, or Orb of Life. Some of the reward cards won during duels and raids are special material cards that can be manipulated later in a player's deck editor.
Card Collecting Mayhem
In the deck editor and management sections players can sort, organize, and even dissemble cards that they've collected or purchased. The dissemble option is a very cool feature in Carte. Material cards which are only received during duels or raids can be broken down and then crafted into a rare card to use during battles. It's a nice addition to the gameplay. Like all iTCGs players can also trade and sell their cards to others. The shop area players can buy boosters, card decks, and individual cards. Three different sets of decks for each of the five factions are available for purchase. Decks range from 15,000 to 60,000 coins. Users can also buy individual Hero cards like Becker Krause, The Moonshadow, Aikhan, or Battle Mage. Stock up on rare deadly creatures like the Dread Lich, Pumpking, Skeleton Soldier, and Forest Wyvern. Invest in caster cards to perform the Sacrifice of the Kings, Iron Fist, and the Touch of the Meister. Equip your heroes with item card weapons like the Demon's Claw, Sword of Light, and the Steelbreaker Blade. The currency system is extremely balanced allowing free players an equal opportunity to earn enough in-game coins to purchase any of the items for sell in the shop. Spending real cash allows a player to possess a specific item sooner rather than later which is nice to see in F2P games.
Final Verdict: Great
Carte is by far one of the most in-depth and challenging trading card games online. There's a relatively steep learning curve due to the extensive card list and alternative methods to play them but to some players, it makes the game more fun. Strategically summon menacing creatures to assist your Hero card during battle. Cast an assortment of spells, use weapons for higher level of damage, or toss a tarot card into the mix to switch the odds in your favor. The customization is impressive. Users are able to collect hundreds of cards and even dissemble special cards to create rare ones. Anyone who enjoys TCGs or fans of the classic game Arcadia should definitely give Carte a try.
Screenshots
Carte Screenshots
Links
Carte Links
System Requirements
Carte System Requirements
Coming Soon. . .