UPDATE: This game has been shutdown and is no longer available
Overview
Carom3D Overview
Carom 3D is a well established pool MMO that's been included in World Cyber Games tournaments for years. Enjoyed by gamers across the world, Carom3D has a large user base divided among several servers based on skill level. While the game is free to play, many clothes, cues, and other items must be purchased with gold coins which cost real cash. Cue Online is a more recent free to play billiards MMO, and while it has better graphics and a simpler interface, it hasn't managed to match Carom3D's playerbase.
Game Modes - 4 Ball, 3 Ball, Death Match, 6 Ball, 8 Ball, 9 Ball, Rotation Ball, Card Ball, Snooker
Carom3D Screenshots
Carom3D Featured Video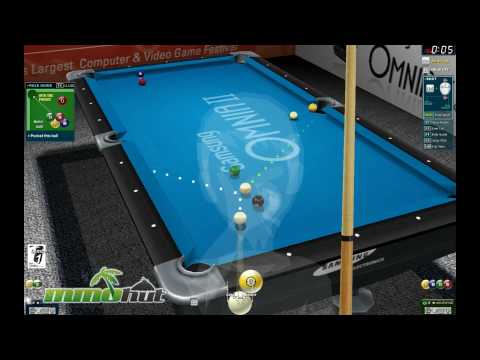 Full Review
Carom3D Review
By, Erhan Altay

Carom3D is the world's most popular billiards MMO. The game was developed by the Korean studio Neoact and originally released in 2002. It has a winning formula consisting of low system requirements, a small client size, support for a wide variety of billiards games, and servers for players of different skill levels. How does it compare with the newer, and graphically superior Cue Online? Read on to find out!
How Old is This?
The 60 mb client can be downloaded on the Gameis portal which hosts three other free to play games. All of these pale in popularity compared to Carom, but do share a universal login. The installation screen looks like something from the Windows 95 era, but is thankfully over quickly. After launching the game, players are greeted by a title screen with a host of options. Carom3D is the first MMO I've seen with the option of LAN play. LAN games can still pull player stats from the main server if participants have Internet connectivity. A practice mode is also available which acts as the game's tutorial. New players are highly encouraged to spend some time in a practice match. Carom3D has a steep learning curve and can be quite frustrating for beginners. Graphics options are predictably limited. Only one windowed resolution, 800×600, is available. Full screen mode is available in many more resolutions up to a maximum of 1680×1050.
Play in Your Room
After selecting 'online' and logging in, players must chose which server to play on. Servers in Carom3D act as channels, their stats and player data will carry with them when ever they switch servers. Generally speaking, there are 7 different server types. The first typed are reserved for tournaments and are generally empty when there isn't an event going on. A free server supports all game types and players of all ranks. The training server is similar to the free channel, but game results there do do not effect a player's stats. The rest of the servers are labeled either Novice, Advance, Expert, or Professional. The higher ranked servers will be colored red for new players, meaning they cannot be accessed. There are three separate servers for each rank; one for pocket games, one for no pocket games, and one for snooker games. The most popular billiards style involves pockets (the holes on the corners and sides), so this is a good place for beginners to start off. Players with a more advanced understanding of pool, who already know the rules for the more advanced styles, can play the games they prefer.
Rack Them Up!
Carom 3D uses a simple lobby system that should be familiar to gamers. Oddly, a random Korean phrase by a female voice plays when ever players enter a server. The game has an international playerbase and supports a variety of languages, but in reality English and Korean receive the most support. Players are free to host rooms or join those hosted by others. Most games are simple one vs ones, but team modes are also available. Additional players can join a room and act as observers. There are a small number of different stages to play on, but this isn't a major fault since they all play identically. The key  controls in Carom 3D are the mouse and the ctrl key. Aligning/powering the cue, and placing free balls is done with the mouse while the ctrl key is used to release the cue to actually hit the ball. It takes a few attempts to get used to this system, but it allows for a lot of precision. At the end of each match, players earn or lose points which effect their overall rating. The people in the rookie channels don't seem to pay much attention to ratings, but it becomes more important in the advanced servers.


Hit the Store

Unlike Cue Online, players can actually see their avatars in Carom 3D. The default avatar is a male with black hair wearing a white shirt and brown pants. Players can purchase a female avatar, or additional clothes using 'chalk' which is the primary currency in Carom 3D. Chalk must be purchased on the official website at a price of $4.99 per 50. Even the item shop is located on the website, when players click 'shop' in-game, a small internet explorer window opens where the items are listed. Some items, especially custom cue designs, can be purchased using points which can be earned by actually playing the game. This mix of cash and point priced items makes for a very balanced cash shop. Nothing in the store is require for regular gameplay. Unlike Cue Online, there's no need to use chalk on cues during matches. In fact chalk, that little square thing people rub against the end of the cue, plays no role in Carom 3D. It's one missing feature compared to its main rival, but it isn't a major one.
Carom3D does an excellent job at fostering a sense of community. Players are given their own profile page which they can customize with backgrounds, an avatar image, and even background music. During account set up, players can chose their country and have their nation's flag be displayed next to their name in the lobby rooms. The dozens of flags on display are proof of the game's universal appeal as a simple billiards simulator. In fact, the game is so popular that it has been included in the international World Cyber Games tournament for years. The graphics are dated, the interface is a bit clumsy by today's standards, but Carom3D still has two major advantages over its newer rival — an established playerbase and support for more game modes. This is definitely a niche game, but for fans of the sport it is well worth checking out.
Final Verdict: Fair
Carom3D was the first major billiards MMO and has established it self as a dead-simple simulation of carom, pool, and snooker games. With international appeal and low system requirements, Carom3D is great at what it does, but player with no interest in pool won't change their minds because of this game.
Screenshots
Carom3D Screenshots
Videos
Carom3D Videos
Coming soon…
Links
Carom3D Links
Shut down.
System Requirements
Carom3D System Requirements
Minimum Requirements:
OS: Windows 95 / 98 / 2000 / XP / Vista / 7
CPU: Pentium MMX 166 or equivalent
RAM: 64 MB Free
HDD: 160 MB Free
Graphics Card: 16mb video game
Recommended Specifications:
OS: Windows XP / Vista / 2000
CPU: Pentium 4 or better
RAM: 256 MB Free
HDD: 300 MB Free
Graphics Card: ATI 9600 / GeForce 7500 or better