UPDATE: This game has been shutdown and is no longer available
Overview
C21 Overview
C21 is an action MMORPG set in a world populated by robots of all sorts fighting to keep a prophesied army of evil robots, named the Devil Robots, from invading the universe. Players embody members of the Neo Angel Force, a force of heroes attempting to protect the universe of Cosmic Renaissance. Robots, being the main focus, are entirely customizable, down to the paint scheme and choice of the parts, with different body types offering a different tactical advantage. This, along with the action, is the high point of C21; the customization potential is HUGE, and is sure to interest fans of mecha of all types. C21 has its downsides, however, such as its low playerbase, and the lack of things to do beyond beating robots up. Stylish and straightforward is the name of the game here.
C21 Screenshots
C21 Featured Video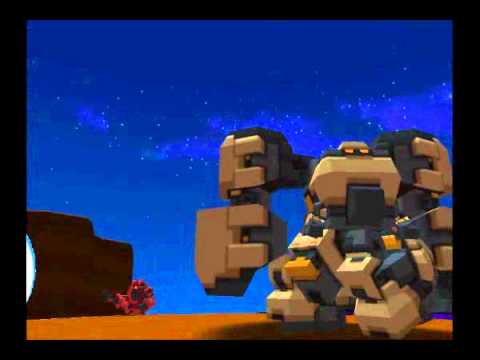 Full Review
C21 Review
Mixing good things has always given mixed results. But when you start mixing games with MECHAS, you can count me in. Hell, any game where you can custom design your own robot, even from a limited pool, is better than none at all. However, like in any case of better-than-nothing, it implies that the actual thing often just isn't that good. In any case, C21 has a distinctive look and a reasonable motive; it takes inspiration from other games of the genre, such as CosmicBreak, and hopes to take robot fighting to the land of PvE fun. Either way, there are not many games like C21 out there, so its player base will undoubtedly be a niche. Is it worth a shot? Read on and see!
Blocky Goodness
After a short download and install time, you're in! Right away, you're offered the basics, options and tutorial. Oddly enough, there's only one available resolution to play the game in, and in full screen, 800×600 looks very awkward. Certainly not deal breaking, but annoying. The tutorial is actually two-fold, there's a simple, click-and-read tutorial, and another in-game that is far, far too long, but thankfully not necessary. It's hard to avoid the question of graphics in the case of C21. Its blocky graphics give it a retro style of its own, though they most definitely will not please everyone out there. On the upside, it's the very thing that contributes to the game's small size. The robots look fairly good, but the terrain doesn't. A notable example is the strange, square-ish red object you'll find here and there on random bits of terrain, and you'll think "Hot damn that's a land mine/volcano/stomach ulcer". Wrong, it's actually a flower. And that's not all, the areas are just generally bland; villages are small and all identical, regular grassland areas are strangely devoid of population and underground areas are confusing as hell (and have no defining feature other than their single brown texture).
Mr. Roboto
But if you can get over the ugly environments, the robots are pretty neat, and using them in battle is tons of fun. For one, you can customize them entirely. Each enemy you take out can drop parts to add, or modify on your robots, and each of these parts can be colored as you want. As an example, you could just take your basic robot, and replace their legs by tank tracks, or some sort of hovering craft. There are three body sizes available to players, small, medium and large, each being a "class" of sorts. The light one centers on fast movement, dodging and flying. The medium one is a balanced body size that can perform many functions. Finally, the large one plays the role of tank, and tends to match well with really big guns. Fighting depends mostly on your choice of weapons, but generally tends to be divided between one ranged, and one melee weapon per robot. The good news is that you don't have to have only one. You have an entire team of them, and it should, ideally, include robots of all shapes and sizes. The downside is that robots built of costlier parts are also costlier to repair; lose them too much and you'll find yourself stuck with the awkward starter frog robot. Finally, some robots have the ability to transform into a different form. One of the starter bots can even transform into some sort of eagle robot with a super-powered swooping attack.
Transform!
The fighting is fast paced, and will have you dodging left and right, and even flying. Did I say flying? Absolutely, you can fly in this, and some robots can fly nearly indefinitely, which lends them an especially entertaining fighting style. Of course, for the lightly armored fliers, get hit once or twice by that heavy's laser canon and it's over. Thanks to the different body parts, different styles of play can be accommodated, and if you're not as good at dodging, you can just get into a heavy robot, and blast away. The game plays out like most other MMOs, you start out in town, grab quests of the usual do-this-then-go-there variety, and progress from town to town as you level and collect robot parts. There's also a mission system, where you're put in a waiting room, and once enough players have joined, off you are. There's just one problem; no one plays C21, almost literally. At peak time, the servers are utterly empty. This means that the PvP arenas are devoid of population as well. Fortunately, things do happen in-game to keep you busy, and Devil Robots will regularly invade zones to keep players challenged. The money store is especially awesome because it lets you buy special robots, parts, and just about anything you could want. The downside is that balance is negatively affected, but it wasn't like you were going to cross another player in the first place.
Final Verdict: Fair
This isn't the mech MMO you've been waiting for, but it can be entertaining in parts, if anything for the robot and the sharp action. However, everything that isn't about your robot and you using it to beat faces is sort of so-so. The world around you isn't much fun, and wherever you go to, it pretty much looks the same (and so do the bad guys). Unless you're simply curious, there's more likely a much better alternative out there than C21 to give you your robot fix.
Screenshots
C21 Screenshots
Links
C21 Links
System Requirements
C21 Requirements
Minimum Requirements:
OS: Microsoft Windows 2000 / XP / Vista / 7
CPU: Pentium3 1.2GHz
RAM: 256MB
HDD: 800MB
Graphics Card: VRAM 32MB
DirectX9.0c
Recommended Specification:
OS: Microsoft Windows 2000 / XP / Vista / 7
CPU: Pentium4 1.6GHz
RAM: 512MB
HDD: 800MB
Graphics Card: VRAM 64MB
DirectX9.0c