UPDATE: This game has been shutdown and is no longer available
Overview
Brawl Busters Overview
Brawl Busters is a colorfully animated fighting MMO that allows players to battle not only each other but hordes of relentless zombies. Although often compared to Team Fortress 2 in terms of graphics this action game offers a more comical approach. Become a scrawny fellow, curvy vixen, or big belly dude. Use everything from smoke bombs to green jell-o to annihilate opponents. Complete various solo missions or wage war in intense death matches. Much like GetAmped 2, Lost Saga, and Rumble Fighter there's always someone ready to battle. Choose between five different classes and switch them at will once unlocked. . Show off your combat skills in a fierce PvP Free-for-All and move up the ranks as top buster in this zombie infested world.
Classes:
Slugger – Armed with a bat and some baseballs their swing is deadly. They've perfected the art of long range attacks which makes up for their slow speed during combat.
Firefighter – These busters turn up the heat, literally. Blast enemies with flames or toss detonating grenades. Although this class has the slowest movement speed they make up for it with high HP and special defensive abilities.
Rocker – Never doubt the power of music. Rockers wield an electric guitar that shoots out lightning. Considered one of the most balanced busters this class has the widest range attack. Slap foes up close with your guitar or strike at a distance.
Boxer – Equipped with a handy pair of boxing gloves that glow this class uses a one two punch for knocking enemies out flat. Boxers have the fastest attack speed and the lowest HP.
Blitzer – This class has the highest attack power. Blitzers' mighty strength enables them to strike the ground inflicting heavy levels of damage to all opponents within distance.
Brawl Busters Screenshots
Brawl Busters Featured Video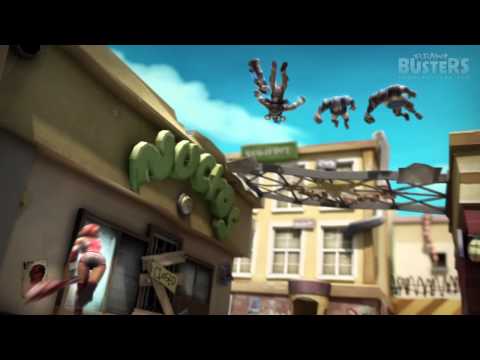 Full Review
Brawl Busters Full Review
By Ange Perdu
Brawl Busters is a 3D action third person perspective fighting MMO where players become honorary busters in a world infested with deadly zombies. Although somewhat similar to Team Fortress 2 in terms of graphics this casual fighter is distinctively different. Instead of traditional artillery players depend on hand to hand combat and a host of wacky weapons in order to take down foes. Humor is also embedded throughout the game. Slap enemies with an electrifying guitar, toss baseballs, use a flame torch or hold them hostage in giant green jell-o molds. Go solo or join friends in killing hordes of zombies terrorizing the streets. Participate in team death matches and competitive PvP free-for-alls.
Becoming a Buster, the Gameplay
Players start out in the lobby area with the option of tackling missions in single player mode or entering one of the available multiplayer PvP matches. There are over a dozen different solo missions that unlock once the previous quest has been completed. Missions vary from zombie slaying to gathering specific objects while fighting off swarms of attackers. The WASD keys are used for movement. Clicking the left or right mouse button initiates an attack. Each task transports a player into a different zone inhabited by zombies. Ride up the fire hydrant, blow up vehicles, and stop the undead from running amuck. Experience, coins, and occasionally a rare item are rewarded for successfully completing a mission. All quests are repeatable but users receive less XP. Since it's not a lot of solo content players have to rely heavily on the multiplayer matches to level up their character.
Death Matches to Zombie Survival
The varied game modes and maps are similar to Rumble Fighter. There's plenty of challenging matches available. Fight in Pinball Avenue, Loco Square, Sunset Street, and even the Brawl Factory. Players can enter a Team Death Match, Glow Rush, Zombie Survival, Boss Battle, and a PvP Free-for-All. In Team Death Match mode each kill equals one point. The first team to get 9 kill points within the five minute time length wins. In Glow Rush the main objective is to kill all of the opposing team members and collect their glow essence which drops upon the final blow. The team that collects 43 glows first wins. The Zombie Survival mode allows teams of three players to face off with a relentless army of NPC zombies with the goal of surviving until the buzzer rings. All of the matches and missions are timed in short five minute intervals making the game feel very fast paced. XP is given at the end of each match for the most kills and assists. As players level up they can alternate between classes and enter the more advanced modes like Boss Battle or the PvP Free-for-All. Begin as a Rocker and later switch to a Slugger or Blitzer before entering a match. Brawl Busters also features a convenient quick join option that automatically places a user into an open match. All of the modes are entertaining. Players immediately start running around punching each other with glowing boxing gloves, shooting electric bolts out of their guitar, baseballs are flying from all directions in the air, and smoke bombs are being dropped. It's a good time. Obstacles like pits of molting lava often appear in arenas as well. Players have to be careful not to fall into the traps among all the chaos. The game has an awesome soundtrack that plays in the background keeping the adrenaline pumping. As players advance they can purchase better equipment and costumes for a boost during combat.
Weapons of a Rock Star
The store in Brawl Busters is somewhat limited. There are a small handful of weapons, gear, and accessories to choose from. Most of the items are restricted for a particular level making it difficult to customize until much later on in the game. Depending on a character's current class level only the artillery for that particular guise is available. Rockers have a variety of guitars that send out deadly electric emission or sonic explosions towards enemies. Users can purchase the Mandolin, Half Moon, Purple V, Devil's Scream, or Round Guitar as their weapon of choice. Firefighters have long firing range launchers like the Iron Clover, ARTDA No. 72, Gold Lightning, Steel Pig, and the all powerful Bon Gun. Generic gear in the form of skull belts, studded jackets, black ring boots, blade fedora, winged goggles, button back gloves, white clip shoes, and leather bowler hats are also available. Most of the items offered in the shop are permanent so players don't have to waste coins or real currency re-stocking their inventory. Many of the accessories are silly and unnecessary. Adding a pair of extreme sexy lips, snub nose glasses, biker goggles, or a horror mask isn't impressive. Other than the few upgrade packages available that boost 6-18% of stats there's really nothing to buy. Players who revel in customizing their character will be disappointed in the item selection.
Final Verdict: Good
Overall Brawl Busters is a fun casual action fighting MMO. The high doses of humor and mayhem make it perfect for gamers looking for a quick battle with little or no commitment. Become one of five wacky character classes armed with everything from an electrifying guitar to a Bon Gun. Kill hordes of zombies with your friends and battle other players in wild team divided death matches. Much like Lost Saga the gameplay is fast paced. Players are timed during solo missions and in multiplayer modes. The small file size and easy pick up and play gameplay makes this online brawl worth trying.
Links
Brawl Busters Links
System Requirements
Brawl Busters System Requirements
Minimum Requirements:
OS: Windows XP / Vista / 7
CPU: Pentium Duel Core
RAM: 512MB
HDD: 1GB
Graphics Card:  Geforce 6 series
DirectX: 9.0c
Recommended Specification:
OS: Windows XP / Vista / 7
CPU: Pentium Duel Core or better
RAM: 1024 MB or more
HDD: 2 GB free
Graphics Card: GeForce 7 series of better
DirectX: 9.0c or better
Brawl Busters Articles