UPDATE: This game has been shutdown and is no longer available
Overview
Big City Racer Overview
Big City Racer is a simple racing game published by a European studio. The game doesn't have the same depth as Need for Speed World Online or Heat Online, but offers simple gameplay and has low system requirements. Players can race across the cities of Europe with up to eight participants per match. While the total number of maps is sparse, Big City Racer allows each one to be played under three weather settings. Each track also comes in two forms. The standard lap based game mode is the most common, but players can play sprint mode where cars must race from one end of the track to the other. Big City Racer has an assortment of cars for purchase and players can customize them using decals, rims, windows, and neon lights.
Tracks - Vienna, Paris, London, Berlin
Weather - Sunny, Rainy, Sunset
Big City Racer Screenshots
Big City Racer Feature Video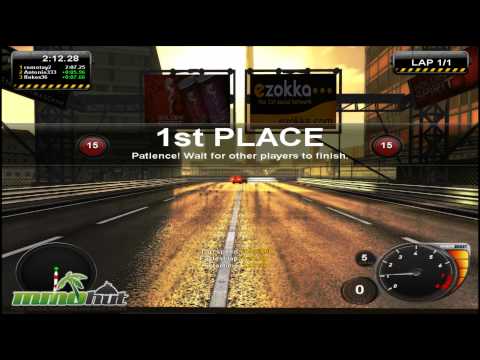 Full Review
Big City Racer Full Review
By, Ange Perdu
Big City Racer is a 3D free to play MMO racing game where players race each other across Europe through the cities of Berlin, London, Paris, and Vienna. Speed past historic monuments and view breathtakingly beautiful sights while vying to become one of the best racers in the world. Practice solo in special ghost mode against your best time. Win challenging races and earn coins to customize your vehicle. Although it lacks the extensive mechanics and options that popular games such as Need for Speed World Online or Heat Online offers the additional features in Big City Racer makes racing fun. Compete in daily tournaments for jackpots and real prizes. Chat with other players and move up the ranks from mere rookie to city master.
1-2 Go, the Gameplay
Players begin by choosing the Ford Focus ST, Volvo C30 T5, or Volkswagen Golf GTI as their vehicle. As players win races and earn coins more cars and customization options are unlocked. Most of the gameplay in Big City Racer focuses on a player's progression from rookie to master. Competitors have to participate in as many races as possible snagging first or second place for a coin reward. Each race has a fee or stake that racers pay to compete. Depending on the difficulty level of the track stakes range from 1 to 5 coins per race. Despite the simplicity of the game it is surprisingly challenging. The true-to-life backdrops of major European tourist destinations create complex roadways for players to navigate through. In the city of Berlin racers must squeeze their car through the columns in the historic Brandenburg Gate flying past the Bundestag dome and famous Museumsinsel. Wide round streets quickly turn narrow requiring precise control. Players have to speed through the tapered roads of London past the iconic red double-decker busses and zoom across the bridge. The various tunnels and long winding streets of Europe are demanding especially when using the default arrow keys to drive. There is a cool single-player ghost training mode that let's users practice racing a ghost car representing their previous time. It allows racers to become familiar with the tracks and improve without wasting coins. Players can race in sunny, sunset, and rainy weather conditions on round or sprint tracks in each city. Big City Racer plays much like any other racing game, which is a bit disappointing in a way, as there really aren't any unique features in the game.
Tournaments & Rankings
The player base in Big City Racer is small which can make it difficult to find a race at times. Users can enter the Find a Player tab to view all the players currently online. Click on them to join the room where they are racing or conduct a search to find a specific friend. There's usually always a few players online available to race. Once a race is started aborting it will forfeit coin stake. Another unique feature in Big City Racer is their tournaments and ranking options. Tournaments are held daily giving users equal opportunity to earn large amounts of coins without spending real money. Clicking the tournament tab will bring up the weekly schedule. Players can browse and choose a competition to register for. Registration is just a quick click and a countdown will appear displaying the days, hours, and minutes until the showdown. Most tournaments have a stake of 5 coins. The top players get to move on to the next round until only one racer is left victorious. The bottom players are automatically eliminated from the tournament. One random tournament participant each day will be drawn for a real prize. These gifts can range from free software to the latest cell phone or high tech gadget. There's also a chat box integrated in the game room for players to converse with one another. Chatting can take place before and after races not during. Players can see how they rank with the rest of the players online in terms of wins and riches by browsing the ranks for the past 7 days or 30 day stats.
The Garage Shop
There's a nice amount of customization available in Big City Racer. Players can have 10 vehicles to choose from including the Petty Cruiser, Classy C6, Tycoon, McCormick, Spider, Opulent R1, and the Police car. They range from 1,000 to 7,000 coins depending on the model. Once purchased players can alter the color, add decals, window tint, aluminum rims, boosts, underbody neon lights, and change the horn sound. Select a finish in red, blue, green, yellow, black, white, silver, orange, or dark gray. Lightening, straight lines, number one symbol, infinity, racing team, playboy, or tramp stamp decals can be added to the sides and back of vehicles. Apply a deep ocean blue, gold, or dark black window tint. Attach silver or black alien style rims. Players can also match their nitro boost colors with their car in hope, wisdom, and love shades. Install neon lights in blue heaven, red energy, or light gold. A constant throughout the game is its sound effects. All cars feature a standard horn but can be later customized to resemble a carnival, truck stop, cow noise, or Mexican melody. Users who really want to pimp out their ride need about 6,250 or so coins which will require winning a lot of races.
Final Verdict: Fair
Big City Racer is a challenging and addicting racing MMO. Players that are new to racing games or looking for a different type of environment to explore will enjoy the scenic European backdrop as they compete for top rank against others. Maneuver around historical monuments. Speed through numerous tunnels, bridges, narrow brick pathways, and wide turning roads across Berlin, London, Paris, and Vienna to an adrenaline pumping techno house soundtrack. Although very basic when compared to more polished games like Heat Online or Need for Speed World Online Big City Racer it can still be fun. One of the game's biggest drawbacks though is its incredibly low playerbase.
Screenshots
Big City Racer Screenshots
Links
Big City Racer Links
Shut down.