UPDATE: This game has been shutdown and is no longer available
Overview
Beach Volleyball Online Overview
Beach Volleyball Online is the first volleyabll themed MMO out there! It's published by Omniverse Games and offers a unique blend of actual gameplay and social elements – sort of like Snail Game's ShowUp. Like any other beach themed volleyball game, Beach Volleyball Online, as expected, has gorgeous female character models! After all, what's a beach volleyball themed game without hot chicks?
Beach Volleyball Online offers various modes of play with a maximum of six players on the court at once. One of the more interesting game modes is the Audience Better Mode which, as the name implies, allows spectators to place bets on the outcome of the game. Players are rewarded with experience and money based on their performance in each match. While off the court, players are encouraged to explore the 'virtual world' elements of the game while also socializing and making friends. Upon making a character, players must choose from one of the three playable classes, which are:
Offensive – They have high "Spiking and Strength" stats but weaker "Setting and Receiving" stats. They are the primary offensive class in Beach Volleyaball Online and should play aggressively.
Defensive – They have high "Setting and Receiving" stats but weaker "Spiking and Strength" stats. They are great for assisting.
Strategic - They are basically a combination of the offensive and defensive classes. They are capable in all aspects of the game, but not particularly strong in any one attribute.
Beach Volleyball Online Screenshots
Beach Volleyball Online Featured Video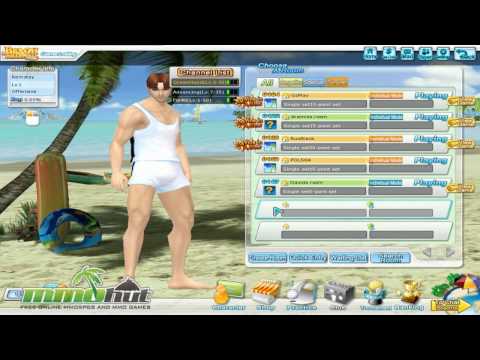 Full Review
Beach Volleyball Online Review
By, Omer Altay
Beach Volleyball Online (BVO) is a straight forward 3D beach volleyball MMO from Omniverse Games with both social elements and actual volleyball gameplay. Props to the guys at Omniverse Games for releasing a beach volleyball themed MMO, as BVO is the first of its kind. Unfortunately, both the actual gameplay elements in Beach Volleyball Online and its social elements leave a lot to be desired.
To The Beach – Starting Out
Players start off in Beach Volleyball Online by first creating their character and choosing from one of three playable classes – Offensive, Defensive and Strategic. Each class has varying stats, but for the most part, each class plays largely the same, aside from only a few small differences. After playing FreeStyle Street Basketball and Hockeydash I was sort of expecting each class to play radically different, but that's not the case in Beach Volleyball Online. Appearance customization in the character creation screen is practically non-existent, but luckily the game's item store has a fair selection of clothing for players to customize their avatars.
Jump into the game
After creating a character and logging into the game for the first time, players will be asked whether they want to complete the games tutorial or not. I strongly recommend new players to complete the tutorial, as it only takes a few minutes and explains the basics of the game quite well. The tutorial explains that each team, like in real volleyball, can hit the ball three times before it must be sent over the net. The game recommends the first player should who receives the ball should passes it to a teammate (the second person) who should setup a spike for the third person. The game emphasizes the importance of team work, but from my experience with the game, players are better off simply returning the ball right away rather than trying to setup spikes, as it's quite easy to screw up while trying to setup a good spike. Obviously setting up spikes and working together is required in higher level games. One major complaint I have with Beach Volleyball Online is that since the playerbase is so low, it can be hard to find people to play with. Another thing is that since the game is available worldwide, many of the game's players don't even speak English – so communication can be a problem. Latency issues aren't uncommon either.
Another complaint I have with Beach Volleyball Online is that the actual gameplay mechanics aren't nearly as fluid as other sports MMOs. After playing top notch sports MMOs like FreeStyle Street Basketball and FIFA Online, it's hard to enjoy Beach Volleyball Online. The gameplay mechanics just feel awkward and it can take a good while to get a grasp of the game. Beach Volleyball Online doesn't really have a lot of content either. There are a few different maps and aside from their appearance they have no actual impact on the gameplay. Players can face off against each other in either 1v1, 2v2 or 3v3 games and can pick how many sets to play and points per set through the game's room based lobby. There are also only three game modes in Beach Volleyabll Online – Common (Players play freely with skills disabled), Skill (Players can use skills) and Pass (Players must pass to their team before returning the ball).
Part Deux – Socialize!
For some odd reason Beach Volleyball Online markets itself as a social game. Unfortunately, there's never too much socializing going on, as the game's chat channels are almost always empty. The game itself really isn't at fault here, as it just isn't that popular. But, the fact that the game only has a handful of chat areas is disappointing. Both the game's "club" and "beach" areas are extremely small. Another thing is that the game doesn't have ANY /dance and /hug type commands so the actual social elements in Beach Volleyball Online are practically non-existent. On the positive side, the game's item store has a fair selection of random accessories and clothing, so players can make their avatars look unique. If you're look for a social MMO, checkout Gaia Online or ShowUP instead.
Skills, Progression and Features
Skills in Beach Volleyball Online can be purchased in the game's store. Like all other items in the game, skills only last for a set amount of time, unless players purchase them for longer periods of time. These purchased skills can only be used in the game's "skill" mode though and can be extremely powerful if executed correctly. As players gain experience and level up, they can purchase new higher tier clothing, which further increases attributes. Experience is gained by winning matches. One interesting feature in Beach Volleyball Online is its audience battle system. In audience battle, players can spectate games and place wagers on the outcome of the game. Unfortunately, this will likely to lead abuse, as players could throw the game if their friends are betting on the opponent.
Final Verdict – Poor
Beach Volleyball Online tries to be original in a world full of copycat games. Unfortunately, both the gameplay and social elements in the game fall incredibly short. The gameplay mechanics feel awkward and random while the social elements are practically non-existent. Those looking for a solid sports MMO should look elsewhere, though I would like to give props to the game's developers, as Beach Volleyball Online was the first Volleyball themed MMO in the U.S.
Screenshots
Beach Volleyball Online Screenshots
Videos
Beach Volleyball Online Videos
Beach Volleyball Online Official Trailer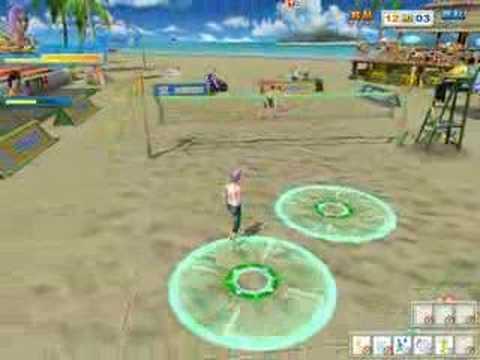 Beach Volleyball Online TV Ad in Taiwan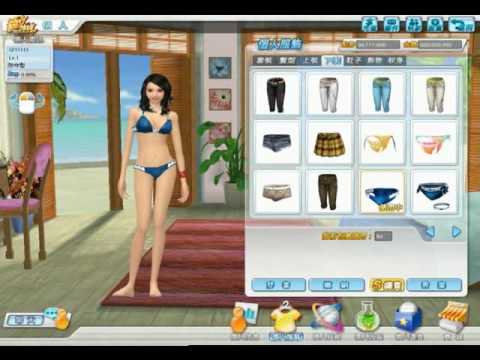 Beach Volleyball Online Feature Video [Gameplay]

Links
Beach Volleyball Online Links
Shut down
System Requirements
Beach Volleyball Online System Requirements
Minimum Requirements:
OS: Windows XP/ 2000 / 98 / Vista
CPU: 1.5 GHz Intel P4 or equivalent
RAM: 512 MB RAM
HDD: 2.5 GB Free
Graphics Card: Direct x 9 Compatible VGA card
Recommended Specification:
OS: Windows XP/ Vista
CPU: 2.4 Ghz Intel P4 or equivalent
RAM: 1024 MB (1GB)  RAM
HDD: 2.5 GB Free
Graphics Card: Direct x 9 Compatible VGA card