Overview
Battlefield Overview
Battlefield is the latest game in the long running Battlefield franchise and the second of the series to be free to play. Unlike the previous Battlefield Heroes, the game has realistic graphics similar to those found in Battlefield 2. like previous Battlefield games, players will have the opportunity to play various roles like Medic, Engineer, and so forth. Each of these playable characters have their own skill trees, which give the game some unique RPG elements. Matches take place on large maps that pit two teams of up to several dozen players against each other. Like other battlefield games, Battlefield Play4Free has vehicles like tanks, jeeps, airplanes, and helicopters thrown into the mix. The game is published on EA's new 'Play4Free' portal alongside other free to play games like BattleForge, Need for Speed World, Fifa Online, and Tiger Woods Online.
Battlefield Screenshots
Battlefield Featured Video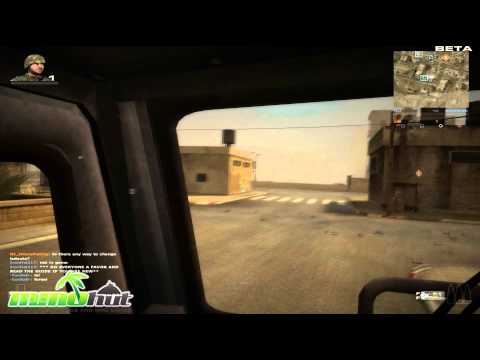 Full Review
Battlefield Review
By, Jaime Skelton
The Battlefield series – team-focused first-person shooters – has proven popular with gamers, selling millions of copies and spawning several games and spin-offs in the series. The latest of said spin- offs is Battlefield Play4Free, EA's second attempt at bringing Battlefield's playstyle for free online play. Unlike Battlefield Heroes, Battlefield Play4Free features crisper, more polished graphics and gameplay. But can that polish offer enough to make this FPS worth playing?
When creating an account for the first time in Battlefield, you'll be prompted to choose one of four character types: Assault, Medic, Engineer, or Recon. Each class has its own unique weapon and gadget, giving them unique roles in the battlefield itself. For example, Assault characters are meant for front- line assault and resupplying their team with ammo, while Engineers are responsible for managing vehicles during battle. It can be hard to judge how these classes will fit your style until you play, so do your research. You can only create two characters that cannot be deleted or change classes. If you want to add another character, you'll have to pay real money.

Train Your Heart Out
While you are in a tight spot with the characters you choose to create, each character can be developed further through ranks (levels) and training (talents). Experience is earned in each battle, and pushes players to higher ranks, currently at a max of 20. Every time a character ranks up, they get one training point that can be spent specializing their character.
Each character gets a training menu that resembles a talent tree used commonly in role-playing games. These trainings are split into two types, equipment and combat, and are unique to each class. While there are shared talents between classes (the ability to throw and carry frag grenades for example), classes also get unique talents that help build their class specific roles. These points can be reset and retrained for free, making it easy to tweak your character to your playstyle and team needs out of battle.
Bullets in the Desert
Once you've set up your character, it's time to get into the real muscle of the game and get into battle. While Battlefield does let you join in with your friends or on previously saved servers, if you have any available, the basic option is to simply hit "Play Now" and get thrown into the first available battle. There is no game lobby, no one selecting a map or special conditions on the battle; this means newbies get thrown in with the pros and learn to play on the fly. Expect to die often until you rank up.
There are only a total of four maps, taken from Battlefield 2, available for play. Joining a game will throw you randomly onto one of the two sides, Russia or US, which can have up to 16 players each. Your teammates are marked in blue on the map and with triangles above their heads or vehicles, and your objective is simply to capture and hold as many of the objectives on the map as possible. Points are earned as objectives are captured and held, and the first team to 1000 points wins the game. Ranking can be viewed during battle and at the end of battle, letting you check your stats against others. The servers also monitor for inactive and high latency players and remove them from the server, helping ensure that your team is actually working towards winning.
To credit, the controls are simple and intuitive for any FPS player. WASD is used to move around the map, the mouse buttons are used to shoot or scope, equipment can be changed by using the number row, and a few extra keys (like Q to spot an enemy for your team) are in easy reach. All of these keys can also be changed in the options menu for the game. The user interface itself is clean and clutter free, leaving plenty of screen room for action, with little to distract the player from their objectives. If anything is difficult to read on screen, it's the chat box, which shows both default calls for help and any typed chat from players – although most teams rarely chat.
But for as polished as Battlefield is, it's also difficultly clunky at times. While your teammates have indicators over their head in battle, the enemy doesn't. You have to rely purely on your eyesight to spot and shoot an enemy before they take you down, unless you're lucky enough to have a teammate spot the enemy for you. A HUD can be upgraded to show you which direction shots have been fired at you, but by the time you can find the enemy, you're likely dead. Death comes easy, in fact, especially when vehicles get involved. Some air combat intensive maps mean that it takes a lot of instinct to stay out of sight from above and on the ground to stay alive if you're not in a vehicle yourself. Having no choice in battles or teams, being unable to switch characters during battle, and having to force quit the game or leave a battle in order to return to the main screen to upgrade, just adds to the annoyance.


Guns, Hats, and More Guns
Like other free-to-play online FPSs, Battlefield Play4Free is focused on selling you stuff, particularly weapons. While there are accessories to "dress up" your character, and experience and coin boosters, the real weight of the game comes in its arsenal – and how it's distributed. Every player gets a basic, permanent kit for free, containing their class weapons and kits, plus a basic pistol and knife. These basic weapons do the job roughly, but in order to compete with the pros, you're going to have to invest in upgrades.
Each weapon type has several available upgrades, and each weapon has its own stats to cater to different playstyles. Most of the weapons can be purchased with either in-game coin (earned through playing matches) on a temporary basis. Temporary weapons can last either one, seven, or thirty days, and time counts against you even when you're offline. Weapons can also be purchased in these amounts, or permanently, through cash shop funds, and each weapon has a few varieties that can only be purchased permanently for about $5 to $10. While you can keep playing for free, and buying short upgrade weapons, expect to put down some money long-term if you want to compete with the higher ranked players.
Final Verdict: Fair
Battlefield Play4Free is definitely one of the more polished free shooters available online, something that should be expected from the Battlefield series. It looks great, it plays smoothly, and its player base is active enough that there's always a game available. A great number of the problems found in other shooters, such as hacks and bots, teammates that don't pull their wait, and a slow wait for games, are noticeably absent, mostly at the cost of a longer load time at the start of each game.
The small problems add up though, especially on new or free players. Basic weapons are weak, limitations on character creation or deletion, the inability to switch roles mid-battle, a very limited map selection, no game setting control, and the imbalance of mixing ranks into the same battle makes some games incredibly grating. It's a balance of good and bad, and unfortunately for Battlefield, the bad moments end up weighing out the fun that can sometimes be had. With less frustrating shooters available for free, this game may only be worth trying out if you enjoy the Battlefield series or are looking for a game with more polish, even if you may have to pay to compete.
Screenshots
Battlefield Screenshots
Links
Battlefield Links
System Requirements
Battlefield Requirements
Minimum Requirements:
OS: Windows Vista / Windows 7 / XP
CPU: Pentium 4 1.7 GHz
RAM:  512 MB
HDD: 1 GB Free
Graphics Card: 256 MB VGA Card or better
Recommended Specification:
OS: Windows Vista / Windows 7 / XP
CPU: Pentium 4 2.1 GHz
RAM:  1024 MB
HDD: 2 GB Free
Graphics Card: 256 MB VGA Card or better