Overview
Aion Overview
Although Aion was originally released in 2009 as a subscription only client game, this immensely popular Korean based MMORPG has switched over to a free-to-play model allowing users from across the globe to experience the mystical world of Atreia. Similar to other titles like Champions Online, Star Trek Online, and Age of Conan free player have full access to the game. Join the Asmodians or the Elyos faction in a turf war for the sought-after zone called "The Abyss." Tackle quests, fight creatures, raid instances, duel other players, or participate in large-scale battles involving PvP along with PvE simultaneously as a race of dragons known as the Balaur storm onto the battlefield. There are four core classes that each branch out into subclasses once a player reaches level 10.
Classes:
Warriors – Specializing in close combat and are notorious for their sheer strength this class is equipped with a variety of swords, maces, and shields. Warriors can transform into front line soldiers as Gladiators or knights known as Templars.
Scouts – Despite their weak armor this class utilizes their speed and agility to get the best of their opponents. Masters of the art of hit and run this class morphs into trained Assassins with an arsenal of poisoned blades, bows, and swords or Rangers skilled in both melee and ranged combat.
Mages – This class uses the elements of water, fire, earth, or wind to destroy their enemies. Mages can transform into Sorcerers capable of damaging magical attacks or powerful Spiritmasters.
Priests – Always a valuable member of any party Priests possess the ability to heal. They can use both long range spells and melee attacks to bring foes down to their knees. Priests morph into Clerics with incredible healing and protection spells or Chanters gifted in boosting the combat skills of their allies.
Aion Screenshots
Aion Featured Video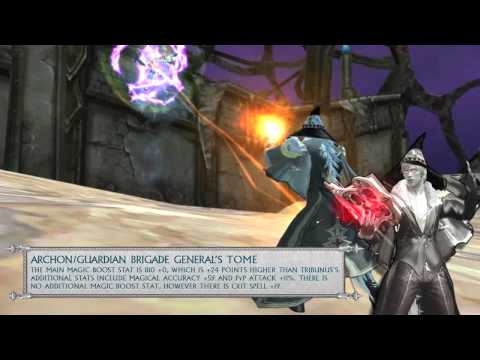 Full Review
Aion Review
By Ange Perdu
Aion is a 3D fantasy themed MMORPG by NCSoft where players join either the Asmodians or Elyos faction in a battle for control over various zones in the world of Atreia. Each hero must go on their own journey through the mysterious shattered lands to discover the secrets that has divided the once glorious planet. Complete challenging quests while fighting odd creatures and hostile enemies encountered along the way. As players level up they can earn a pair of wings that allows them to take combat to new heights. Destroy foes in mid-air by executing damaging blows or casting powerful spells. Battle other players in a massive PvPvE showdown with dragons as the third wheel. Join alliances and raid instances with friends. Take up a crafting profession or go on a monster killing rampage. The sky is the limit in this free-to-play MMO where anything goes.
Life in Atreia, the Gameplay
Most of the gameplay involves tackling quests and monster slaying. Players start out in a rural village with stationed NPCs scattered throughout. These non-player characters delegate various tasks for heroes to complete. Quests can vary from relaying messages between NPCs to creature killing. Similar to WoW in terms of quality and theme users get to explore an enchanted world populated by mythical beings and dangerous beasts. Kill Sprigg Workers in the basin causing trouble or giant winged insects called Sparkle Hills. The detailed graphics are breathtakingly beautiful. Aion has to be one of the most visually impressive F2P MMORPGs out there. Unfortunately navigating through this scenic world isn't as inspiring. Although there's a built in objective tracker manually trekking through miles of lush fields can be tedious, especially for those players that are used to auto-walk features.
Sometimes quests will require heroes to find a specific location and collect items like rare flowers, grain sacks, or fruit baskets. There's a level cap of 55 and only 3,900 quests to complete. It may sound like plenty but most of these quests are spread relatively thin throughout the game which leaves players with nothing to do in between levels, except grind. There's lots of grinding. From cute creatures frolicking through the meadows to hostile mammoths patrolling grasslands it's all fair game. Heroes earn XP, coins, and random items during monster drops and for completing quests as well. To help break up the monotony of relentless grinding players can raid instances with their friends or duel other players. In order to access instances for raids a player must be level 18 or higher. Enter the Fire Temple, Draupuir Cave, Miren Chamber, or Sulfur Tree Nest to fight off hordes of monsters.
Battles in the Abyss
One of the features that stand out the most in Aion is the combat. It's far from ordinary. Players can alternate from ground to aerial combat as early as level 10 by earning a pair of wings. Only certain zones in the world permit flying. Heroes can maintain flight for about a minute when first starting out. As their character levels up and purchases wing boosts to extend flying time they can become a terror on and above the ground. At level 25 or higher players can enter the Abyss. The majority of PvP battles take place in this area. Factions fight each other for control over their stationed fortresses. Battles in this PvPvE battleground can quickly turn into adrenaline pumping fun as players attempt to defend their nation at all costs. Randomly an NPC faction of dragons known as the Balaur will intervene causing even more chaos and bloodshed. Heroes have an arsenal of skills at their disposal during combat as well. There's a convenient chain attack system that allows players to drag a particular skill to be executed automatically during combat in a set sequence. Double click to initiate an attack using a flame bolt and it will shoot two consecutive shots and then perform an ice chain for a damaging final blow. Skills are also instantly leveled up along with your character.
Swords & Crafting Pets
Most of the weapons and equipment in the game can be purchased through local NPC merchant shops. Depending on hero's level and class, weapons such as the mighty sword, deadly dagger, mace, bows, and spell book are available. Generic gear in the form of breeches, boots, tunics, shoes, leggings, gloves, hand guards, jerkin, vambrace, and shield are sold as well. Buy minor power shards to increase damage, bandages for healing, mana and life elixirs, and even extraction tools to obtain enchantment stones from other items. Despite the meager pickings in the NPC shops the customization options in Aion is great. Much like Champions Online users can make their character look any way they want. Adjust body size, face shape, shoulder width, breast size, height, weight, and determine every noticeable detail about your hero. Players can really take their time to create on original looking character.
In the premium shop hero costumes ranging from school uniforms to sailor outfits can be purchased. Weapon skins to add a dash of color, dyes, boosts, and furry pets are available as well. Similar to Lineage 2 players can equip and command pets. There's about a dozen or so unusual pet companions in Aion that users can adopt. They can be earned through special quests or purchased as eggs through the shop. Each critter earns their keep with a special function. Buy a buff pet like the Pointyhat Sprigg or a loot pet in the form of Teasing Jefi who picks fallen foes pockets. There are even crafting pets like the Pudgy Porgus that produces enchantment stones and manastones when properly fed. This pet can be handy since the crafting system for heroes is more of game of chance than skill.
Final Verdict: Good
Aion has a lot to offer for new and Veteran players alike. It's not one of the top Korean MMORPGs for no reason. The graphics in this game is incredible. You'll find yourself strolling through a grassy meadow just to take in all of the stunning scenery. Although the storyline and quests are average the aerial combat in the Abyss more than makes up for it. Rain down lightning bolts on foes and conquer unknown terrain. Fight hordes of monsters, raid instances with friends, and rumble in mid-air. Fans of titles like WoW, Lineage 2, or Faxion Online should definitely check this game out. Adopt a pet companion to escort you along your journey to greatness in this free-to-play fantasy themed MMO by NCSoft.
Screenshots
Aion Screenshots
System Requirements
Aion System Requirements
Minimum Requirements:
OS: Windows XP / Vista / 7
CPU: 2.2GHz Pentium 4 / AMD 2400+
RAM: 1 GB
HDD: 1  GB free
Graphics Card: GeForce 5 / ATI 9800
Recommended Specifications:
OS: Windows XP / Vista / 7
CPU: 2.0GHz Core 2 Duo / AMD 3500+ or better
RAM: 1.5 GB or more
HDD: 2 GB Free or more
Graphics Card: 256MB Geforce 7800+ / Radeon X1900+ or better
Aion Articles