This is a Preview. This page will be updated when the game is fully released.
Overview
Transpee Overview
Transpee is a Korean racing MMO that is largely inspired by the classic Mario Kart series. Players race on various stages, each with a different theme, and must dodge obstacles and use an assortment of crazy items to make it to the finish line. Transpee is very casual friendly, but difficult to master. Experienced players can chose to race with items off, or try one of the game's various special modes. Transpee supports up to eight players per race, and uses a standard lobby screen. The latest closed beta for Tranpee ended in late February 2010, with no updates since. Hopefully open beta will be announced soon!
Race Tracks - Art World, Nix Park, Wild Desert, Red Valley, Bridge Run, Beach Falling
Racing Cars - Lepus, Storm, Peri, Sekhmet
Characters – Dennis, Arumi, Kajo, Lala, Karina, Gaon
Game Modes:
Speed Battle - Race without items, the best player wins! Boosts and slipstreams still available.
Item Battle - Race with items available. Watch out for missiles and other hazards!
Group Battles – Available in speed and item mode, group battles split players into two teams!
Time Atack - Compete with your previous best record for a stage or another users' record.
License Mode - Obtain licencses by clearing license missions.
Grand Prix Mode - Compete with in-game prize money against other players. (under development)
Club Battle – Fight for control of racing tracks. (under development)
Transpee Screenshots
Transpee Featured Video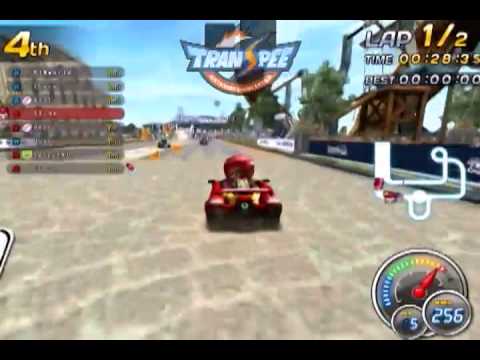 Full Review
Transpee Review
Coming Soon…
Screenshots
Transpee Screenshots
Coming Soon…
Links
Transpee Links
System Requirements
Transpee System Requirements
Minimum Requirements:
OS: Windows 98 / ME / 2000 / XP
CPU: Pentium3-800MHZ
RAM:  256 MB
HDD: 2 GB Free
Graphics Card: 32mb video memory
Recommended Specification:
OS: Windows Vista / 7
CPU:Pentium 4 2.2 Ghz or more
RAM: 512 MB or more
HDD: 2 GB Free
Graphics Card: 64mb video memory or more