Talesweaver is a 2D fantasy MMORPG based on the Korean novel 'Children of the Rune.' Explore the world of Anomarad and chose from 12 playable characters. Talesweaver has fast experience gain and an original skill system.
Publisher: GamenGame
Playerbase: Low
Graphics: Low
Type: MMORPG
EXP Rate: High
PvP: Duels
Filesize: ~ 1700 mb
Pros: +Large number of playable characters. +Story elements give the game a console RPG feel. +Original skill progression system.
Cons: -Repetitive gameplay. -Dated visuals & interface. -Limited graphic options. -Limited appearance customization.
Overview
Talesweaver Overview
Developed by Softmax and published by Nexon in Asia, Talesweaver is a seven year old game that's finally coming to America. A Global, English version is currently hosted on GamenGame but will eventually find a permanent home. Talesweaver is an episodic MMORPG that has 12 playable character pulled right from the novels. The game is set in the fantasy world of Anomarad which has four major cities that players can explore: Narvik, Laydia, Clad, and Kaul. Episode 2 further added the cities of Keltica, Eltivo, and Cardiff. Talesweaver is a traditional point-and-click MMORPG where players use accumulated experience points to level up various skills.
Episode 1 Characters - Boris Jinneman, Lucian Kaltz, Sivelin Uoo, Nayatrei, Ispin Charles, Maximin Liebkne, Mila Nebraska, Tichiel Juspian
Episode 2  Characters - Joshua Von Arnim, Cloe Da Pontina, Lanziee Rozen Kranz, Anais Del Caril
Talesweaver Screenshots
Talesweaver Featured Video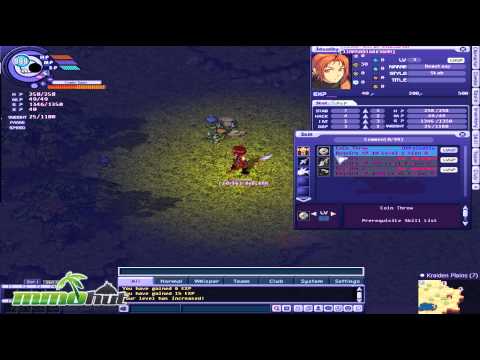 Full Review
Talesweaver Review
Coming soon…
Screenshots
Talesweaver Screenshots
Coming Soon…
Links
Talesweaver Links
System Requirements
Talesweaver Requirements
Minimum Requirements:
OS: Windows 2000 /  XP / Vista / Windows 7
CPU: Pentium 4 1.2 GHz
RAM:  512 MB
HDD: 3 GB Free
Graphics Card: GeForce 4 Series 128MB or better
Recommended Specification:
OS: Windows  XP / Vista / Windows 7
CPU: Intel Core 2 Duo and above
RAM: 1 GB
HDD: 4 GB Free
Graphics Card: GeForce 6600 and better