Origins Return is a sci-fi MMORTS set in the distant future. Humanity began to go into exile after the last great war, and has suddenly begun to reemerge with the rediscovery of the Space Portal. Build your galactic civilization from the ground up, colonizing planets and extracting the resources they have waiting for you. Build alliances and diplomatic relations with other players, or send your fleet to destroy them. Customize your starships, determining their firepower, armor, shields and strength. Conquer the universe, and become a legend!
Publisher: Virtual Development
Playerbase: Medium
Graphics: Medium
Type: MMORTS
EXP Rate: ??
PvP: Yes
Filesize: N/A
Pros: +Customizable spaceships. +Diplomacy useful for trade and alliances. +Easy to learn and understand.
Cons: -Generic gameplay. -Limited information available.
Overview
Origins Return Overview
Origins Return is a fairly standard MMORTS. You develop your colony, gathering resources and using them to construct various facilities. Once you're strong enough, you can send your ships out to conquer other planets, giving you further resources to use for your empire. Spaceships can be customized, allowing you the option to choose the firepower, hull strength, shields, and speed of your craft. You can set up trade with other players, join alliances, and attack others that refuse either of the previous actions.
Origins Return Screenshots
Origins Return Featured Video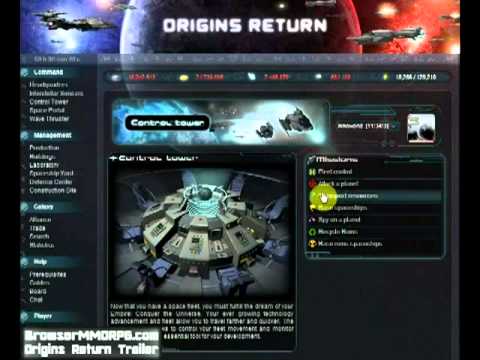 Full Review
Origins Return Review
Coming Soon…
Screenshots
Origins Return Screenshots
Coming Soon…
Links
Origins Return Links
System Requirements
Origins Return System Requirements
Coming Soon. . .