UPDATE: This game has been shutdown and is no longer available
Elements of War is a 3D MMORTS set in a post-apocalyptic world. With modern era units and a classic strategy interface, Elements of War offers a single player campaign along with multiplayer modes. Battle on large maps as either the Russian, German, or American forces!
Publisher: Playnatic Entertainment
Playerbase: ??
Graphics: Medium
Type: MMORTS
EXP Rate: ??
PvP: Multiplayer Mode
Filesize: ~ 1900 mb
Pros: +Large scale maps. +Comes with a singleplayer campaign. +Varied units include tanks, infantry, artillery, and more.
Cons: -Only 2 factions to chose from in multiplayer. -Dated graphics. -No release date set. -Limited information available.
Overview
Elements of War Overview
Elements of War is a Russian developed MMO strategy game with a modern era setting. After a string of global catastrophes, the surviving forces of America, Europe, and Russia are embroiled in global conflicts. Play as the America, German or Russian forces through the singleplayer campaign, or go online and battle against other players as the Americans or Russians. Elements of War has an interface that should be familiar to RTS veterans. The game has an original plot, large maps, and unique climate based weaponry.
Elements of War Screenshots
Elements of War Featured Video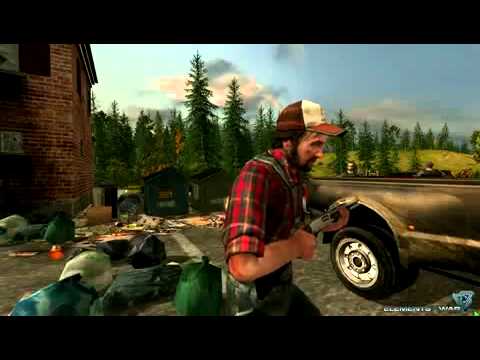 Full Review
Elements of War Review
Coming Soon…
Screenshots
Elements of War Screenshots
Coming Soon…
Links
Elements of War Links
System Requirements
Elements of War Requirements
Minimum Requirements:
OS: Windows XP / Vista
CPU: Intel Pentium 4 3000 MHz / AMD Athlon 64 3000+
RAM:  1 GB
HDD: 4 GB Free
Graphics Card: GeForce 7600 / ATI Radeon Х1600
Recommended Specification:
OS: Windows XP / Vista / 7
CPU: Intel Core 2 Duo 3000 MHz / Intel Core Quad 2400 MHz / AMD Athlon 64 6400+ or better
RAM: 2 GB or more
HDD: 4 GB or more
Graphics Card: GeForce 8800 / ATI Radeon HD 4700 or better