UPDATE: This game has been shutdown and is no longer available
Based loosely off of Neon Genesis Evangelion, Absolute Terror gives you the option to aid humanity, or crush it under foot. Three factions battle for dominance — NERV, SEELE, and the Angels. Battle opponents to earn experience, and use it to upgrade your unit. As you expand, you will also gain access to new units as well. With tactical battles and a detailed battle report to peruse, your skill ill be the deciding factor in the fate of the planet.
Publisher: Guide To…
Playerbase: Low
Graphics: Medium
Type: MMORTS
EXP Rate: Low
PvP: Yes
Filesize: N/A
Pros: +Three faction combat system. +Strategic, hex based battles. +Recognizable characters and units.
Cons: -Generic gameplay. -Limited daily actions. -Slowly paced.
Overview
Absolute Terror Overview
Absolute Terror lets you choose from one of three factions to battle for control of Earth and the fate of humanity. You pilot your unit on a hex based grid, fighting opponents through strategic use of abilities. Fighting earns you experience, which you can use to upgrade your unit, as well as purchase additional units for your force. There are a variety of objectives to accomplish in each battle than can award you with bonuses to your experience. The game features an extensive breakdown of stats in its report feature, so you can better plan for future attacks.
Absolute Terror Screenshots
Absolute Terror Featured Video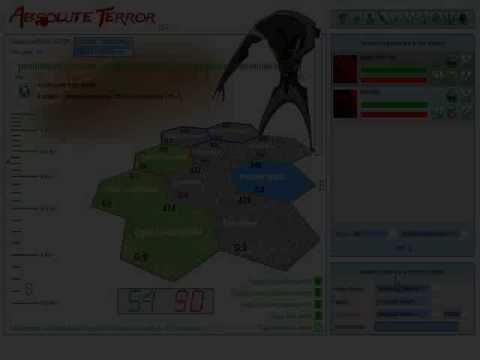 Full Review
Absolute Terror Review
Coming Soon…
Screenshots
Absolute Terror Screenshots
Coming Soon…
Links
Absolute Terror Links
System Requirements
Absolute Terror System Requirements
Coming Soon. . .