*SITE RELAUNCH: We're moving content over - we're not quite done yet! Issues or questions? Please post in the forums :)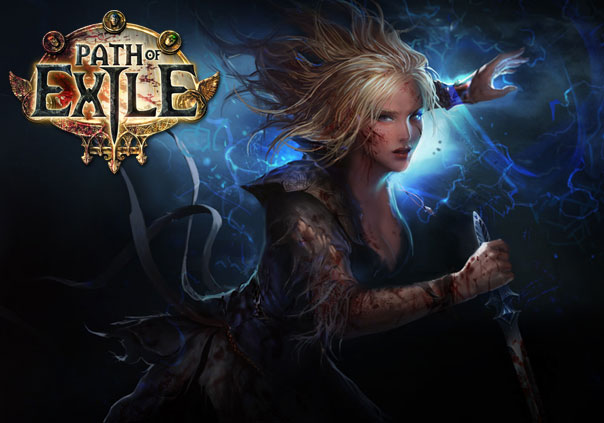 Path of Exile is an Action RPG brought to us by Grinding Gear Games. It offers a style of gameplay made popular by the Diablo series of games, but with quite a few twist to make their take on the genre quite unique. With its massive talent trees, immersive world, and fantastic gameplay, it's easy to realize just why it has such a big following. And for those that like to have a challenge or are competitive, there is hardcore mode and plenty of race leagues for you to take part in.

Exiles:

Templar - The Templar is Path of Exile's Strength/Intelligence hybrid, a perfect balance of brawn and wits. He is a skillful fighter, trained in an array of weapons, from the sharpest cutlass to the heaviest two-handed mace. He's also comfortable wielding a shield, either for additional protection or as a deadly bludgeon. In combat, this pious warrior is expert at augmenting his substantial offense with a wide range of magical abilities. The Templar is also adept at taking punishment, and he's happy to be up at the front lines, serving as a martyr and champion for his ranged companions. The Templar's starting stats are 23 STR, 14 DEX and 23 INT. The armors associated with the Templar's strength and intelligence are Coifs, Chainmail/Ringmail, Metal Gloves, Metal Boots, and Kite Shields.

Marauder – The Marauder is Path of Exile's pure strength class, which means that he's great at taking hits, and even better at dishing out punishment. His melee skills encompass a wide range of assault, from massive single target damage to devastating area of effect. This brute of a man bolsters his impressive physical arsenal with a variety of shouts and cries, skills that rally his allies and strike terror into the hearts of his enemies. The Marauder's starting stats are 32 STR, 14 DEX and 14 INT.

Shadow – The Shadow is Path of Exile's Dexterity/Intelligence class. He prefers to use fast-hitting weapons such as daggers or claws to dart in and out of battle, while laying Traps or Remote Mines and controlling the flow of combat. He makes surgical use of offensive spells while dodging attacks, always outmaneuvering his opponents.

Ranger - The Ranger is Path of Exile's pure Dexterity class, which befits her slim and graceful appearance. She is agile and fast, darting in and out of combat to deliver vicious critical strikes that often fell her enemies in a single blow. Her natural quickness grants her a profound ability to avoid damage, and she tends to garb herself in light leathers and cloth. She has tremendous proficiency with ranged weapons, but she is as lethal as any man on the battlefield with a sword. The Ranger's starting stats are 14 STR, 32 DEX and 14 INT.

Witch - The Witch is Path of Exile's pure intelligence class, making her an unmatched master of the elemental and dark arts. She wields the power of raw magic to decimate her foes from a distance. Her tremendous will surrounds her with a shimmering barrier against physical and magical attacks, a barrier that must first be pierced before the Witch herself is vulnerable. In addition to pure damage-based magic, the Witch can also cripple and kill her enemies with curses and diseases. She is a leery friend, and a dangerous enemy. The Witch's starting stats are 14 STR, 14 DEX and 32 INT.

Duelist - The Duelist is Path of Exile's Strength/Dexterity Hybrid class, making him unmatched at dealing and avoiding damage. He can effectively use a shield, but is equally comfortable slashing away with a powerful two-hander or fighting with weapons in both hands. His powerful arms can draw the strings of the heaviest and most lethal longbows. His highly honed reflexes give him a cat-like ability to dodge and parry incoming attacks, be they arrows or axe swings. The Duelist is a daunting foe, and his reputation as a ruthless killer is well deserved. The Duelist's starting stats are 23 STR, 23 DEX and 14 INT.

Scion – The daughter of corrupt nobles, the Scion was exiled to Wraeclast for killing her husband on her wedding night. She is aligned with all three core attributes – Strength, Dexterity and Intelligence, which places her right in the center of the passive skill tree. This unique position allows her to develop into almost any type of character build, while lacking the dedicated specialisation that the six existing classes offer.

First Mini-expansion: Sacrifice of the Vaal:

Features:
Atziri, Queen of the Vaal
Secret Corrupted Areas
Vaal Skill Gems
The Vaal Orb: Corrupted Items
New Challenge Leagues
Ambush League
Invasion League
New Boss Monsters
New PvP Modes – Cut-throat and Sarn Arena

New Sacrifice of the Vaal League info:

Ambush League (Standard) – Various new types of chests called Strongboxes can be found throughout Wraeclast. These chests are guarded by monsters that ambush the player when they are opened. The ambushing monsters must be slain before the contents of the Strongbox can be claimed. Sometimes you'll encounter magic, rare or unique Strongboxes which have modifiers like items do. Prefixes affect the difficulty of the ambush by adding more monsters, springing traps or affecting your character. Suffixes improve your rewards from the Strongbox. You can use currency items to reroll these mods. One of the new challenges is to open Strongboxes with each mod.

Invasion League (Hardcore) – Areas of Wraeclast have substantially more monster variety, so players will run into unexpected and dangerous invading monsters from other levels or acts. A unique Invasion Boss from an invading monster type is also lurking in each level. Higher difficulty levels contain expanded monster variety and the invading bosses with more abilities. One of the new challenges is to kill each invading Unique monster.

Status: Released
Release Date: Jan 23, 2013
Business Model: Free to Play
Developer: Grinding Gear Games
Publisher: Grinding Gear Games
Category: Stand-alone
Genre(s): 3D, Adventure, RPG, Fantasy
Platforms: PC


Editor's Score: 4/5


Pros:

+Non class specific skill system.
+Gritty Realistic Art Style.
+Unique currency system.
+Complex game mechanics.
+Unique gem skill system.
+Fun for competitive and casual players alike.

Cons:

-Intimidating for new gamers.
-Can be repetitive.



Minimum System Requirements:

OS: Windows XP SP3 / Vista / 7 / 8
CPU: Pentium 4/Athlon 64 1.4ghz or better.
RAM: 2GB
GPU: NVIDIA® GeForce 7800 GT or ATI Radeon X1950 Pro or better
HDD: 5GB
Linux MMORPGs
Even though free to play MMORPGs and MMO Games are growing in popularity, there are still very few MMORPGs that are compatible with Linux.
by Guest