WW2 Warfare is a 2D browser based strategy MMO with a World War 2 era theme. Join the Axis or the Allies and slowly build up a base by constructing buildings, training soldiers, and researching technologies. Form alliances and defeat opponents using powerful machines of war including tanks and aircraft.
Publisher: PlayComet
Playerbase: Medium
Graphics: Low
Type: MMO
EXP Rate: Slow
PvP: Open
Filesize: N/A
Pros: +Original setting for a browser strategy game. +Recruit heroes to lead troops. +Simple interface.
Cons: -Slow paced gameplay. – Paying players receive large advantages. -Dated script. -Mainly text & images.
Overview
WW2 Warfare Overview
WW2 Warfare is a web based strategy game that using a World War 2 era setting. Individual nations don't play a role, but players can select more broadly to play as the Axis or Allies. The interface is a bit primitive compared to most of today's strategy games, but the original theme helps it stand out from its mostly medieval era rivals. Players must stockpile oil, steel, and grain which are used to train various military units such including infantry, tanks, and airplanes. WW2 Warfare is hosted by the same studio behind a number of other browser based strategy games including TransForce, and Warrior Legend.
WW2 Warfare Screenshots
WW2 Warfare Featured Video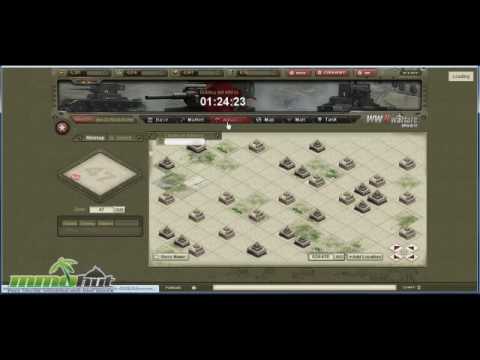 Full Review
WW2 Warfare Full Review
Coming soon…
Screenshots
WW2 Warfare Screenshots
Links
WW2 Warfare Links