World of LordCraft is a 2D strategy MMO with a fantasy theme. Players join either the Horde or Alliance and must build up their empire from scratch. Construct buildings, raise armies, train heroes, and hunt monsters.  Players can also form guilds and declare war on their neighbors.
Publisher: GSprite
Playerbase: Low
Graphics: Low
Type: MMO
EXP Rate: Low
PvP: Open
Filesize: N/A
Pros: +Plenty of quests to complete. +Simple registration, easy to get started. +Turn based combat system.
Cons: –Dull, repetitive gameplay. -Paying players receive large advantages. -Poor English Translations. -Lots of bugs and incomplete features.
This game has been SHUT DOWN – It is NO LONGER available. This means the official servers are offline and no one can create new accounts or log in to the game. For all intents and purposes this game is dead. This page will be updated if the game ever re-launches.
Overview
World of LordCraft Overview
World of LordCraft is a Chinese developed browser based strategy MMO. It is one of the dozens of similar games released in the wake of Evony's success.  The name World of LordCraft was chosen because of its similarity to World of Warcraft, a popular subscription based MMORPG. Many of the regions and character designs are also inspired by WoW. Players can chose to join either the Horde or Alliance faction and must build up their first city one step at a time. Besides empire building and PvP, World of LordCraft allows players to hunt monster scattered across the world map in a fashion similar to Heroes of Gaia.
Factions - Alliance, Horde
Races – Orc, Human
Resources - Food, Lumber, Stone, Iron, Gold
World of LordCraft Screenshots
World of LordCraft Featured Video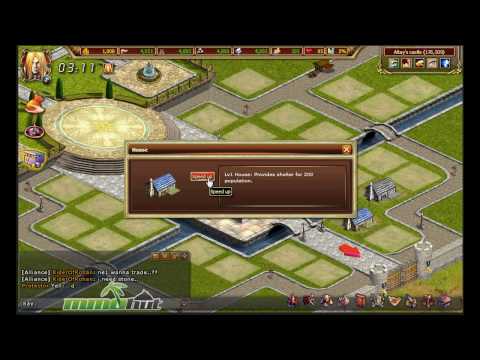 Full Review
World of LordCraft Full Review
Coming soon…
Screenshots
World of LordCraft Screenshots
Links
World of LordCraft Links