Overview
World of Cars Online Overview
Disney has given Pixar's Cars the MMO treatment! World of Cars Online is a free to play browser based game based on the CGI film, and it shows. Players start off in the city of Radiator Springs where they'll meet many of the characters from the movie including Lightning McQueen, Mater, and others. Racing plays a large role in World of Cars Online, but it isn't the only activity.
There is a large virtual world for players to explore that is filled with quests, and even mini games! By racing, completing quests, and playing mini games players earn cash and racing points with which to upgrade their cars appearance and parts. Players can also earn badges and souvenirs.  The game is aimed at young children, which may explain the heavy handed chat filtering.
World of Cars Online Screenshots
World of Cars Online Featured Video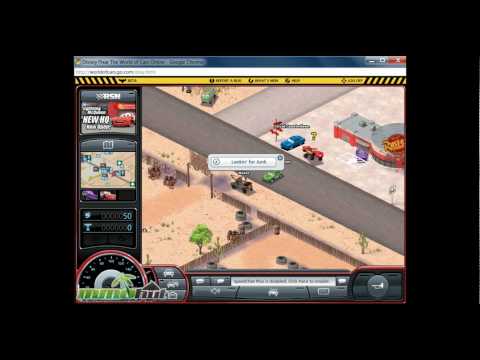 Full Review
World of Cars Online Full Review
By, Jaime Skelton
World of Cars Online is a virtual world based on the hit movie Cars, and produced by Disney Pixar. In the line of other games produced by the multimedia company, such as Pixie Hollow and Pirates of the Caribbean Online, World of Cars is designed for a casual audience who would like to immerse themselves further in the world from the movie. While you can get along just fine if you've never watched the movie, you'll have a better experience if you have.
Manufactured
The first step a new car needs to take in World of Cars is to become manufactured – that is, to go through character creation. This short process involves choosing boy or girl eyes, one of three basic car builds, a racing number, a randomly generated name, and one of five basic colors (orange, purple, blue, green, or gray). If this seems limited, it is – but there are dozens of other options available to change to later, if you meet the caveat of having a "sponsorship." Once created, a car can zoom right into the world, going through a very brief tutorial of how to move and honk before entering Radiator Springs. Thankfully, controls are dead simple: steer with your mouse, clicking and pointing where you would like to go (the car will automatically turn) and using space to "honk" and interact with objects.
A Quest for Something to Do
Like many online games, World of Cars offers a few quests for players to get started on their way. There are only a few available – just enough to get familiar with a few points of interest and minigames – but they reward a moderate amount of cash. More than anything, the quests exist to let players connect with the main characters they know from the series, like Lightning, Mater, and Ramone.
There are four total areas to zip around in, two of which have mini-games (for a total of three mini-games in all). One of these games is a side-scrolling space shooter similar to Gradius, where you can find upgrades as you progress your way through; another is a bubble-shooter. The final is a "catching" game where you gather the ingredients you need to make fuel, with the added benefit of getting the fuel for your own use afterward. Don't get too excited though – the fuel is only used for special animated emotes.
Racin' My Car
The real staple of any car game is racing, and World of Cars is no exception. Each area has its own race track, subdivided into two racing games. One of these games places you in a race against three other NPC cars for practice; the other lets you race up to three other players on the same track. The tracks are relatively short, and require a bit of precision handling so that you don't steer off-road and slow down. Tracks also allow you to use boosts and traps to better aid your chances of winning. Winning, in turn, earns you race points, which furthers your racing career.
If this seems rather limited, it is. A real racing career begins when a car becomes "sponsored," which is a fancy way of saying that the player gets a monthly subscription. These subscriptions cost $5.95 a month, and allow players to access more areas, more race tracks, and have an actual racing career. The subscription also allows players to customize their vehicles and homes; free players will be stuck with the boring colors they started with and be unable to get new paint jobs, spoilers, bodywork, and other customizations done to their vehicle, even if they've unlocked the parts.
Final Verdict: Poor
There's no questioning that World of Cars is true to the movie Cars, and enthusiasts will likely enjoy the game for that reason alone. As a free-to-play game, however, World of Cars is extremely limited. There's only a little a player can do without a monthly subscription, leaving only seven activities (four races, three minigames) once a player's gone through the half a dozen quests available to them. While the team running the game ensures that it changes every week, adding in new quests, themes, or changes, it isn't compelling enough. Add in that in order to really appreciate things like multi-player racing, you need to join populated servers – but those same servers lag so badly that the game can become unplayable. It's no surprise that in my time in World of Cars, I couldn't find a single subscriber and that at peak times, only a handful of the servers had players on them. Even Cars lovers should probably pass.
Screenshots
World of Cars Online Screenshots