War of 2012 is a 2D browser based strategy MMO. Players start in the Dark Ages following the destruction of WW3 and must rebuild human civilization. Advance through four ages, train troops, hire heroes to lead them, form alliances, and conquer the world! War of 2012 includes an auction house where players can trade resources and items with one another.
Publisher: CaPlay
Playerbase: Low
Graphics: Low
Type: MMO
EXP Rate: Low
PvP: Open
Filesize: N/A
Pros: +Advance through four ages. +Train and fight with multiple heroes. +Buy & sell items via the auction house. +PvP driven gameplay.
Cons: -Slow paced progression. -Poor interface. -Paying players receive large advantages. -Poor English translations. -Similar to other strategy games.
Overview
War of 2012 Overview
Like many browser based strategy games, War of 2012 has a medieval theme, but the backstory is a bit different. The game is set in the year 2012, after a devastating war has sent human civilization back into the dark ages. Lead a small village through four ages: The Dark Ages, Feudal Age, Castle Age, and finally the Imperial Age. Players must construct buildings to generate four key resources including gold, stone, food, and wood. Would-be leaders must also keep their population growing, found new cities, and make alliances with neighbors. War of 2012 is similar to many other strategy games currently available, but the post-apocalyptic lore give it an original twist.
War of 2012 Screenshots
War of 2012 Featured Video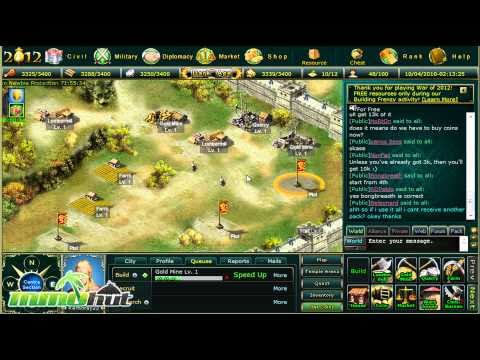 Full Review
War of 2012 Full Review
Coming Soon…
Screenshots
War of 2012 Screenshots
Links
War of 2012 Links