UPDATE: This game has been shutdown and is no longer available
Tiger Woods PGA Tour Online is a 3D browser based golfing simulator. Play alone or with others on a variety of beautiful courses. Tiger Woods Online offers realistic graphics and gameplay. It is easily accessible due to the web interface and has plenty of features to keep players coming back for more.
Publisher: Electronic Arts
Playerbase: Low
Graphics: High Quality
Type: MMO
EXP Rate: Low
PvP: N/A
Filesize: None
Pros: +Great visuals. -Realistic gameplay. +Over a dozen full size courses. +Leveling system, achievements, sponsorships and more.
Cons: -Slow paced gameplay. -Access to many features require payment. -No persistent world, lobby based.
Overview
Tiger Woods Online Overview
Tiger Woods Online is a web based golfing game that has the high production value players would expect from an EA Sports title that carries the official PGA License. Despite being played on a browser, the game has spectacular graphics and over a dozen 18 hole courses. There are many features to help give the game a sense of progression. Players start at level up and can earn experience and cash by playing holes. Players can create groups, host multiplayer games, and participate in daily tournaments. a Sponsorship feature allows players to invest in one another and earn more cash if their sponsors perform well. Tiger Woods Online may lack a persistent world, but that makes the interface and gameplay that much simpler. Sign up and jump right into this realistic golfing simulator.
Tiger Woods Online Screenshots
Tiger Woods Online Feature Video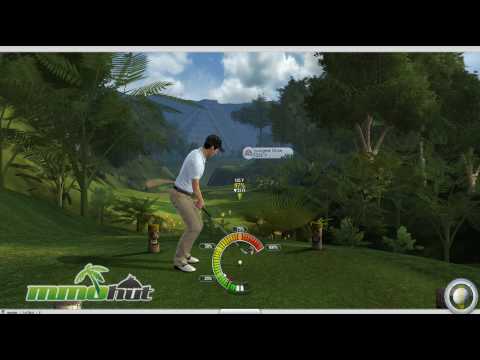 Full Review
Tiger Woods Online Full Review
By, Erhan Altay
The name Tiger Woods is nearly synonymous with golf. That may be why Electronic Arts decided to keep the famous athlete on the title of their first free-to-play, web-based golfing MMO despite his recent marital troubles. The complete title of the game is Tiger Woods PGA Tour Online, but is usually shortened to Tiger Woods Online. Despite the web based interface, the game offers the same high quality graphics and realistic golf gameplay found in the console and PC versions of the franchise.
Combining The New and Old
Tiger Woods Online was announced in April of 2010 and was playable soon after. In good MMO fashion, the game's development has been incremental with new content and features being added each month. While not the first golf MMO (that title probably belongs to Shot Online or Pangya), Tiger Woods Online manages to combine realistic gameplay with gorgeous graphics without the need for a client download. How is it done? With the Unity web player. Unity is used to power many browser based games like FusionFall because It offers high quality graphics while maintaining the convenience of a browser. Tiger Woods Online should not be confused with the gimmicky flash based golf mini-games that litter the Internet. This is a complete golf game that carries very prestigious licenses from both Tiger Woods and the PGA.
Pick a Golfer
Before teeing off, players must create an EA Account or login using an existing one. Many of EA's recent free to play titles including Need for Speed World, BattleForge, FIFA Online, and Lord of Ultima are accessible using the same EA Account. The interface and gameplay portions of the game are split into seperate screens. While on the main page, players can see their character profile, check out the pro shop, chose their avatar, manage their friends list, and more. Players do not create a custom character in Tiger Woods Online, instead they are free to switch between several available avatars. The game is definitely weak on appearance options, there are only eight avatars to chose from and none of them are female.
Players can use the Swing Training section to improve their golfing skills. There are six kinds of swings: Full, Punch, Pitch, Flop, Chip, and Putt. Each of these has six stats that can be improved: swing speed, swing plane, balance, tempo, touch, and timing. All of these stats start at level 1 but can be improved by one level after five upgrades. Improving these stats costs cash, but players start with a respectable sum of $10,000. Players can see what effect their decisions will have before committing to any changes. This allows users to play around and decide how best to customize their character. There are several other pages worth exploring such as the help section and forums before jumping into a match. Overall, the web interface is well designed and easy to use.
Gearing Up
When players are ready to play a few holes, they can simply click the large red 'play now' button located at the top of the site. This opens a new page where players can chose between single player, multiplayer, or tournament player. There are two multiplayer modes, simultaneous play and turn based play. Like in real golf, one players actions don't really effect anyone else in Tiger Woods Online but competing with friends is always more fun than going at it alone. But with that said, most gamers will end up playing alone. The multiplayer lobby is nearly empty most of the time. This is due partly to continued technical issues with the multi player mode, but mainly because single player is so much more accessible. Players are free to exit and resume a single player match, and they can still chat with everyone playing on the same course. Speaking of courses, there are currently 15 available. Each is a full 18 hole course that is modeled after one in real-life. Free users only have access to a couple of courses at a time, only paying players can use any course they want at any time. Those without a subscription can still play on a particular course, but must pay a Greens Fee using points that must be purchased.
Teeing Off
Several course options allow players to pick the level of wind, the hardness of the greens, and other settings. All this can be safely ignored by new players. When everything is in order, players can click 'Tee Off' to launch the game window. As soon as the game loads, players are met with some scenic sound effects such as birds chirping and slow clapping. Players start ready to tee off, and the game does a pretty good job at automatically aligning angles, choosing swing type, and what part of the ball to hit. Veteran players may want to change these options by clicking the various icons located on the bottom right of the screen, but I was too frightened to go anywhere near them. Players who know the difference between a Chip, Putt, and Pitch can experiment, but for the rest of us the defaults are good enough. Even new players will be able to either make par or get a bogey using the simple swing mechanics. Player click with the left mouse button and a power meter starts moving. A yellow flag marks how much power is recommended for the shot and players simply click the mouse button again when that mark is approached. Next, a marker makes its way back down the gauge and players must click the mouse again when it is over the white area near the bottom of the meter. It may sound a bit complicated in words, but another with video gaming experience should pick it up almost instantly.
The Sport of Gentleman
The maps in Tiger Woods Online are massive. Each game consists of 18 holes, and each hole is unique. Some have sand traps, lakes, ridges, and other obstacles. The main difference between the holes and courses is the geography. While the scenery doesn't effect gameplay directly, it helps the game stand out and makes the golf experience that much more interesting. Players are able to tee off in the fanciest clubs from around the world. They will explore Mayan ruins in Belize, visit old manors in Scotland, and see other exotic sights. Players are free to close out of a match and return back to it later. This feature makes the game easily accessible, and even allows players to start a course at home, continue it at work, then finish it when they get back home.
Club Fees
Despite offering unlimited gameplay for free, full access to Tiger Woods Online requires either a monthly or annual subscription. Most items in the store, labeled the pro shop, cost points. Points are the game's premium currency and can be purchased in batches of 1000 ($9.99), 2500 ($19.99), or 5500 ($39.99.) The various shirts, pants, hats, and clubs in the store aren't just for cosmetic purposes. They offer stat boosts, but expire after a set amount of rounds. While Tiger Woods Online is free to play, it can also be classified as 'freemium' along with other EA titles like Need for Speed World. There's enough free content to give players a taste, but those who like what they see will eventually have to pay up. This is not necessarily a bad thing. The more traditional free to play styled Shot Online may actually cost hardcore players more money through constant micro transactions. Unlike Shot Online, Tiger Woods Online has no persistent world. There's no city to walk around in, and this takes its toll on the social aspects of the game. It is possible to make friends, but bumping into people is considerably more difficult. Tiger Woods Online is perfect for the golf fan who wants to put in a few swings between activities, but won't attract fans outside the sport.
Final Verdict: Good
Tiger Woods Online packs realistic gameplay and graphics into a browser window. The game is easy to learn and easily accessible. Fans of the sport looking for an authentic experience will appreciate Tiger Woods Online, but the rest of us may find it slow paced. Despite a few interactive features, the game is almost entirely a single player experience.
Links
Tiger Woods Online Links
Tiger Woods Online Official Site