Three Kingdoms is a 2D browser based strategy MMO set in ancient China. Found a small town and grow it into a powerful empire one step at at time. Construct buildings, train soldiers, and research new technologies! Build additional cities, or form alliances with your neighbors for mutual protection.
Publisher: VTC Online
Playerbase: Low
Graphics: Low
Type: MMO Strategy
EXP Rate: Low
PvP: Open
Filesize: N/A
Pros: +Unique art style. +Game accompanied by webcomic & video series. +Straight forward interface. +PvP driven gameplay. +Turn based combat.
Cons: -Slow paced gameplay. -Paying players receive large advantages. -Very similar to other strategy games.
Overview
Three Kingdoms Overview
Three Kingdoms is a web based strategy game where players found a small city-state in one of several states in ancient China. The game is set during the Three Kingdoms period, but there's not a lot of lore or backstory. What the game does offer is a very original art style. The visuals an Asian calligraphy flavor to them, and higher level players can even switch between four architectural designs. A series of quests guide players each step of the way towards expanding their town, starting with the construction of base units, upgrading, researching new technologies, and eventually training military troops and hiring officers to lead them. The game has turn based combat, but Three Kingdoms is very similar to other strategy MMOs out there. If the art style appeals to you, give the gave a look.
Three Kingdoms Screenshots
Three Kingdoms Featured Video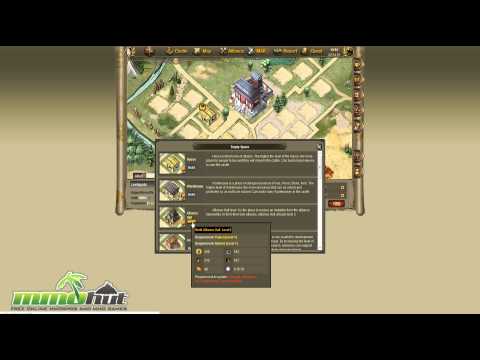 Full Review
Three Kingdoms Full Review
Coming Soon…
Screenshots
Three Kingdoms Screenshots
Links
Three Kingdoms Links