Star Pirates is a text based browser MMO with a heavy emphasis on PvP. Players can gamble, mine, upgrade their ships, research more powerful weapons, and most importantly, work together to form Fleets. With Earth destroyed, the skies belong to no one, former space miners stationed on asteroids must now fight simply to survive.
Publisher: Snakehead Games
Playerbase: Low
Graphics: Low
Type: MMO
EXP Rate: Low
PvP: Open
Filesize: N/A
Pros: +Will run on almost any machine. +Can be played in short bursts throughout the day. +Form Fleets and Armadas for mutual protection.
Cons: -Paying players receive large advantages. -Tends to open lots of tabs needlessly. -No sense of direction.
Overview
Star Pirates Overview
Star Pirates is set in a dystopian future where the Earth has been destroyed, leaving space miners who had been stationed in the Asteroids to fend for themselves. Like BiteFight and Gladiatus, Star Pirates is a predominantly text based game. While this means it has low system requirements, it does leave the game looking very dated. Like most browser based games, Star Pirates is meant to be played in short bursts throughout the day. There are a variety of activities that can only be performed every so often including the daily slot machine, hourly debris collection, periodic salvaging forays depending on fuel supply, and research when energy and research points permit.
Star Pirates Screenshots
Star Pirates Featured Video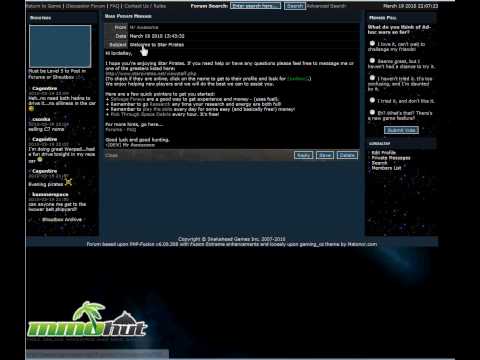 Full Review
Star Pirates Full Review
Coming soon…
Links
Star Pirates Links