Overview
ShadowTale Overview
ShadowTale is an anime inspired persistent world action MMORPG for the browser. The game utilizes Adobe Flash technology – so users won't need to download any outside client to play the game. Graphically speaking – ShadowTale is very similar to Arix Entertainment's AdventureQuest / DragonFable games, except with better character and NPC designs. Gameplay wise ShadowTale is quite impressive for a browser game – as it's action oriented – meaning battles are fought in real time rather than in turn based encounters like many other browser MMORPGs. Anyone who is looking for a solid browser game should certainly check out ShadowTale, as it has more depth than most other browser games out there.
ShadowTale Screenshots
ShadowTale Featured Video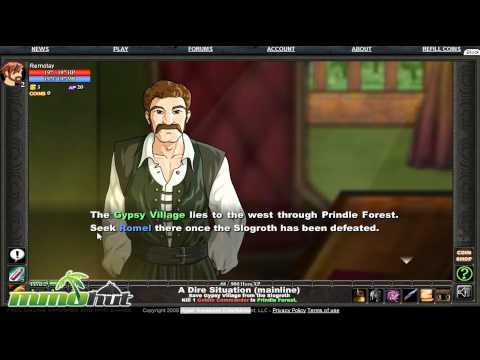 Full Review
ShadowTale Full Review
By, Omer A.
ShadowTale is an in-depth 2D fantasy browser MMORPG by a little unknown company called Hyper Awesome Entertainment. One of the game's most defining characteristics is its real time action oriented gameplay – as even though the game looks a lot like AdventureQuest / DragonFable it plays in real time. This actually makes ShadowTale feel more like a 2D client based game than a browser game, as most of these free to play browser games are turn / text based. Anyone looking for an in depth – content rich browser game to play should certainly give ShadowTale a try.
Starting Out
ShadowTale starts off on a good note – players can create their account and log into the game world without going through any signup pages or confirming any emails as players can register for ShadowTale on game's login screen. Character creation was also quite impressive – as players have the option to customize skin color, hair, facial hair, hair color, shirt and pants. This may not seem like much, especially compared to the customization options of client based games like Perfect World and Dungeons and Dragons Online, but for a browser game ShadowTale has a good deal of customization. Another interesting aspect of ShadowTale is that the game actually has a coherent underlying plot – something most MMORPGs completely neglect.
A Story…? No Way!
After finishing up the character creation process Mirea, the Dragon Enchantress, explains the game's story. Apparently your character defeated an evil being known as the 'Shadowlord' a thousand years ago and brought a lasting peace to the world…. until today. The 'Shadowlord' has returned and is raising his army of darkness and threatens Kyros (The game world in ShadowTale) and it's YOUR job to stop him. Fairly straight forward and generic – but the fact that ShadowTale makes an effort in maintaining an 'overarching' plot throughout the game is definitely worth mentioning as many games don't even bother. The Dragon Enchantress Mirea is actually one of the game's main characters and nudge players in the right direction in completing the game's main storyline. Another thing worth mentioning is that whoever did all the game art for ShadowTale did a phenomenal job as Mirea and practically every other NPC in the game is well designed.
Fun Action Oriented Gameplay
ShadowTale has some of the most interesting gameplay of any browser MMORPG, as it's an action game with simple yet fun controls – sort of like Dragonica Online and GhostX. Personally, the gameplay is my favorite aspect of ShadowTale – as it actually relies a little bit on player skill. Knowing when to move around and block can make the difference between life and death. Unfortunately though – since ShadowTale is geared towards gamers of all ages, it feels a bit 'too easy' – as monsters are usually easy to dodge and keep stunlocked with a series of well timed attacks. This doesn't detract from the overall enjoyment of the game though – as ShadowTale has plenty of quests, an enormous game world and plenty of skills to learn which should be able to keep most players both busy and satisfied.
Lots of Running Around
Perhaps the most annoying aspect of ShadowTale is that there's A LOT of running around. Every time a player completes a quest they'll need to run back to the quest NPC to 'hand it in'. This may seem like a simple task – but running all the way back can take a long time, especially since monsters randomly attack your character on almost every single 'screen'.  This wouldn't be an issue if the game let players run right past them, but whenever an enemy is present on the screen, players cannot leave that particular map until all enemies on it are defeated. Sure the gameplay is fun – but encountering and being forced to waste time on low level enemies while trying to get from point a to point b can be incredibly annoying.
Which Class Are You?
The sheer variety of classes available in ShadowTale helps distinguish it from the competition. ShadowTale takes a unique approach to the class its class system – as players don't simply select a single class and 'stick' with it. Instead, players have the option of learning skills from any of the game's seven classes – Cleric, Ranger, Brute, Thief, Fighter, Wizard or guard. The more a player uses a skill to defeat an enemy, the more experience he or she gains in that particular class. For example – if a player uses offensive magic to defeat an enemy that player will gain experience as a wizard, but if he uses a bow to defeat his next enemy he'll gain experience as a ranger. This system allows players a great deal of control in developing their character – as players are free to mix and match skills across many different classes.
You Must be a Member to Adventure Here…
ShadowTale is a good game, but one of the its major drawbacks is that a lot of the game's content is only available to paying members. Sure, the developers have to make money somewhere – but giving access to the 'coolest' and most 'rewarding' areas in the game only to paying members is sort of a slap in the face to everyone who doesn't want to pay. I mean, there's nothing wrong with giving 'special benefits' to paying members – but restricting whole areas of the game is a bit much. The way I see it is that the folks behind ShadowTale should be rewarding paying players not 'penalizing' non-paying players. To be fair though, Adventure Quest Worlds does the same exact thing – so this isn't a complaint directed solely at ShadowTale.
Final Verdict Good
ShadowTale is a fun regularly updated fantasy action MMORPG that's well worth checking out. It has a lot of content and the gameplay mechanics are quite satisfying. The game's only real drawback is that a lot many of the game's more interesting dungeons and areas are only available to paying users.
Screenshots
ShadowTale Screenshots