SecretBuilders is a browser based virtual world where kids can hang out, play mini games, and decorate their avatars and homes.With varied environments, and instructional material built in, SecretBuilders aims to be a game parents feel comfortable with.
Publisher: Renaissance 2.0 Media
Playerbase: High
Graphics: Medium
Type: MMO
EXP Rate: Medium
PvP: N/A
Filesize: N/A
Pros: +Dozens of mini-games. +Varied environments. +Plenty of clothing and house customization options. +Earn rewards for taking quizzes.
Cons: -Mainly a social network/virtual chat site. -Limited competitive gameplay. -Male/Female avatars use same models, looks awkward.
Overview
SecretBuilders Overview
SecretBuilders is a virtual world built for kids between the ages of 5-14. Like Neopets, the game has plenty of mini-games, but also contains a full featured persistent world filled with varied environments to explore. These areas serve mainly as virtual chat rooms where kids can make friends in a safe environment. The game makes use of extensive chat filters to make the experience safe for young children. Another feature that sets SecretBuilders apart is its focus on education. Players are encouraged to take multiple choice quizzes on subjects like math, history, geographic, and so on to earn in-game currency called 'shills.'
Zones – Urbanopolis, North Pole, Enchanted Woods, Haunted Valley, Magic Bazaar, Treasure Island, Nemo's Dive
Mini Game Types - Action Games, Activity Games, Puzzle Games, Multiplayer Games
SecretBuilders Screenshots
SecretBuilders Featured Video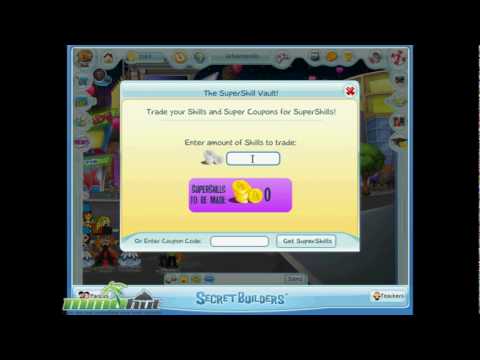 Full Review
SecretBuilders Full Review
By, Omer Altay
SecretBuilders is a 2D browser based social MMORPG that plays a lot like Petpet Park, Gaia Online and virtual every other social MMORPG out there. Based on the game's graphics and gameplay the game is clearly aimed at a younger audience. In fact, the game's "About Section" clearly states that the game is aimed at 5-15 year olds, and from my experience with the game, older gamers will likely want to try another social MMO, as SecretBuilders like Club Penguin is very "kiddy".
Starting Out
Avatar creation and customization in SecretBuilders is quite impressive. In fact, it's one of the best aspects of the game. Players can chose from many different hats, accessories, shirts and pants in designing their avatar. The selection of customization options in the character selection is varied, but there's a lot more items available in the game than just the ones seen in the character creation area. If for some reason you don't like the way you character looks, you can always change your appearance by clicking on the "change my avatar" button on the top left of the screen. After creating a character players start out with ~2000 shills, the game's currency, and can earn more by playing mini games.
Farming Shills – Playing Mini Games
The best way to earn Shills in SecretBuilders is to play one of the game's 90+ flash games. The amount of shills you earn for playing a game depends on how long you play and how far you get. Unlike OurWorld which has numerous high quality flash games, the games in SecretBuilders are significantly lower quality. OurWorld, which is a competing social MMO, licensed high quality flash games from developers while SecretBuilders just developed their own shoddy knock-offs of popular games. For example, "Lose Your Marbles" in the Puzzle Games section is a shameless low quality knock off of Zuma from PopCap Games. Another game in the Games & Activities section is "Castle Defense" and I can safely say its one of the worst tower defense games I've ever played. It has absolutely no balance and can be beaten in under 10 minutes. Probably the most "fun" games SecretBuilders has to offer are the multi-player ones, but even those have their issues. All in all, the entire "mini games" section can be summed up in one word – disappointing.
Player Housing
The housing system in SecretBuilders is without a doubt its best feature. Every player in the game starts with a house that they can furnish, customize and otherwise "hang out" in. The furniture shops spread our across the game world have hundreds of different kinds of furniture from beds to chairs to pillows and more. Players can organize their furniture in any way they like and can even visit homes owned by other players to see what they look like. Unfortunately many of the "cooler" looking items in the game require "super shills", which are the game's premium currency. Luckily the game provide a way for players to earn "super shills" by completing sponsored surveys and completing educational "quests" in the game.
The World of SecretBuilders
One of the more interesting aspect of SecretBuilders is its environments. The game world itself is huge and features a generic urban area, a desert town, a tropical area and so on. Each "area" in the game features many many different maps as well. Clearly the guys behind SecretBuilders are doing something right, as the game is absolutely packed. Everywhere I look I see people talking to each other and socializing. The game has 5+ servers, most of which are too full to even enter.
The game world is scattered with NPCs that are historical characters. One of the store's in the game for example has an NPC named "Galileo" and another named "Qu Yuan". Each of these historical figures have a brief BIO in their character description area, so players can actually pick up on a little bit of history as they play SecretBuilders. I knew who Galileo was but I had no idea who Qu Yuan was. Apparently he was a Chinese scholar and poet that lived during the Three Kingdoms era of Chinese History. Many of the game's quests are educational, but I doubt many people playing SecretBuilders even care about Chinese History, but I found this aspect of the game to be a bit interesting.
You Build It!
One interesting aspect of SecretBuilders is the game's "Build it" system where players can submit their own ideas to expand and improve the game world. Other players can "rate" different ideas that players submit and the game's developers have promised to implement the most popular suggestions. Player suggestions aren't ignored either, as the "hall of fame" section highlights player suggestions that have been added to the game.
Final Verdict – Fair
SecretBuilders is a simple 2D social MMORPG that can fun if all you're looking to do is socialize with others. The game's lineup of flash games is disappointing, but the player housing system and impressive environments should keep players entertained.
Screenshots
SecretBuilders Screenshots
Links
SecretBuilders Links