Overview
Pockie Ninja Overview
Pockie Ninja is a free-to-play browser based brawler MMORPG that features characters identical to manga series such as Naruto and Bleach. Players step into the role of a young ninja chosen to save a world in turmoil. The seal preventing demons and their evil warrior followers from invading Angel City has been broken. The sinister force is wreaking havoc in the local villages practicing forbidden ninjutsu on forest creatures transforming them into puppet warriors. Similar to Ninja Saga players must harness their power learning new skills and completing quests on a journey to bring peace back to the land. Fight an assortment of monsters, duel, and battle others in the arena. Much like Ninerift ninjas can rely on pets to help out during combat. The game features a unique class system that fluctuates according to a hero's attire. Each outfit represents a specific class with its own weaponry and fighting style. Users have the freedom to alternate as often as they like.
Classes:
Fighting Ninja – Strongest of all classes. Armed with a blunt weapon these ninjas can easily defeat enemies.
Dark Ninja – They are masters of stealth and assassination. Dark Ninjas are notorious for their swift damaging blows.
Secret Ninja – Trained to use powerful ninjutsu techniques on opponents. Their fists are deadly weapons.
Pockie Ninja Screenshots
Pockie Ninja Featured Video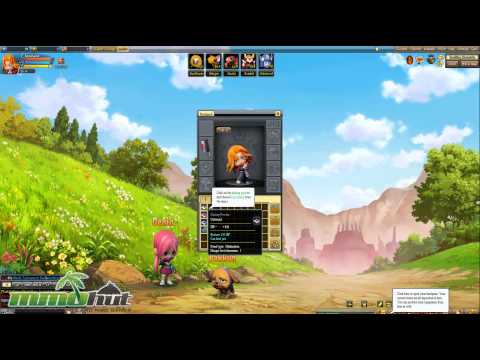 Full Review
Pockie Ninja Review
By Ange Perdu
Pockie Ninja is a 3D anime themed browser MMORPG where players step into the role of a young ninja chosen to save the world. In order to prevent demons and their minions from conquering Angel City ninjas must learn powerful skills. Master over 40 different moves. Perform the strike of one thousand birds or the death mirage jutsu to eliminate foes. Battle various monsters from the deadly Sushi to the Grinning Monkey. Fight difficult warrior bosses and complete challenging quests. Participate in lucky draws or tournaments. Duel other ninjas in the PvP battle arena to boost rank. Become a legend and restore peace to Sakura once again in this innovative brawler.
Protecting Angel City, the Gameplay
Most of the gameplay involves completing quests and battling in the arena. Players start out in their selected tribal village and slowly unlock new areas in the map as they progress. NPCs stationed in various locations delegate tasks for ninjas to accomplish. There are plenty of missions to tackle. Rely messages back and forth between non-player characters, explore certain territories, or defeat a couple of demons to earn XP. Quests vary but often require some form of monster killing in the process. Players have to repeatedly go to destinations like the Peaked Whetstone to kill stinger bees and collect venom stingers or take down troublesome monsters disturbing villagers. Daily reward quests with different levels of difficulty refresh every hour. Users click on their desired location on the map to transport instantly. Clicking on a monster's icon will also start an attack. Players do not control their character during combat. Pockie Ninja's automated battles may not be for everyone. Once a fight is initiated users simply watch the turn based fight sequences. Battles are relatively fast paced with virtually no lag. Ninjas will perform randomly any of their equipped skills. The high quality graphics add to the appeal as heroes summon spirits or send flames to devour opponents. At the end of each match stats details are displayed along with XP or loot rewards. If a player dies the price for revival is costly. Free resurrection requires a significant loss of equipment durability and experience. Although the monster killing quests can get very repetitive they're essential for leveling up and increasing your hero's abilities.
When Sweet Potato Demons Attack
Every time a player levels up they'll learn a new skill. These skills improve the odds of a ninja's victory during battle. The animation for each move is quite impressive similar to Ninja Saga. Execute the Blood Boil, Static Field, Detonating Clay, Great Strength, Gale Palm, Flying Thunder God, Chakra Blade, Snared, Bomb, Cursed Seal of Heaven, or the Dead Demon Consuming Skill. As players complete more quests and win battles they'll unlock new ninjutsu moves for defeating enemies. Two unique features implemented in the game is the class and synthetic system. Players are not committed to any particular class. In Pockie Ninja a hero's status is determined by their attire. Each outfit represents one of the three primary classes consisting of Fighting, Dark, and Secret Ninjas. Depending on the shirt, pants, hat, and shoes a player will be that particular class. At any time users can switch their character's clothing changing their current class. This option adds a bit of variety in the range of fighting styles and skill combinations possible.
The Pockie Ninja Shop
In the armory shop players can use a special synthetic system to combine any three objects to produce a new item. To have fun with this feature a user must possess talisman, scrolls, or special gemstones. The enhancement, refinement, and upgrade of clothing or weapons also require these trinkets. Items can be won through Lucky Draw a jar smashing option which presents players with a random gift or from shopping in one of the village merchant shops. There are only a handful of items available in the merchant shop. Buy healing capsules, pet food, iron plated chest armor, enchanted rings, Bamboo Gloves, Hammer of Blessing, Banana Fists, Agility Ravenous Wolf Claws, or the Barbaric Child's Hat. In the item mall or Pockie Shop specialty items such as VIP cards, magical beans, pet egg gift packs, and food that boost attributes temporarily are sold. Most items cost in-game stones or gold. Coupon medals won through participating in arena battles can substitute for gold occasionally. There's also a nice trade system that makes it easier to obtain various attire or weapons. Players must reach level 25 before they can freely use it.
Arena Battles & Duels
Similar to Ninerift players can purchase pet eggs and raise a furry companion to assist in PvP battles. In each village there is an arena. Clicking on it will display a list of available opponents to fight. Depending on the other player's level the winner will receive bonus experience and increase their rank status. In Pockie Ninja users are limited in the number of battles that they can participate in daily. Options at the bottom of the screen allow ninjas to duel, enter a tournament, or swap skills and items with other players. Duels function in the same as arena battles only players have the ability to carefully choose their foe. A drop down menu opens up with their rank and level. Players can randomly or carefully select their opponent. Another cool feature in the game is the World Tournament. Ninjas can participate in the tournament or just bet and watch it. Heroes can check out the competition and take a chance at doubling their medals.
Final Verdict: Great
Although the gameplay in Pockie Ninja is pretty basic it's still entertaining. Players become young ninjas in a world of mystery and magic. Kill ferocious Sunflowers, Sweet Potato Demons, Man-eaters, and Riceball monsters. Complete quests. Add a virtual pet to assist in combat. Fight others in PvP battles and duels. Watch and bet on tournaments or chat with friends on your mission to save Angel City from a hostile invasion. Comparable to games like Ninja Saga or Ninerift this MMO brawler sets itself apart with a unique class and synthetic system. Play as your favorite anime characters like Ichigo Kurosaki, Gaara, Grimmjow, or Toushiro Hitsugaya. Fans of the Naruto and Bleach series will thoroughly enjoy this 3D MMO inspired brawler.
Screenshots
Pockie Ninja Screenshots
Links
Pockie Ninja Links